Getting your first motorcycle is an exciting time in your life, and it only gets better from here.
Maybe you passed the Q-Ride test (or the practical riding test in your state, if you're outside Queensland) with flying colours, and you're confident you can handle yourself on the road. So what kind of bike should you pick?
There are tons of options for you, but there are also rules. The Learner Approved Motorcycle Scheme (LAMS) prohibits new licence holders from riding bikes with higher performance and more speed than they need. While it's a national scheme, the exact rules differ a bit from state to state.
A LAMS-approved bike won't let you corner and brake like on a sports bike, but it will give you time to improve your braking, reaction times, and situational awareness. And with the wide range of comfortable, stylish, cool LAMS-approved bikes on the market, you're still spoilt for choice.
Versatile, light, small displacement bikes are excellent for beginners. LAMS requirements include a max engine capacity of 660cc, max power-to-weight ratio of 150 kilowatts per tonne and limited modifications.
Enter Mutt Motorcycles, who have got you covered on all fronts. They have stacks of styles for beginners and beyond, and you can buy their motorcycles in Brisbane from Taverner Motorsports.
History of Mutt Motorcycles
Mutt Motorcycles was born in Birmingham, the heart of British motorcycling.
Benny, who previously founded Boneshaker Choppers, and his business partner Will saw the gap in the market for small cc, retro-style, cool-looking motorbikes.
A lack of available small cc bikes that were affordable and stylish led the pair to create bikes with the look and feel of bigger models and endless customisation potential. Over a 15+ year career, Mutt Motorcycles has built over 200 custom bikes.
Mutt Motorcycles continue to be based in Birmingham in Digbeth's once industrial, buzzing and cultural precinct. Having set up shop in Sydney, they also have distributors throughout Australia, England, Ireland, Scotland, Wales and even in the Channel Islands, Belgium, Portugal and Korea. Queenslanders can pick up their very own Mutt motorcycle from Taverner motorcycle dealers in Brisbane.
Best Mutt Motorcycles for Beginners
Here's some good news: All Mutt motorcycles available in Australia are 250cc and much the same mechanically, so any Mutt is excellent for beginners. They all have more power than 125ccs (which you can buy in other countries) but not too much for a brand new rider.
Of course, there are other things to consider when shopping for motorcycles in Brisbane or elsewhere. With so many stylish models on the market, why pick one over another? To help make your decision easier, here are six of the best for beginners.
When you're ready to bike shop, Taverner Motorsports is your motorcycle dealer in Brisbane.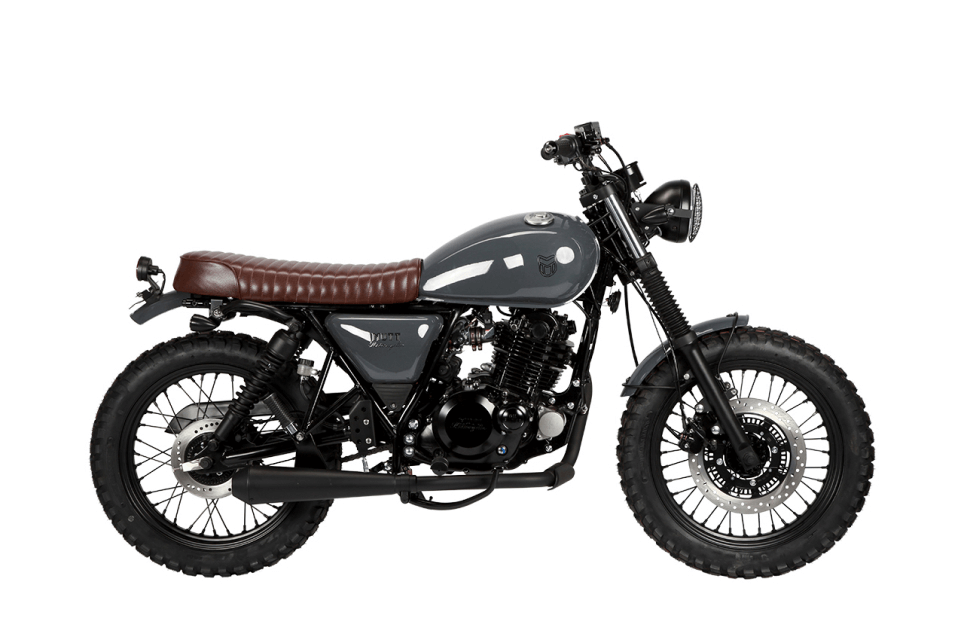 Named after Steve McQueen's character Hilts 'The Cooler King' in The Great Escape, the Hilts is like that character: cool on the surface, capable underneath, just aggressive enough to be effective. It's one of Mutt's most popular models across the world. Even if the only thing you need to escape from is boredom, it's guaranteed to liven things up and make getting around a pleasure.
The Hilts is the perfect combo of performance and style. Straight off the bat, this machine offers power and excellent fuel efficiency. There's an engine with excellent bottom-end torque, a Fuel Vapour Recovery System and Bosch ABS, which makes it a safer vehicle for beginners with its incredible stopping power. Available in grey or green.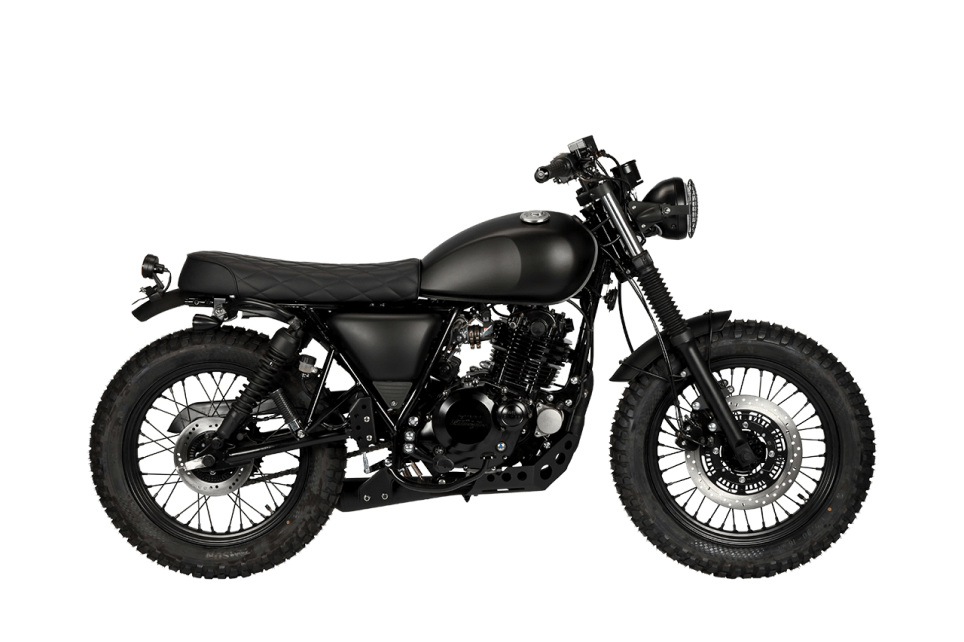 Mutt Motorcycles are from Birmingham, UK. Do you know who else is from Birmingham? Heavy metal legends Black Sabbath and their frontman Ozzy Osbourne. The Black Sabbath is a tribute to the band, and it's suitably moody, powerful and as black metal as it gets. Chunky tyres on black satin rims, black diamond pattern grips on Renthal-style bars, flat black heat-treated stainless steel exhaust.
Like your favourite metal music, this bike has a nice rumble. The exhaust and silencer bark like a true Mutt and the engine's bottom-end torque won't let you down. Safety is a priority, too, with the stopping power of Bosch ABS.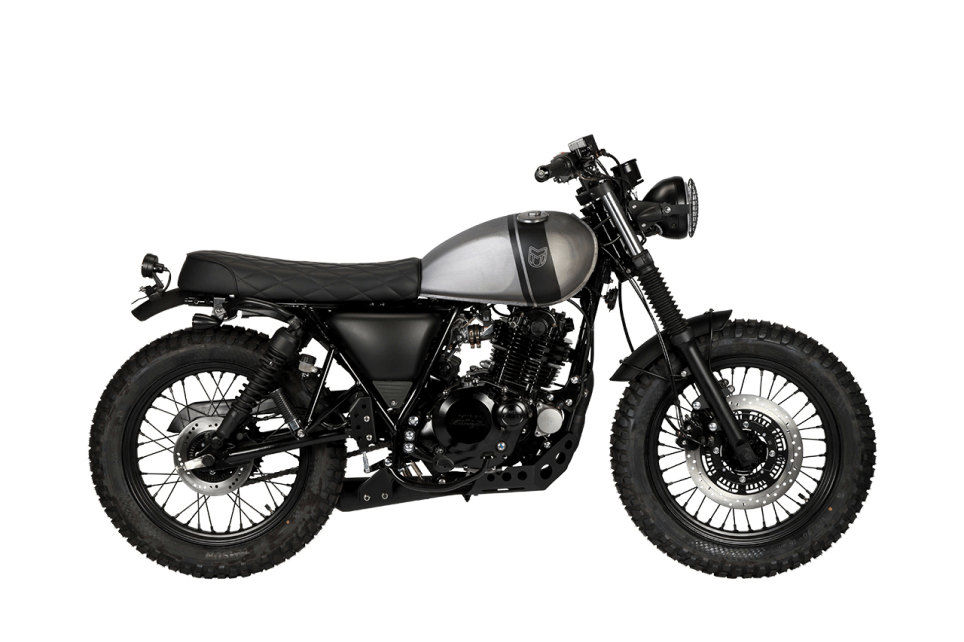 The RS-13 is perfect for those who love custom bikes but with the convenience of having them built for you. And it's built to true Mutt style: lightweight, stripped-down, retro cool yet with all the efficiency of a very modern machine.
Running Renthal-style handlebars keep you upright and ready for action, and the bike is capable on all terrain, from the inner city to the trails to the beach.
The stopping power of Bosch ABS gives you additional safety, while the Fuel Vapour Recovery System is good for the planet and keeps your garage free of petrol stink.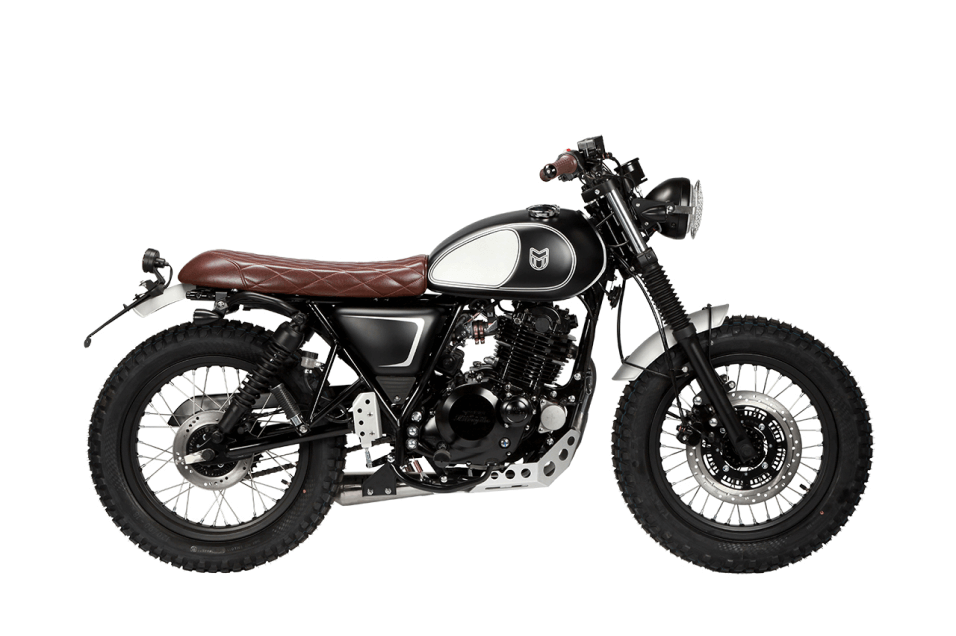 Just because you have to stay under 250ccs doesn't mean you can't pound the tarmac. The Mastiff was designed to be the king of the Mutts, built a little differently.
Among its distinguishing features are the hulking 17-litre tank and the custom sloped-back seat. With its black, angular rims and stainless steel spokes and exhaust, the Mastiff is a very muscular, British-looking, eye-catching machine.
Of course, it also comes with all the regular benefits expected from Mutt, including a solid emphasis on safety. There's Bosch ABS stopping power, a Fuel Vapour Recovery System and fantastic bottom-end torque on the engine.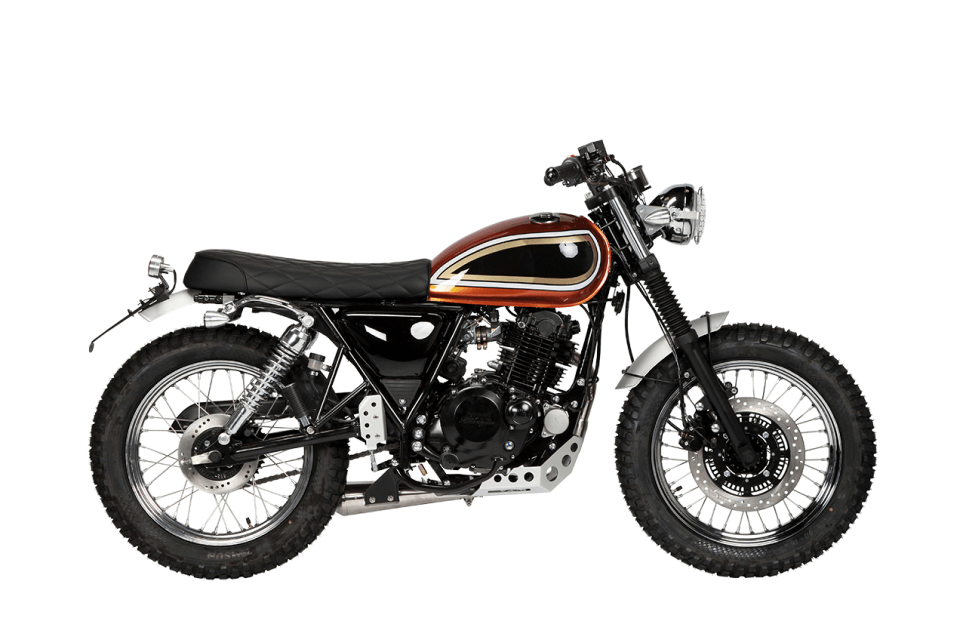 The Super-4 Gold is a real looker, but there's substance behind the style. Plus the same power and performance as other Mutt models.
A beautiful bike with eye-catching paintwork and a shiny chrome finish, its chunky 120-90-18 nobby tyres give novice riders more stability when turning corners. Chrome shocks help keep the bike planted to the road even more firmly.
Fuel efficient and powerful, the Gold also comes with an upgraded chrome halogen headlight and LED aluminium taillight lights to keep you easy to see and to light up your ride.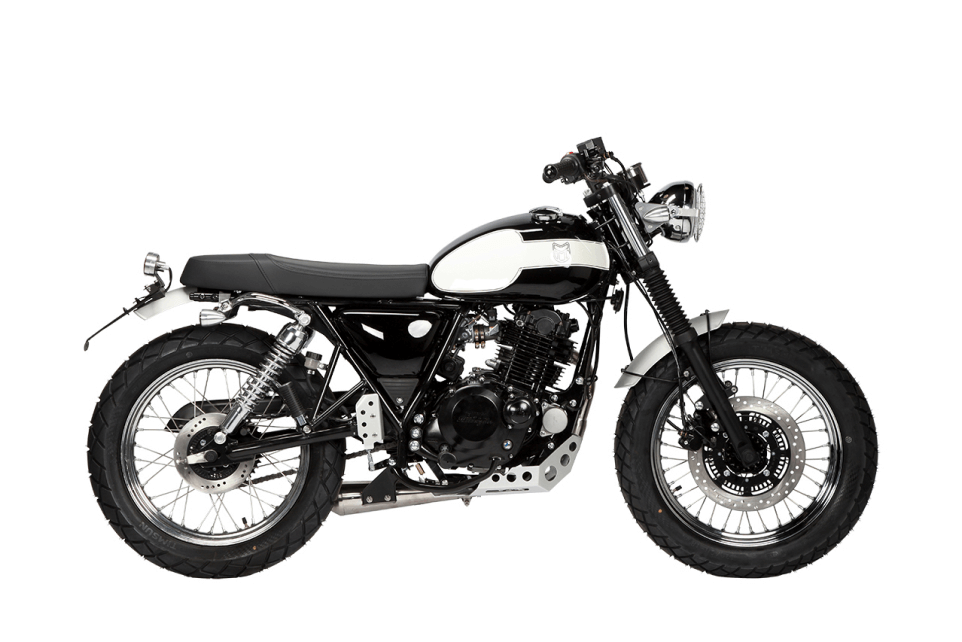 This classic British-style bike is designed for long-distance riding, with the industrial strength of a classic Mutt and a massive 17-litre tank.
Topped off with a chrome Monza-style cap, the generous tank allows you to take long road trips without having to stop frequently for fuel. That said, you don't have to ride it across the country. It performs like a dream even while running short errands.
Features like Bosch ABS for excellent stopping power and a Fuel Vapour Recovery System make this bike a safer choice for the environment and for you.
Get Your Mutt at Taverner Motorsports
Made up your mind? Or have a few more questions? Get in touch with Taverner Motorsports, your motorcycle dealer in Brisbane.
From our early days in Bathurst in the 70s and for more than 40 years, we've been passionate about introducing people to the exciting world of motorbikes. For those who've been searching for Mutt motorcycles in Brisbane for a while, we've got you covered.
Get in touch with one of our friendly, experienced team members to find the right new or used bike or bike parts. Before you know it, you'll be tasting the thrill of riding your own Mutt.