We have a passion for motorcycles & know just how important your bike is to you – & just how much a sensational detail can add to the presentation and value of your motorcycle.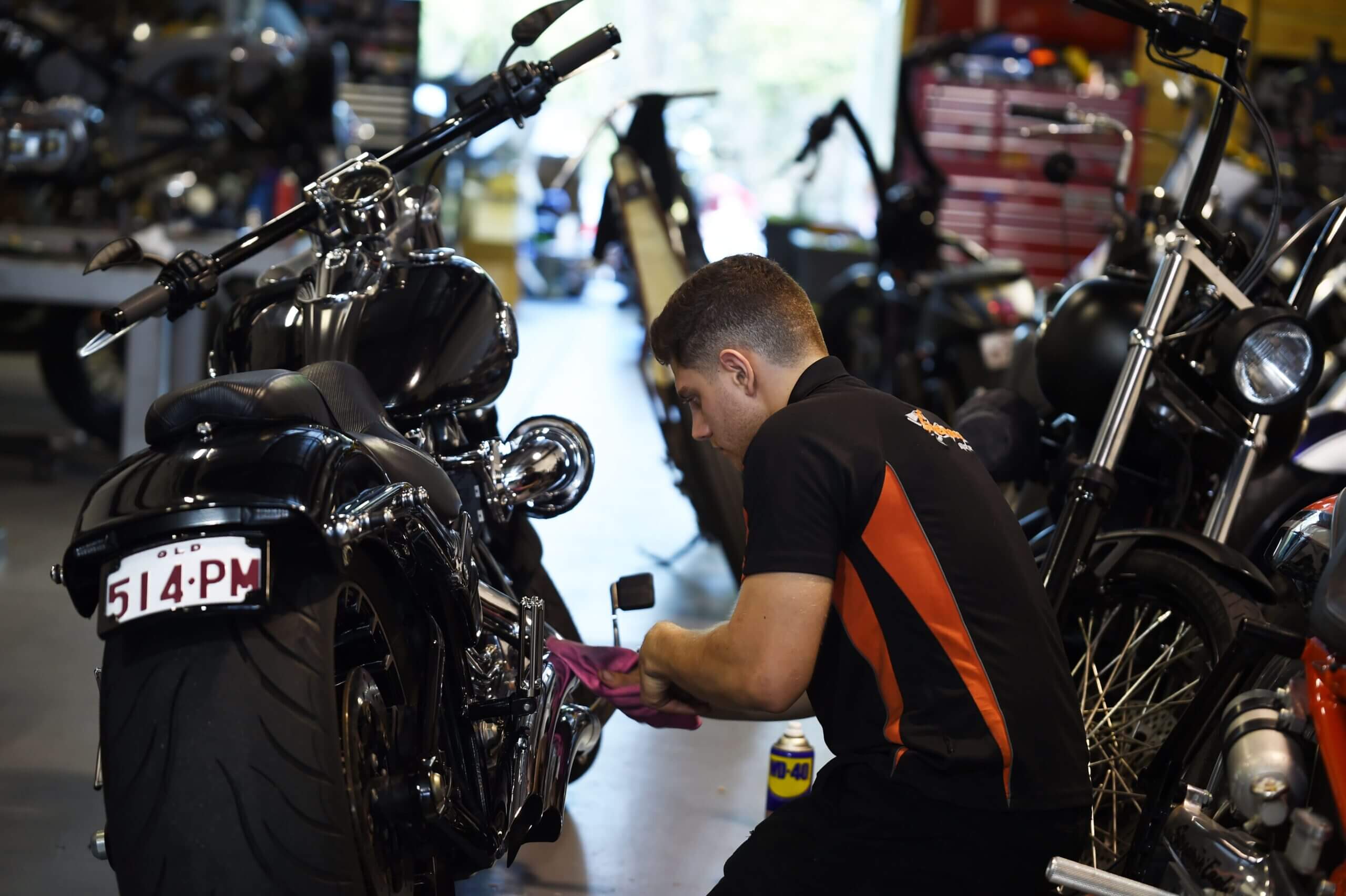 Our detailing is done by dedicated staff who take great care in ensuring your bike is looked after & treated like it were their own.
Motorcycle Detailing From $240
Our team can also address specific areas of concern, such as removing scratches or swirl marks, restoring faded paint, and rejuvenating dull chrome or metal surfaces. We have the expertise and knowledge to bring out the best in your motorcycle's appearance. Whether you ride a classic cruiser, or a custom-built machine, our motorcycle detailing service is tailored to meet your specific needs. We understand that every motorcycle is unique, and we take the time to assess and address the specific requirements of your bike. Maintaining the appearance of your motorcycle not only enhances its visual appeal but also helps to protect its value. A well-detailed bike stands out on the road and reflects the pride and care you have for your machine. Experience the difference that professional motorcycle detailing can make for your bike. Schedule your motorcycle detailing service with Taverner Motorsports today and let us bring out the true beauty of your motorcycle.
Harley Davidson detailing service
Our experienced team utilises the latest techniques and high-quality products to ensure that your Harley Davidson shines. From thorough cleaning and waxing to paint correction, we provide comprehensive detailing services tailored to meet your unique needs. Trust us to keep your Harley Davidson looking and running like new. At our detailing service, we take pride in our commitment to quality and attention to detail. Our comprehensive services include deep cleaning of the engine, wheels, and tyres, along with paint correction to eliminate imperfections. Regular detailing is essential for preserving your Harley Davidson's appearance and value. Schedule a detailing appointment at least once a year or more frequently for optimal results. Experience the difference of our personalised approach and let us restore your Harley Davidson to its full glory.
"Professional Service 10/10. I highly recommend any customisation to your bike by the crew - this lads know bikes - best in the business"
"The only people I would trust to service or build my Bike. 2 generations of experience. Old school knowledge and new school knowledge."
"Brought the bike in for a major service and new tyres. Brian and the team was excellent. Service was great and you can tell they really put in that extra bit of effort in there work. Thanks for making such a major job so easy guys."
Some of our most commonly asked questions are answered here. For other queries please contact us directly, so our team can assist you.