One of Arlen's art-deco inspired designs, the "Arrow Bike". Source: Aaron Anderson.
Arlen Ness. A name well-known throughout the motorcycle industry that is sorely missed today. Although no longer here, Arlen has left his mark on the industry, having pioneered the world of custom motorcycle builds. Known and acclaimed for his low body bikes, outlandish paintworks and gold trims, it's hard to not double take an Arlen bike. They are undoubtedly art in motion, built from steel, aluminium and raw talent. 
While there's far too many Arlen builds that we would've loved to include in the list, the Taverner Motorsports team has narrowed it down to our top builds. So take a seat as we're about to take you through some of the most iconic Arlen Ness builds and their backstories.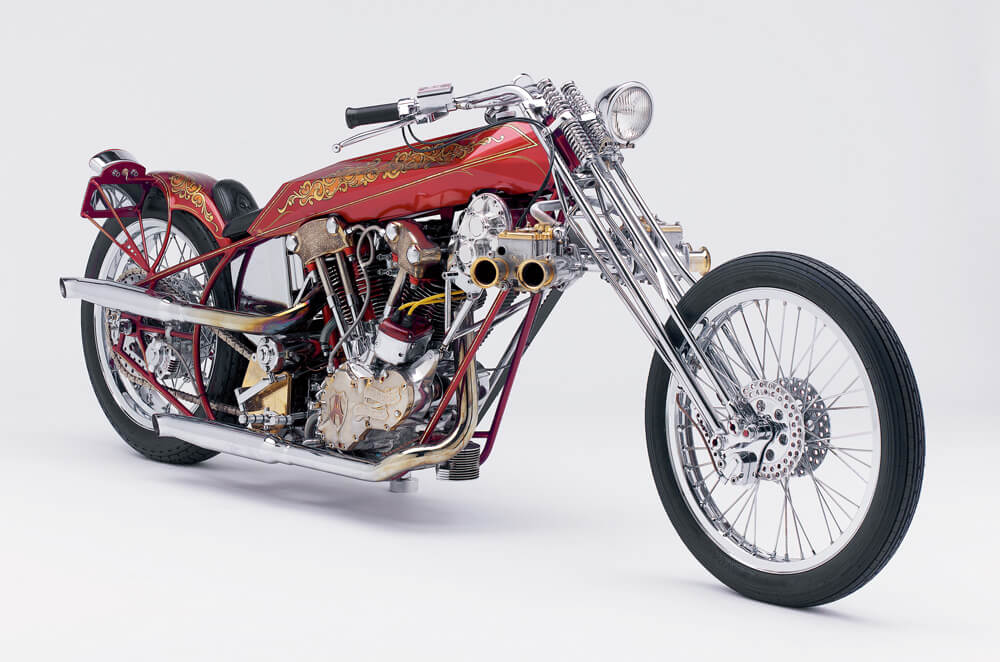 1. Where it Began: The 1947 Knucklehead "Untouchable"
How could we start our favourite Arlen Ness builds without including the bike that started it all? Known as the Untouchable, this is where the godfather of motorcycles story began. As his first build, Arlen purchased his first bike at 27 years old, a 1947 Harley-Davidson Knucklehead known as Untouchable, using the $300 winnings from a bowling competition.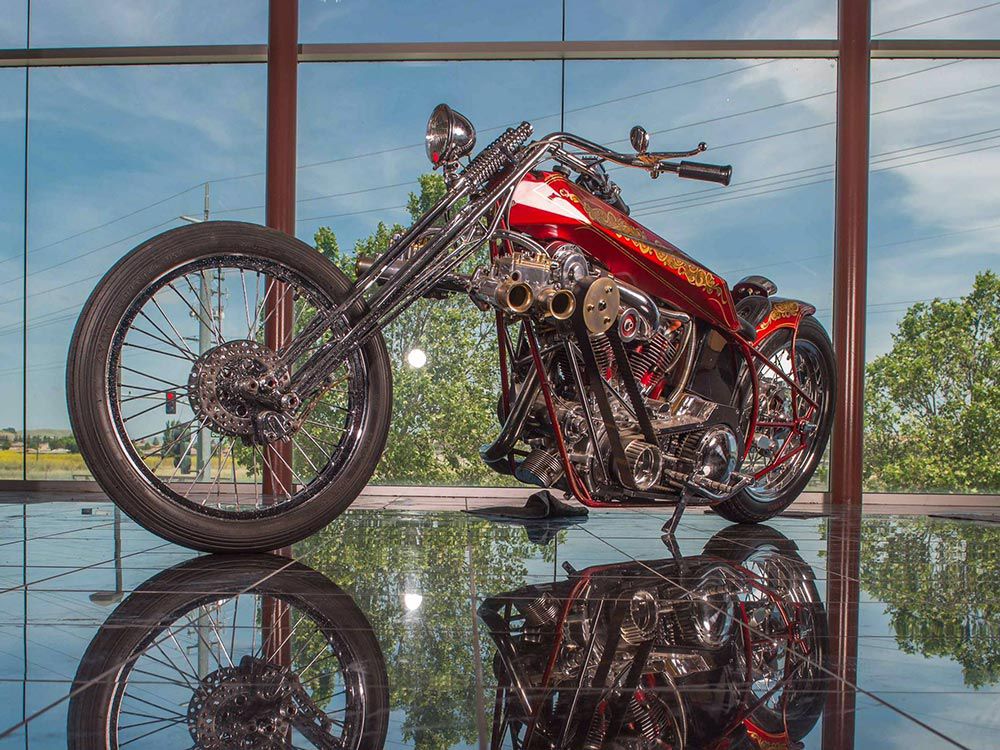 That's right, the legendary motorcycle builder was a semi-professional bowler! Before his career in custom motorcycles, one of Arlen's jobs was resetting pins at the local bowling alley. But, in typical Arlen fashion, anything he put his hands on, he seemingly mastered. "Untouchable" was rebuilt and repainted each year throughout the 70s, finally settling on its end shape in 1977, where Untouchable won the "Show of Shows" event. 
Following his victory, Arlen began tinkering on his second custom motorcycle, igniting what would be the beginning of a collection of exclusive models with a name. Iconic to the Arlen Ness name, Untouchable spurred the creation of a custom motorcycle enterprise that spanned across three generations.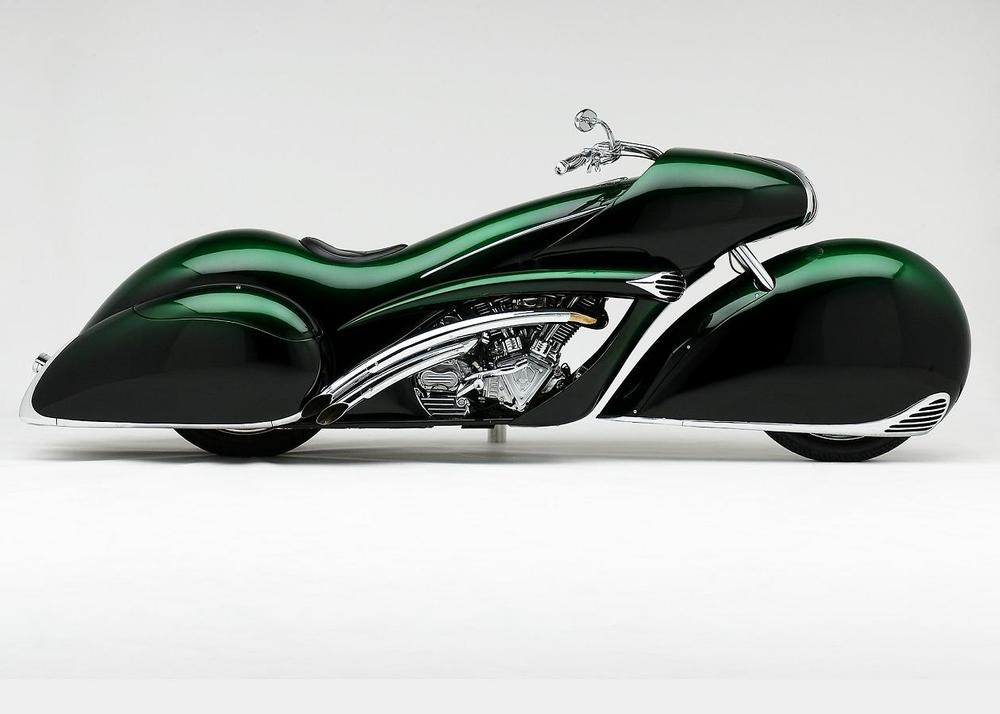 2. The Art Deco-Esque: The 1995 Smooth-ness
One look at Arlen's "Smooth-ness", and you can see why he was nicknamed the King of Customs. Belonging to the body-bikes family, the "Smooth-ness" is a pinnacle example of what became synonymous with Arlen's style, large builds with seamless lines, round fibreglass and bold colours. Arlen pioneered this voluptuous bike style, with the "Smooth-ness" being one of many builds built with smooth lines and minimal exposed mechanical parts.
Inspired by art-deco and reportedly the 1930's Bugatti Type 57SC Atlantic, the "Smooth-ness" was built using a 1,3400cc Harley V-Twin. While not available for sale. The bikes reside in Arlen's museum in Dublin, California, where over 40 bikes are featured. Alongside "Smooth-ness", you'll find his other remarkable body builds including the jet-powered bike build fittingly named the "Mach Ness".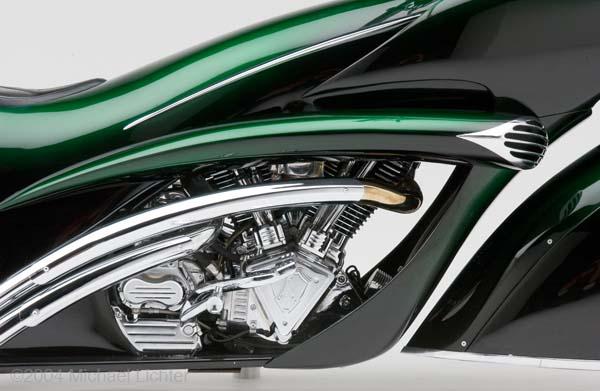 Evaluated at $100,000 USD when it was insured, "Smooth-ness" was one of Arlen's last builds, making it a beloved favourite of the Taverner team, and is one of Arlen's most cherished builds alongside "Untouchable". Either way, the "Smooth-ness" is one of the most iconic bikes in the realm of custom bikes that continues to pay homage to the Ness name.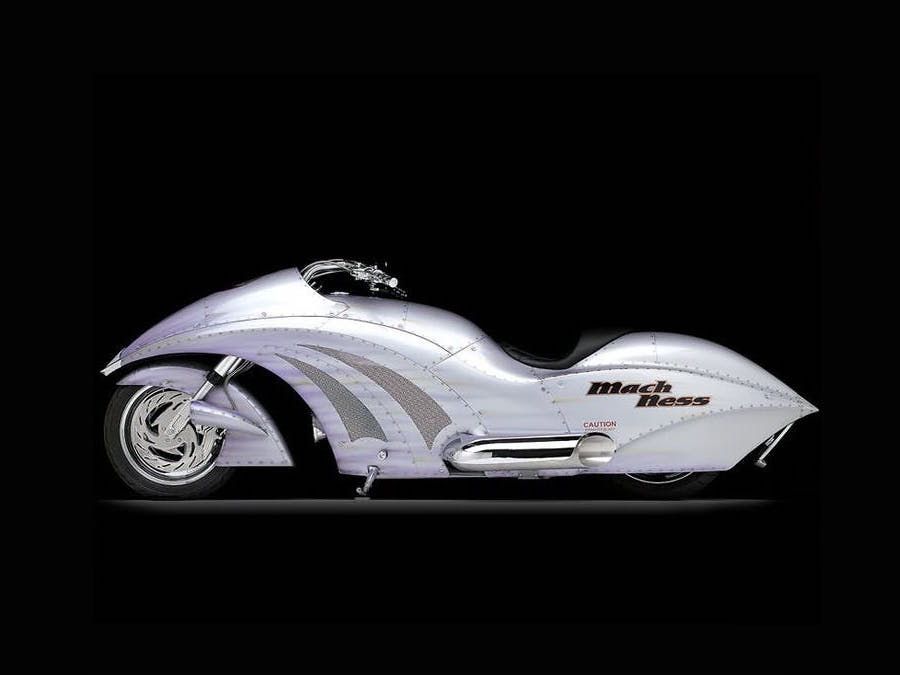 2. The Turbo Powder Build: The 2005 "Mach-Ness" 
One of Arlen's most eye-catching builds that looks like it came straight from a sci-fi novel is the "Mach-Ness". The idea of the turbine-powered two-wheeler was sparked in the mind of Arlen's after he saw Jay Leno's MTT Turbine Superbike at a motorcycle event. There was just one thing standing in his way, the bike's $250,000 price tag. So, of course, as the King of Customs, a captivated Arlen would get around this by creating his own!      
Built in 2005, the "Mach-Ness" was designed and painted by Carl Brouhard and decorated in a custom aluminium bodywork by Bob Monroe. Featuring a helicopter turbine engine, to fire up the enormous engine, a motor with friction drive was required. There had to be substantial breaks with all this power, so a pair of six-piston callipers and 13" rotors were enlisted. Built with an engine designed to carry a helicopter, this build is one of Arlen's most intriguing and challenging bikes he's built during his 40+ year career.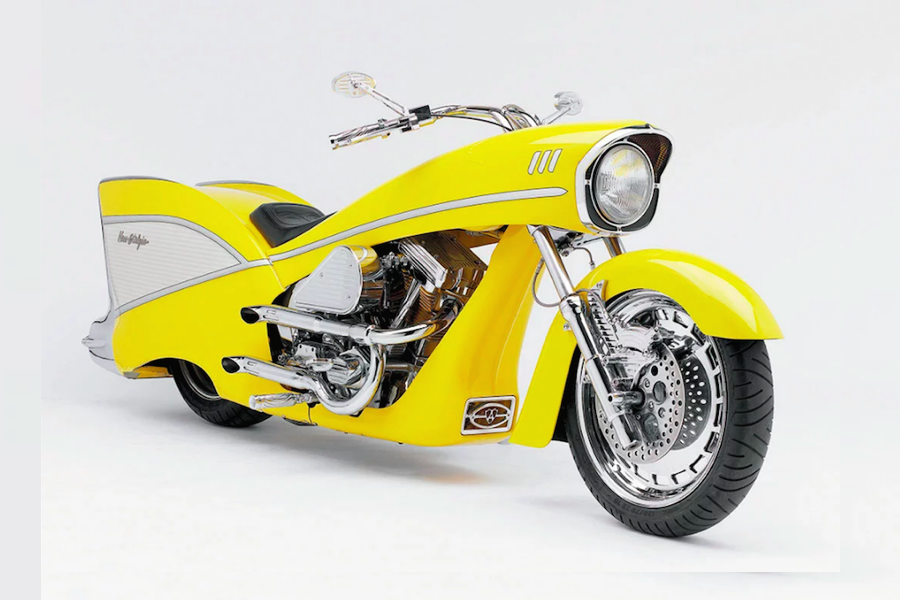 3. The Yellow Two-Wheeled Chevy: The 1957 Ness-Stalgia
Built as a tribute to the legendary 1957 Chevy Bel Air, the "Ness-Stalgia" is another one of Arlen body-bikes that signifies his classic style of low, stretched designs that are, of course, made complete with a bodacious paint job. 
Curated from an 80ci Harley Evo engine and Softtail frame, the "Ness-Stalgia" comically began as a sketch on the back of a pizza box. Capturing the hearts of many motorcycle enthusiasts since its first appearance at the 1995 Oakland Roadster Show, the "Ness-Stalgia" was almost a build not destined to be built! 
"We thought we'd do it for fun, but it ended up being a bike that's known all over the world."- Arlen Ness on reflection on the creation of "Ness-Stalgia". 
Who would've predicted a pizza box sketch turned bike that took eight months to complete would be crowned by Cycle Magazine as Arlen's most infamous bikes?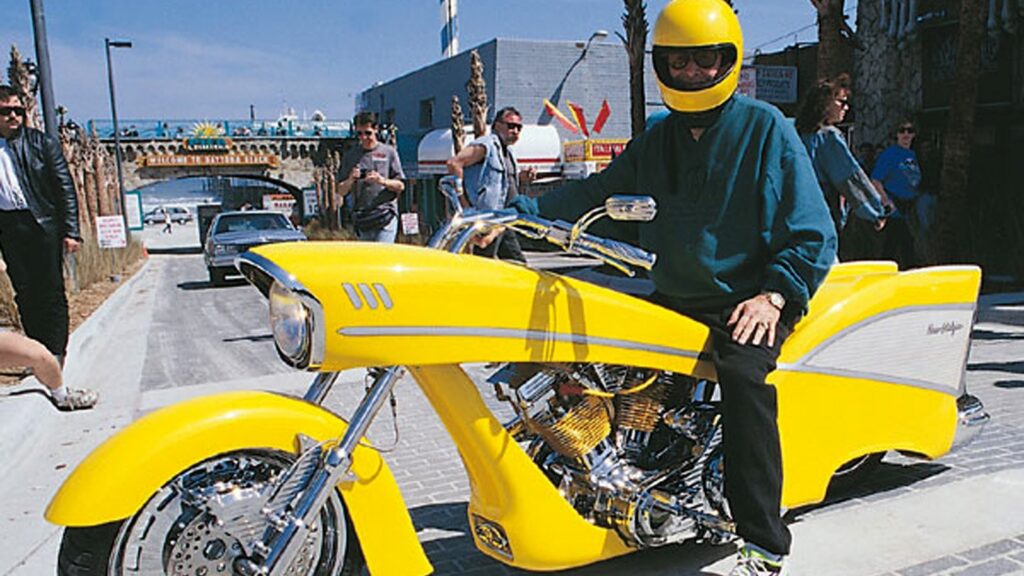 At first, Arlen didn't jump at the bike's design drawn by Carl Brouhard, a fellow American motorcycle designer. However, it was a night during dinner that Carl was watching television where he was inspired by a Tri-Five Chevy featuring in a car show advert. Carl quickly took the pen to the pizza box and showcased the drawing to Arlen for purchase.
Luckily the design wasn't left on cardboard for long, as Arlen came around and purchased the concept, with the bike being built by a group of skilful designers including Jeff McCann, Ron Covell, Bryan Kinney and Bob 'The Mun' Munroe.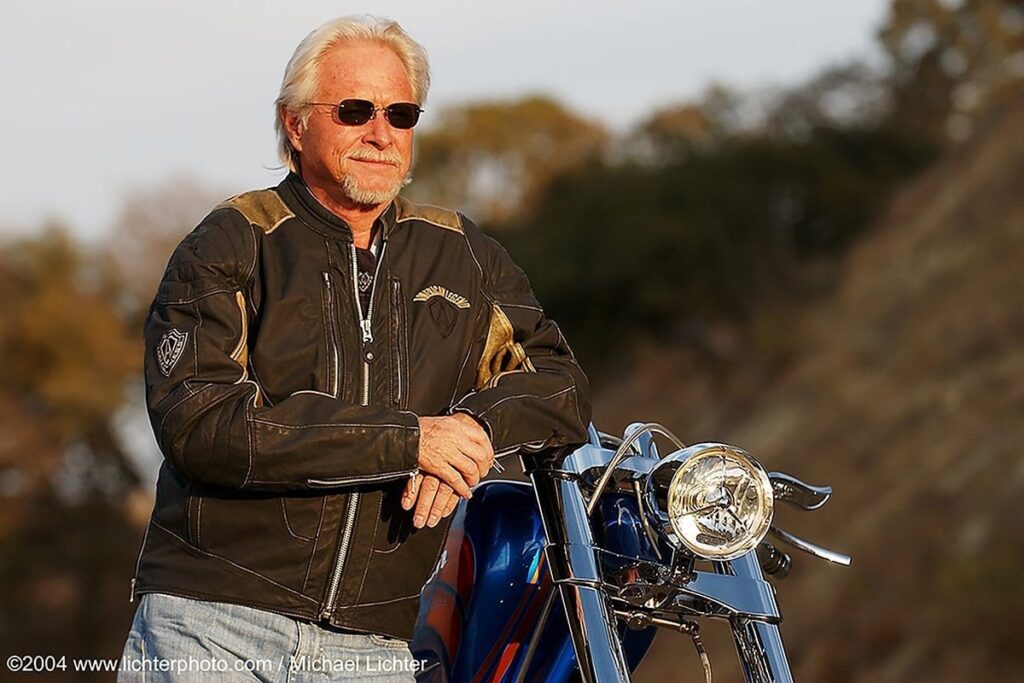 Where is Arlen Ness Today?
Although no longer with us passing in 2019, his career that spanned 56 years is now tributed in the bike museum, which carries on his custom workshop. Alongside the gallery of his bikes is the manufacturing company, where his son Corey Ness and grandson Zach carry the Ness torch. 
With a passion and purpose to continue to improve and create the best quality motorcycle parts available, Arlen Ness Motorcycles has steered towards creating, testing and delivering leading performance and custom-bolt on parts time and time again. Having ingenuity transforming motorcycles into works of art for an array of customers and celebrities, it's clear why Arlen continues to be celebrated today. 
Taverner Motorsports: Here to Build Your Dream Custom Bike
As a trusted and reputable Brisbane-based motorcycle shop, Taverner Motorsports would love to help bring your custom motorcycle goals to life. Whether it's employing Arlen Ness bike pieces or the parts we are available from our vast international suppliers, we feel confident our services can deliver. 
To learn more about our services, you can visit us in-store at Bowen Hills or drop us a line on 07 3148 5288. If you've set your eyes on Taverner, we welcome you to request a quote online! Today we scratched the surface of the life of Arlen Ness, but on our blog, you'll find his story filled with his accomplishments and what made him a respected figure in the community.