If you've got a new motorbike or you're just new to biking itself, one question you may be asking is how often should I get my motorcycle serviced?
The truth is there's no hard and fast rule. Some bikes are built for speed and others for longevity. A good rule of thumb is once every six months, but it depends on the type of bike you have and how often you ride it. The more you use your bike, the more services it needs.
No matter what make and model of bike you have, you can't skip your regular service. It's critical for your safety and the long-term health of your bike.
A top-quality motorbike mechanic will check your tyres for damage and wear, check your brakes, look at your steering and suspension and change your oil, so your engine doesn't overheat. Putting your bike in for a regular service will make it last longer and help it stay reliable, maneuverable and powerful. So, where do you find the best motorcycle services in Brisbane?
Taverner will give your motorbike a complete service regardless of your bike. We can do anything from a basic oil change to building custom motorcycles from scratch.
We've been working on our trade for over 40 years. A family-owned business that grew out of a genuine love for the motorcycle scene, we've been building, repairing and servicing motorcycles since our early days in Bathurst in the 70s! We do everything from motorbikes and motorcycle parts to performance and restoration work.
If you've been wondering where the best motorcycle services in Brisbane are for a while now, your search ends here.
What do Our Motorcycle Services Involve?
So what happens when a team member gets to work on your machine? Well, that depends. Taverner performs several different motorcycle services at our Bowen Hills workshop, and you can take your pick.
Minor service
A minor service is sometimes called an interim service. It's a simple, straightforward and more affordable service that keeps your bike running smoothly between major maintenance bookings.
For just $220, the Taverner team will give your motorcycle one of the most thorough and professional minor services you're likely to find anywhere.
Included is a change of the oil and filter, replacing the spark plugs, taking it for a test ride and issuing you a condition report. We'll be able to spot problems early before they cause you any grief and also make you aware of what to keep an eye on when it's major service time.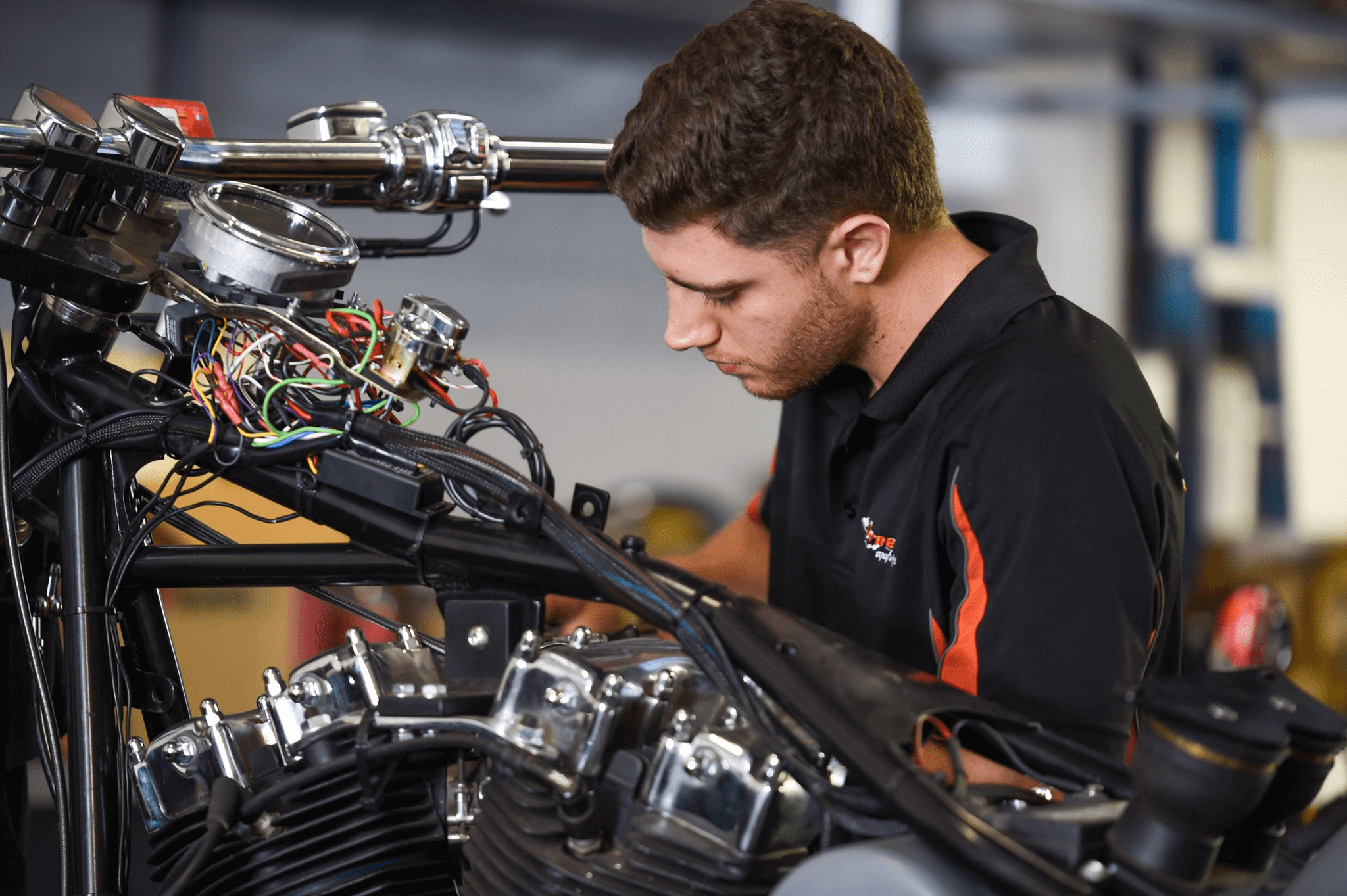 Major service
With our motorbike full service, we ensure your motorcycle is in prime condition for only $499. We'll spot any issues before they become major problems, fix anything that needs to be fixed early and have your bike ready to roll so you can ride off triumphantly into the sunset!
Our full service includes replacing the engine, primary and gearbox oil, replacing the filter, changing the spark plugs, adjusting the primary and rear belt chains, the clutch and the throttle cables, flushing the front and rear brake fluids, lubing the pivots, cleaning the air filters and providing a condition report. If it's been a while since your last service, you may be pleasantly surprised by how well your bike runs when you take off up Abbotsford Road afterwards!
Tyre supply and fitting
Whether you ride your bike to work and back every day or you just take it out of the shed for a joyride occasionally, it's important to have the right tyres. Tyres that suit your bike and the terrain you usually ride are fitted and attached appropriately. But you don't have to be a tyre expert: just let Taverner do the hard work for you and enjoy a smooth ride.
Tyres are pretty much the most important safety feature on your bike bar the brakes, so it's imperative to get the right ones. Taverner stocks and supplies high-quality, well-known and trusted brands like Metzeler, Avon, Pirelli, Shinko, Dunlop and Bridgestone, and tyres for vintage and hard-to-find motorcycles. We have tyres for regular roads, tyres for more rugged and extreme environments, tyres for speed on the track and performance tyres that are also appropriate for day-to-day use.
General maintenance and repair work
It doesn't take long for professionals like Taverner to check your bike over for general maintenance issues and work that needs to be done. And once it's sorted, you can take off safely knowing that your machine is well looked after. A quick trip to Taverner sure beats waiting by the side of the road after a breakdown.
There are several things to look out for when it comes to the general maintenance of your bike: leaks and drips, battery power, the condition of the tyres and wheels, brakes, filters and fluids. We can check everything is running smoothly and, if necessary, run through repairs and attach the right motorcycle parts.
Motorcycle detailing:
Want a bike that looks shinier, sleeker, newer, and runs better? The right detailing not only helps your bike look better but can also boost its value.
The experts at Taverner take great care of your bike and treat it as though it's one of their own. Our keen eye for detail means we can come up with something that looks flashy but also suits your tastes and your bike's style perfectly.
For just $240, we can have your bike looking flash and causing heads to turn like never before. We'll clean and degrease the chain, the rear sprocket and the visible engine parts, remove tar and other grime spots, remove alloy corrosion, lube the chain, clean and polish the mufflers and wheels and do everything else in our power to get it looking flash.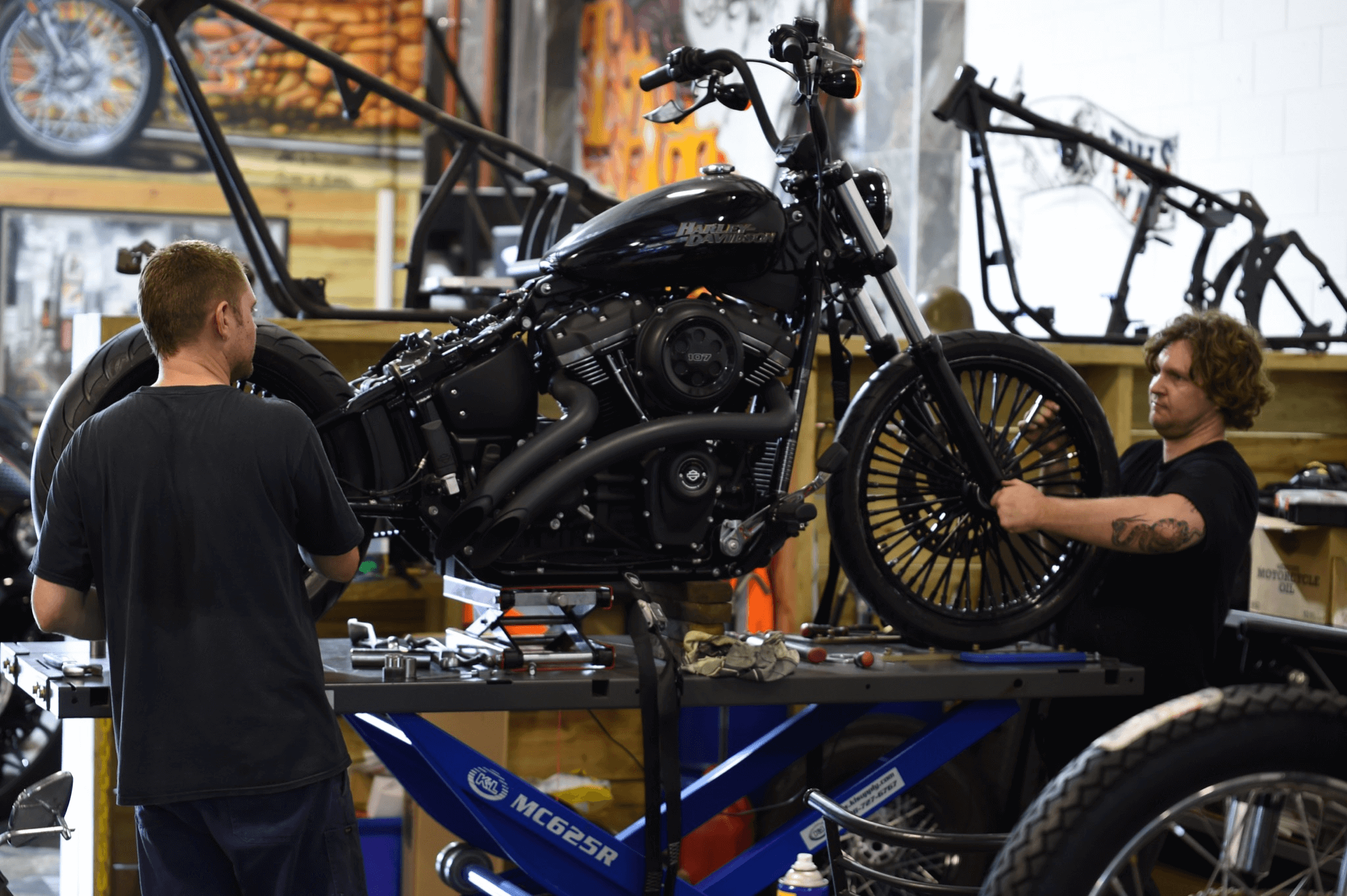 Safety certificates
Whether you're planning to sell your motorbike or you just need a certificate to keep it legal to ride, Taverner provides safety certificates for motorcycles of all types. No matter what kind of bike you have, there's no reason to risk getting caught out without the proper registration when we can provide you with an affordable safety cert in a straightforward way.
On top of safety certifications, we also provide vehicle certifications for any modifications we do, from big wheel, turbo and supercharger kits up to full ICV compliance for ground-up builds.
And if you're interested in discovering more about our ground-up custom builds, let us know. We can build a bike to your exact standards, and there's no job too large or too small for us to take on. Seats, cables and exhaust systems, lighting, we're across every piece of it!
Book a Motorbike Full Service at Taverner
Whether you're just after a simple service or want the full works, Taverner can help.
We offer motorbike full services, custom builds and a well-stocked motorcycle parts shop.
Get in touch with a member of our team, and we'll sort you out with motorcycle services that leave your bike running like a dream and protect it long into the future.