Whether you're looking to upgrade your engine, replace faulty or worn-out parts or just maintain your machine, there can come a time when a motorcycle engine rebuild is necessary. While it's possible to carry out the procedure yourself, there are good reasons to leave it in the hands of a pro instead. You might not be mechanically minded, or, like many of us, you might just be just short on time. So who can you trust with a motorcycle engine rebuild in Brisbane?
In a city like this, there are plenty of motorcycle workshops. But if your bike is your pride and joy, you don't want to leave it in the hands of just anyone. Who do you pick? How about a motorcycle workshop with 40+ years of experience?
Taverner Motorsports has been in the motorcycle business since the 70s, and over the decades, we've worked on all sorts of motorcycles – including many of today's classics, back when they were first on the scene. We're the Brisbane retailer of Mutt Motorcycles and experts in British, Japanese and American bikes, so we can help you find the right bike and then take care of it for a long time. Not only are engine rebuilds among our many motorcycle workshop services, but we also have a store full of custom motorcycle parts, including high-quality S & S Engines that can go the distance in your bike.
Don't have time to mess around with the engine yourself? Drop into Taverner for a motorcycle engine rebuild in Brisbane, and we'll have you back on the road shortly with a new and improved engine.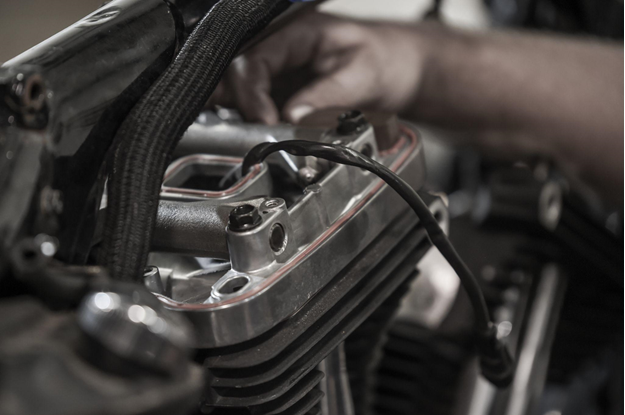 How to Rebuild a Motorcycle Engine
Interested in rebuilding your own motorcycle's engine? The process will vary depending on exactly what you're planning to do to it. But in a general sense, here are the steps you should take. If you find this interesting, there's more information out there that can help you get deeper into it.
Be prepared

You can't do much without a workshop or workspace to do it in. You'll need some essentials: the right working tools, a copy of the manual (and service manual, too, if you can get it!), a motorcycle lift, containers for the parts and receptacles to drain the fluids into. A quiet spot with enough room for all these things will allow you to get your work done in peace.

Clean the bike and secure it in place

Make sure your motorbike is as spotless as possible, and secure it on the bike lift. Bear in mind that the weight will shift as soon as you take the engine out.

Drain all the fluids into the appropriate receptacles

If you're wondering how to safely dispose of your used motor oil, there are council facilities that are happy to accept it.

Disconnect the battery, starting with the ground lead
Turn off the fuel supply and take off the fuel tank
Remove the muffler and the header pipes
Take off the airbox and carburettors
Remove the drive train, drive belt or drive shaft – whichever is on your bike
Wrap the frame rails that are likely to touch the engine as you remove it
Take off the external cases like the clutch and alternator covers and the oil filter canister
Carefully choose the proper tools to take off the clutch, the crankshaft drive gear, the stator, the alternator, the ignition plate, the gear change lever and all the other relevant parts
Disconnect the oil lines and then the electrical components
Loosen the engine mounting bolts along with the plates
Place the engine on a workbench and complete all the modifications and repairs you need, whether it's replacing the seals and gaskets, replacing major parts like crankshafts or reconditioning the cylinders.
Of course, unless you're committed to working on bikes on the regular, you'll need the right custom motorcycle parts and tools to make this happen.
Taverner can certainly help with that, but that's only the start of what we can do.
Drop your bike into our workshop, and we can complete a motorcycle engine rebuild in Brisbane for you. If your engine needs to be replaced or you've been craving one with more power, we can set you up with a new one from a top-of-the-line brand like S & S Engines.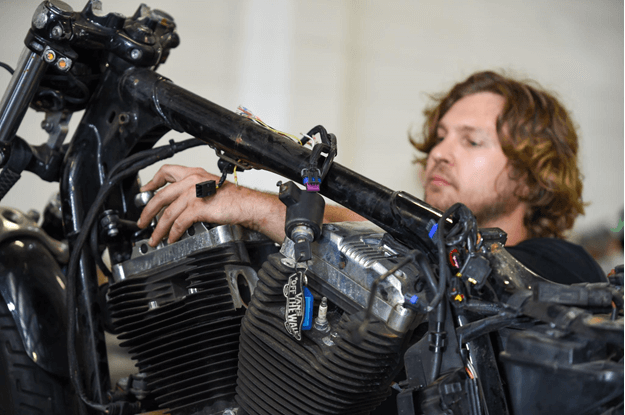 Reasons for a Motorcycle Engine Rebuild
Besides personal preference, what are some reasons a motorcycle engine rebuild in Brisbane might be on the cards? Chances are, there will be signs something is amiss.
Trouble starting your bike
This is a common problem and a pretty clear sign that something is wrong. Common causes include spark plugs and electrical issues or dirty fuel.
Misfiring or plug shorting
Issues with the ignition timing or valve settings can lead to your engine misfiring.
White or blue exhaust smoke
If your tailpipe is blowing unusually coloured smoke, this is often a sign that a problem, such as a cracked piston, is at play.
Excess oil consumption
If your bike is guzzling alarming volumes of oil, the culprit can often be worn seals, valves or rings.
Milky engine oil
When your engine oil takes on a "milky" complexion, it's often a signal that a leaky water pump seal is allowing coolant to run into the mix.
Engine vibrating excessively
If the engine is vibrating a lot more than it should be, the culprit could be an out-of-balance crankshaft, a worn-out clutch basket or loose frame bolts.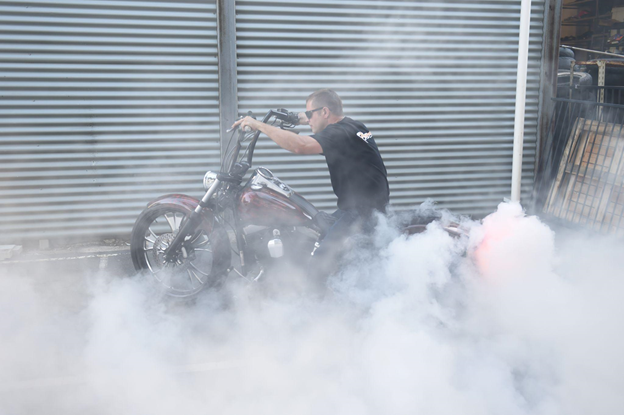 These are just a few of the problems you can have when your motorcycle's engine starts giving you problems. If you notice anything out of the ordinary, take your bike to Taverner Motorsports. We can diagnose the problem and let you know what you need, whether it's a complete motorcycle engine rebuild in Brisbane or just some minor repairs.
Benefits of a Motorcycle Engine Rebuild
The biggest advantages of a motorcycle engine rebuild in Brisbane include
A fresh start with high-quality new parts.
Peace of mind that if the rebuild is done well, it should run smoothly for a long time with little to no issues.
There's no chance of the kind of miscommunication with the electrical system that may occur with a whole new engine.
Of course, it's entirely possible to get your hands on a whole new engine from a top brand like S & S Engines that will complement your bike beautifully. If you need help picking the right one or choosing custom motorcycle parts of any other kind, Taverner is here to help.
For a motorcycle engine rebuild in the Brisbane area or any other kind of motorcycle engine maintenance, don't hesitate to reach out to Taverner. We've been building and rebuilding for a long time, and we know when the fix is easy and when it's time for some serious work.
Motorcycle Engine Rebuilds at Taverner Motorsports
Decades of experience and a deep love for motorcycles drive the Taverner approach to motorcycle engine rebuilds in Brisbane. From our early days in Bathurst to our current address at 159 Abbotsford Road, Bowen Hills, we've had more time than many in the industry to improve our craft.
Not only do we sell the motorbikes of our customer's dreams, but we also have the custom motorcycle parts to go with them. Our engine parts include full engines from the likes of S & S Engines and other excellent brands. We've developed a strong network of partnerships with parts suppliers worldwide as well as local paint, finishing and machinery partners. We have the skills, tools and contacts to complete tasks both big and small, and we'll treat your bike with the same care we'd show to one of our own.
Have any questions? Already ready to book a motorcycle engine rebuild in Brisbane? Don't hesitate to get in touch with the friendly Taverner team!