Love it or hate it, cleaning your motorbike is an important task. It not only makes it look better, but it also keeps it running well. A simple bucket of water can work wonders, but use the right cleaning products (no dishwashing liquids or household detergents that can damage the paint!). Cleaning your bike at least every two weeks can stop dead bugs, caked mud and grime from chipping away at your paintwork. Besides, doesn't your bike look much better when it's squeaky clean?
If you're serious about preserving your motorcycle and keeping it looking fantastic, there's a way to clean deeper than just a basic scrub. You've probably heard a lot of quotes about how important attention to detail is. There's a way to see that principle in action when it comes to your motorbike: to book it in for a motorcycle detail or motorcycle service in Brisbane.
Cleaning your motorbike is pretty straightforward. But it usually takes a professional to carry out a motorcycle detail how you need it done.
Where can you find motorcycle detailing in Brisbane? You can always try the task out in your garage at home, but that involves knowing your way around the right products and procedures.
A more convenient option is motorcycle detailing in Brisbane from pros like Taverner Motorsports. With 40 years of experience in the motorcycle industry, we know a lot about getting your bike to perform at its best. From a motorcycle service in Brisbane to engine work and other performance work to full-on customisation and fabrication, our experts can do it all when it comes to motorbikes.
To learn more about how we can provide one of the most thorough motorcycle details Brisbane has to offer and why it makes a difference to your bike, read on.
What is Motorcycle Detailing?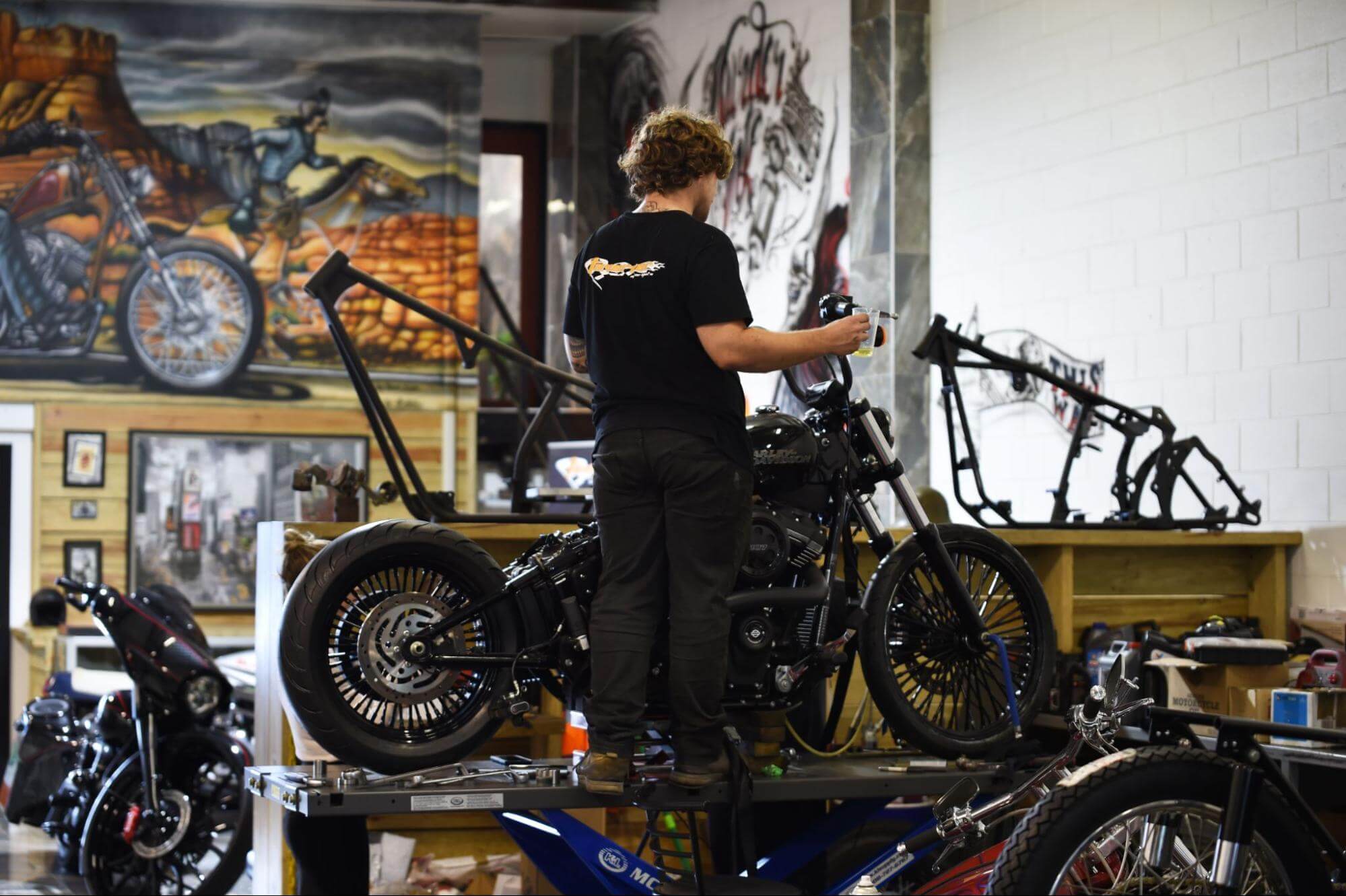 Motorcycle detailing definitely involves cleaning, but as you may have already figured out, there's more to it than that. In a nutshell, it's about cleaning, maintaining and restoring all of a bike's parts to guarantee it looks shiny and immaculate and to help it last. It involves a lot of greasing and scrubbing and a large amount of polishing, waxing and degreasing to help your bike stay clean and have it look its best.
If you're after a motorcycle detail in Brisbane carried out by a professional, you have plenty of choices. But before you leave your motorbike in anyone else's hands, it's worth looking at their experience, level of expertise, and how long they've been in the industry. Once you read up on Taverner's backstory, you'll find we're more than up to the task of motorcycle detailing in Brisbane.
How Does it Work?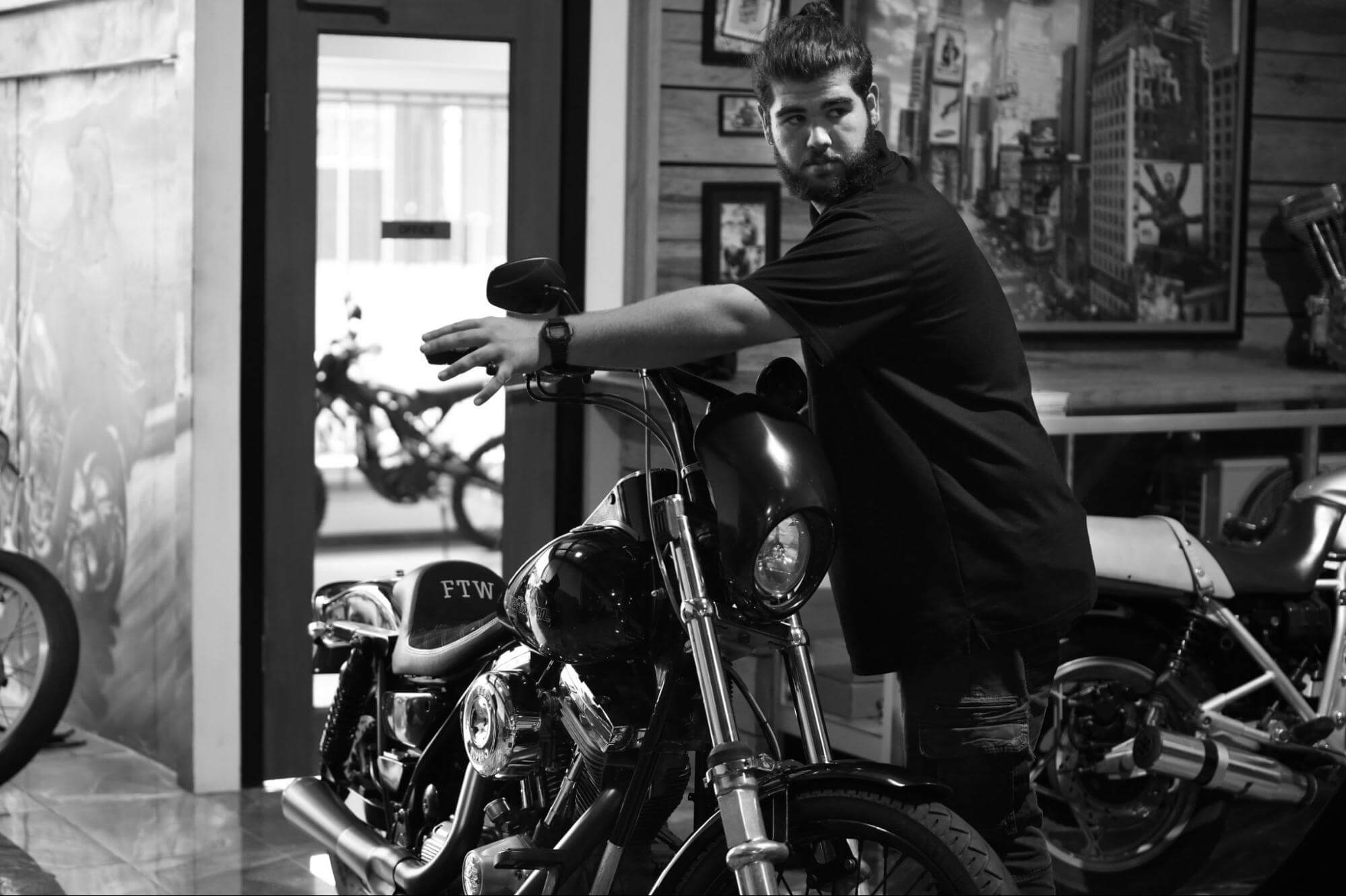 If you're going to detail your motorbike yourself, there's no set order to do things, but plenty of tips and guides are out there.
A fairly standard process is to start with a wash. You can use a hose to rinse your bike and a decent standard mitt and motorcycle/automotive stain remover to eliminate the grime. You can then wash your rims and tyres and polish your rims for preservation. Chrome can be polished and waxed. A soft bristle brush works well for your engine, and a bit of leather treatment on your seat enhances its look too.
When it comes to a motorcycle detail in Brisbane, Taverner's services can include cleaning and degreasing the chain, rear sprocket and all visible engine parts, waxing the frame and pre-treated bodywork, removing alloy corrosion and cleaning the muffler by hand. During each stage of the process, we care for your bike as if it were our own.
What Are the Benefits of Motorcycle Detailing?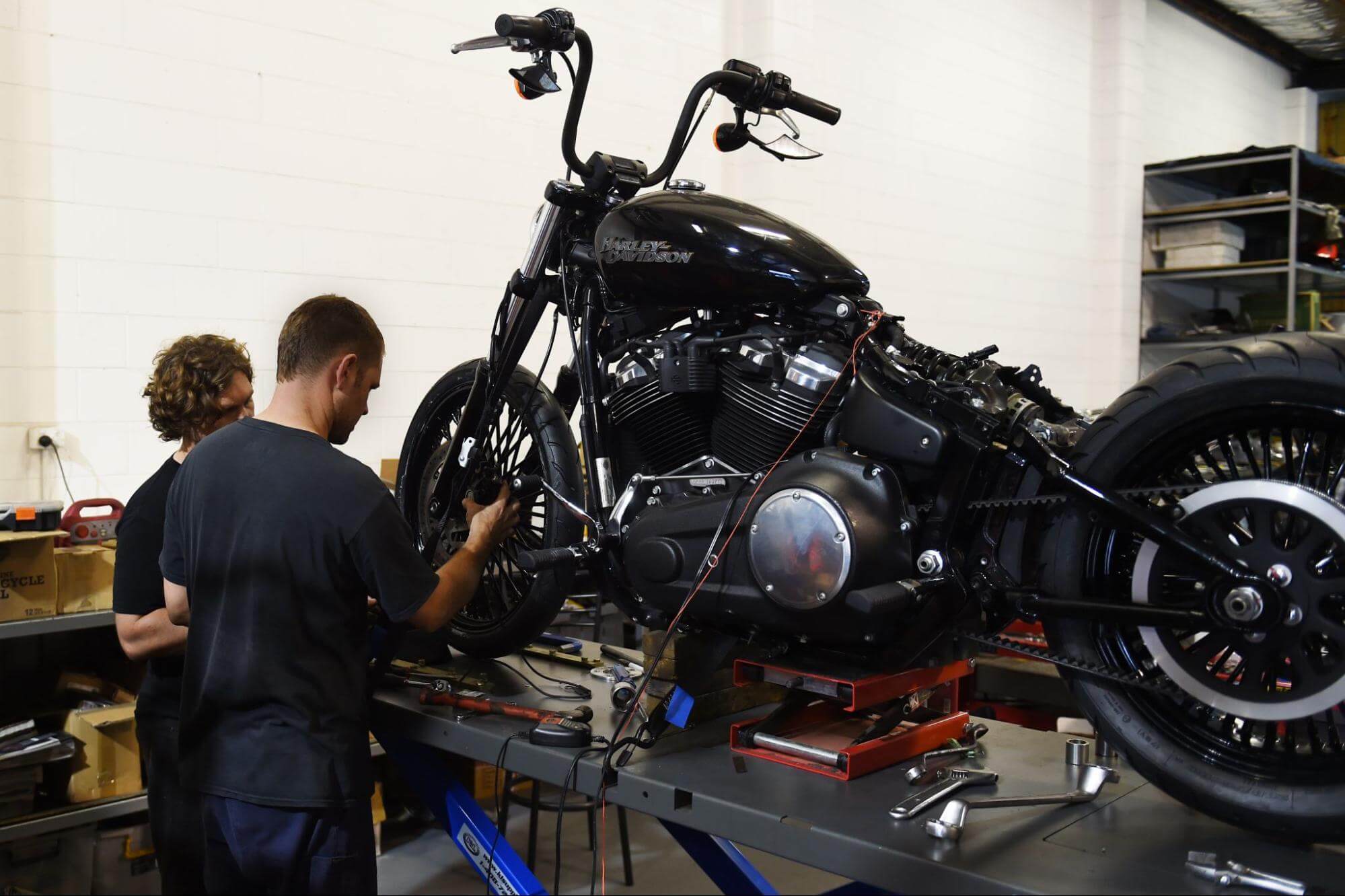 Motorcycle detailing has more benefits than just making your bike look shinier, nicer and newer (although those are all perks). Some of the biggest benefits include
It preserves the paint and can even reverse some of the damage inflicted by stones, debris etc., on the road.
It's a way to catch small problems – such as dirt or grime clogging up the brakes or the engine – before they take their toll on your motorbike and become serious. Detailing is more thorough than standard cleaning and provides the opportunity to spot potential issues and address them in a way that a standard cleaning generally can't.
It can make the bike easier to sell in the future. If you plan to part with your bike at any point, you want it to look its best. Detailing is one way to make sure of that.
Get Your Motorcycle Detailed at Taverner Motorsports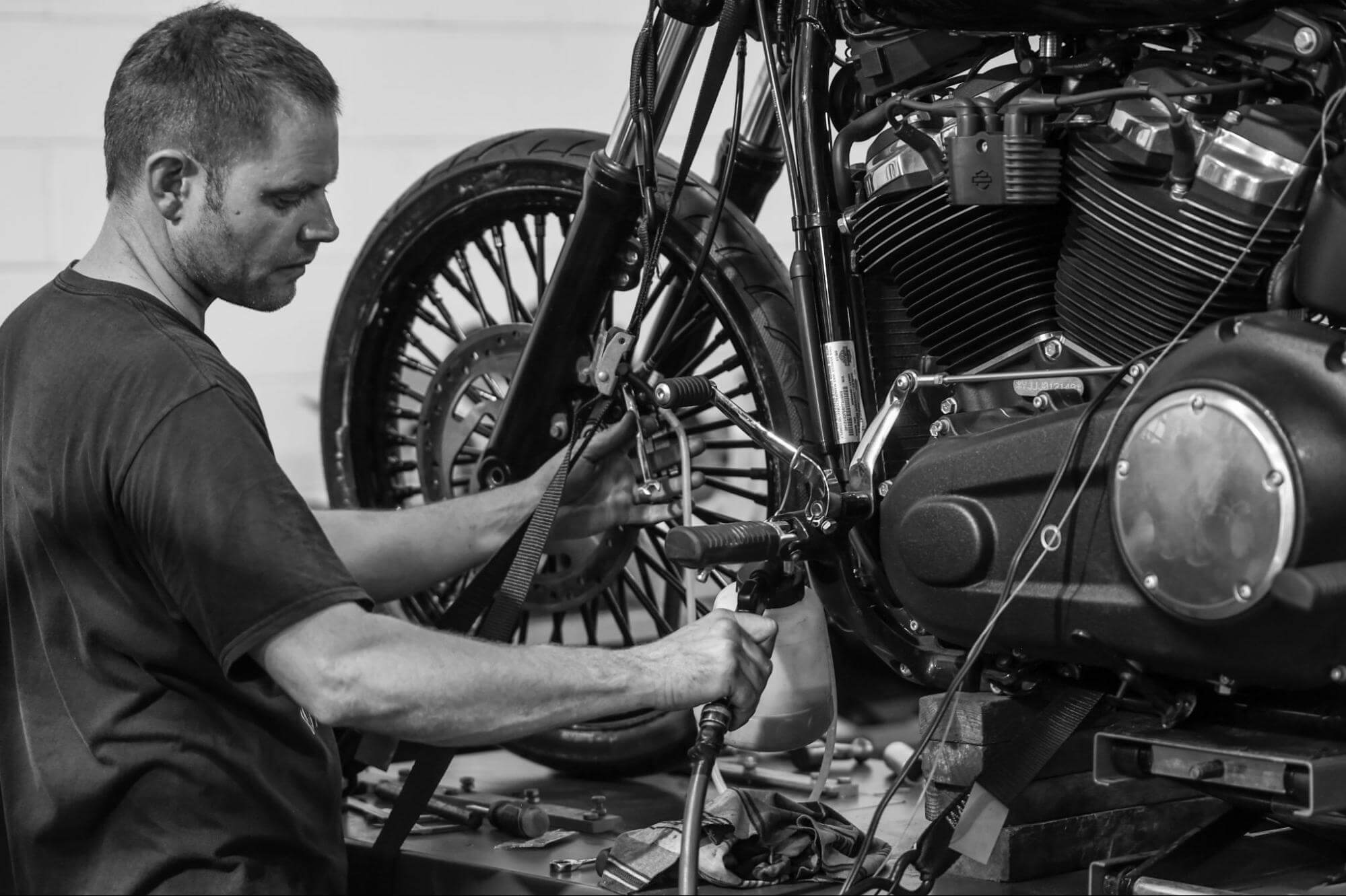 Whether you're a local or a visitor, if you're in the Brisbane area and want your bike looking better than ever before, Taverner has got you covered. From motorcycle detailing to a motorcycle service in Brisbane, we can handle every aspect of motorcycle care to have your bike looking its best.
We've spent a long time perfecting our trade before our first motorcycle detailing in Brisbane. Our roots go back to 1975 and making our mark on the streets of Bathurst with our first motorcycle shop. We quickly gained a reputation for being one of the best in the business, and we've held onto it since then.
While we respect tradition, we've always focused on the future and stayed plugged into new developments in the world of motorcycles. Now a family-run business located at 159 Abbotsford Road, Bowen Hills, QLD, on the north side of Brisbane, we bring the same fresh energy to the bike world as we did when we were starting out. We're excited to see what's next from here.
As well as being a place to find a motorcycle detail, Brisbane, we have a ton of products and services to offer: high-quality motorcycle parts for your DIY project, servicing, fabrication, restoration and more.
Our motorcycle detailing in Brisbane service starts from just $240 and includes the following:
Cleaning and degreasing of the chain and the rear sprocket
Degreasing of all visible engine parts
A rinse and hand wash that shows great care for maintaining the quality of your paintwork
Removal of unsightly tar and grime spots which can cause long-term damage
Removal of alloy corrosion wherever possible
A rinse, and gentle hand dry of your bike
Waxing of the frame and any visible engine covers
Waxing of all pre-treated body work
Cleaning and polishing of mufflers by hand
Waxing and polishing the wheels
Lubing the chain
Of course, every bike is different and in a different condition. Some will need a little more time and attention, and some a little less. But overall, these are the services we provide for your bike, and we undertake them with the same level of dedication and care we'd have for a bike of our own.
Get in touch with Taverner for all your motorbike needs, from a motorcycle service in Brisbane to bike detailing.