From motorcyclists to drivers, everyone who operates a motor vehicle groans – literally or inwardly – when they see the 'check engine' light on their dash. Engines are expensive to fix and even costlier to replace, and they can fail for frustratingly simple reasons: dirty oil, dirty air filters, not enough coolant, or offset engine parts, to name just a few.
While the best way to ensure a long and healthy life for your motorcycle's engine is regular servicing, there may come a time when you actually have to replace it. The older your bike is or the longer you have it, the likelier that day is to come. The question is where to buy motorcycle engines when it does.
The average motorcycle engine lasts 10-15 years barring any breakdowns, accidents or emergencies. Signs that it's in need of repair, rebuilding or replacement include struggling to start, low compression, smoke, coolant leaks, backfiring, stalling or unusual sounds. Of course, none of these are necessarily signals that you have to replace your engine right away. Often they're early warnings that something is amiss.
Wondering where to buy motorcycle engines if and when the time comes? If you're in Brisbane or the South East Queensland region, you can buy them from the same place you can easily buy other excellent-quality motorcycle parts in Brisbane: Taverner Motorsports.
Taverner don't just repair and service motorcycles. Under one roof, we provide a wide range of workshop and custom services like restorations and modifications, as well as an online and in-person shop. We're Brisbane's own dealer of Mutt Motorcycles, classic small cc custom-style bikes from the UK, and we stock any motorcycle part you're likely to need for a home DIY job.
Need a new motorcycle engine or maybe just some engine parts like cylinders, pistons or crankcases? You're in the right place. Take your pick.
Different Types of Motorcycle Engines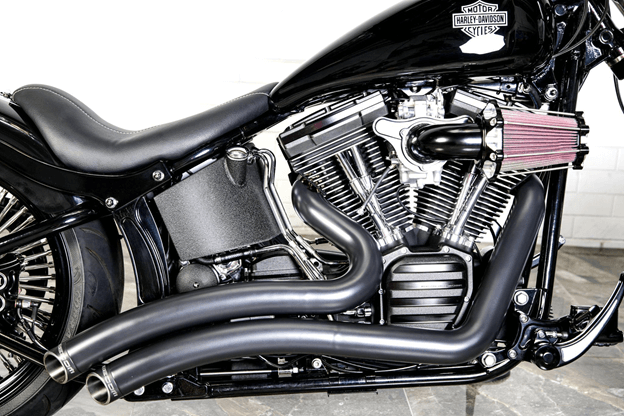 Like so many other aspects of motorbikes, motorcycle engines aren't one size fits all. But it's possible to sort them into a handful of main types. Some are two-stroke and some are four. Some are air-cooled and some are liquid-cooled. They come with different amounts of cylinders. "Inline" engines (or straight engines) feature cylinders side by side, while V-Twin engines consist of two cylinders facing away from one another in the shape of a V.
Some of the most common styles include
Single cylinder: This is the simplest and most affordable motorbike engine, as well as the lightest. As the name suggests, it consists of just one cylinder.
Parallel twin: The next step up from single-cylinder engines, these ones feature two side-by-side.
Inline-three and inline-four: These engines build on the previous inline engines. Their heavier feel makes for a ride that's powerful and comfortable in equal measure.
V-Twin: You already recognise the shape of this one. The two cylinders that face away from each other at angles are highly recognisable and so is the sound they make.
V-Four: An engine that looks like two V-Twins stuck together, this one is as powerful as you'd expect. But its heavier weight and elaborate design means manufacturers usually save it for the highest-end models.
Flat engines: Also known as "boxer engines", these engines have their cylinders positioned on either side of their crankshaft. Two and four-engine models are the most popular types.
Not sure what kind of engine is in your motorbike or need some help sourcing the right one? Taverner can help you out. Wonder where to buy motorcycle engines no more when you take a good look at our range!
And if you need any other motorcycle parts in Brisbane or are still looking for the right motorcycle to begin with, we can take care of that for you too. A seller of high-quality brands like Mutt Motorcycles and Harley Davidson, we're a place that motorcycle lovers can make repeat visits to in order to find everything they need.
Should You Buy New or Repair Your Motorcycle Engine?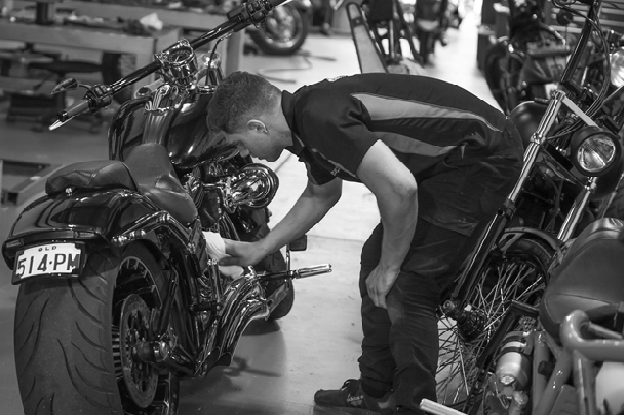 Does your motorbike's engine actually need to be replaced, or can you get away with just repairing it? Both have their benefits. Repairing an engine tends to be cheaper, and you can even do it yourself if you have the right skills and frame of mind. Like any other mechanical part, though, it's possible for a motorbike's engine to be beyond rescue and once it's gone, it's gone.
Fortunately, it's not difficult to find where to buy motorcycle engines and sometimes you can find a bargain that's a lot cheaper than putting your engine through repeated repair jobs. Best of all, you'll be starting fresh with a brand-new engine that still has years of life ahead of it. If you're wondering whether there's life in your current engine yet or if it really is time for something new, the Taverner team are always happy to have a look.
Buy Motorcycle Engines & Parts at Taverner Motorsports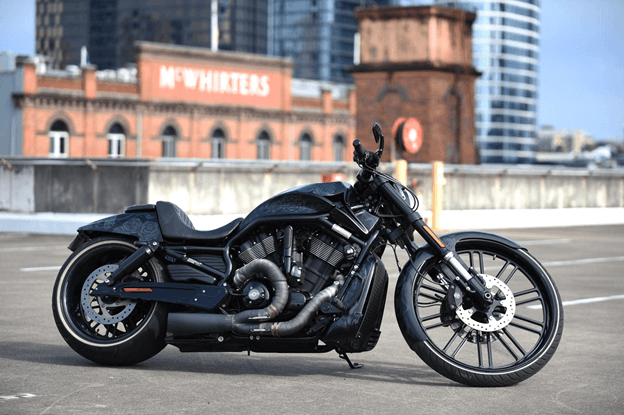 If you've been looking around for where to buy motorcycle engines, you're in the right place. Taverner has motorcycle engines and engine parts to buyalong with other bike parts and bikes themselves, from well-respected brands like Mutt Motorcycles. If you're hunting for motorcycle parts in Brisbane, all you have to do is drop in. But if you're interstate and wondering where to buy motorcycle engines and parts, we can ship to you too.
We have complete engines for you to purchase, suitable for a range of motorcycles and available in stunning designs. If you love the look, feel and sound of a V-Twin, we've got heaps in stock for you from leading brand S&S Cycles. We can also help you out with oil pumps, crankcase and bottom-end bits, cylinder heads and components, pistons, engine hot-up kits, oil and engine coolers and more. If you have the skills to fix up your engine in your own garage, we make sure you also have the right tools and parts.
If you've been wondering where to buy motorcycle engines in Brisbane, Taverner can bring the search to an end for you. A family-owned business, we've dedicated ourselves to perfecting our craft for more than 40 years. From our early days as 'Street Bike' in Bathurst, NSW to our current address at 159 Abbotsford Road, Bowen Hills on the inner-north side of Brisbane, we've stayed knowledgeable about motorcycling history yet focused on the future as well.
As the Australian distributor for Mutt Motorcycles, we provide a place to buy all kinds of motorcycle parts and engines in Brisbane. Decades in the motorbike industry have led to us building strong relationships not only with our customers but with our partners in the industry too. Our network of worldwide parts suppliers and local paint, finishing and machinery specialists means you won't be left empty-handed when you go seeking our services. If we don't happen to have a particular part in-store, we can get it pretty quickly without a fuss.
Taverner can put your search for where to buy motorcycle engines (and other motorcycle parts) to an end with our massive range of goods. For more info or to ask us any questions, get in touch with the friendly Taverner team!