Got an old motorbike you'd like to restore to as good as new? Whatever kind of bike you have, chances are Taverner Motorsports is already familiar with it.
Having been in business since 1975, we were probably working on the same make and model when it was brand new. When it comes to classic bike restoration, you're in very capable – and experienced – hands.
Motorcycle restoration is the art and the skill of taking a motorbike that's been ravaged by time and returning it to how it looked in its glory days. It can involve repairing any frame damage, sourcing correct OEM parts and refinishing all aspects of the motorcycle, whether it be chrome plate, zinc plate, vapour blast, rubber components or applying fresh paint when required. A lot goes into the process, so it can be costly and time-consuming to try at home.
At Taverner, we know you want to keep your bike's unique look intact, so we don't do things the one-size-fits-all way. We realise some collectors and enthusiasts prefer an irreplaceable vintage look complete with decades of patina, so we can undertake a classic bike restoration that ensures the machine is roadworthy while preserving that condition. For those who are ready for a more dramatic change and want their bike to look like it just rode out of the showroom, we offer the full nut and bolts rebuild.
Whether you want a minor change or a full makeover, Taverner Motorsports will give you the most thorough, professional and versatile motorcycle restoration Brisbane offers.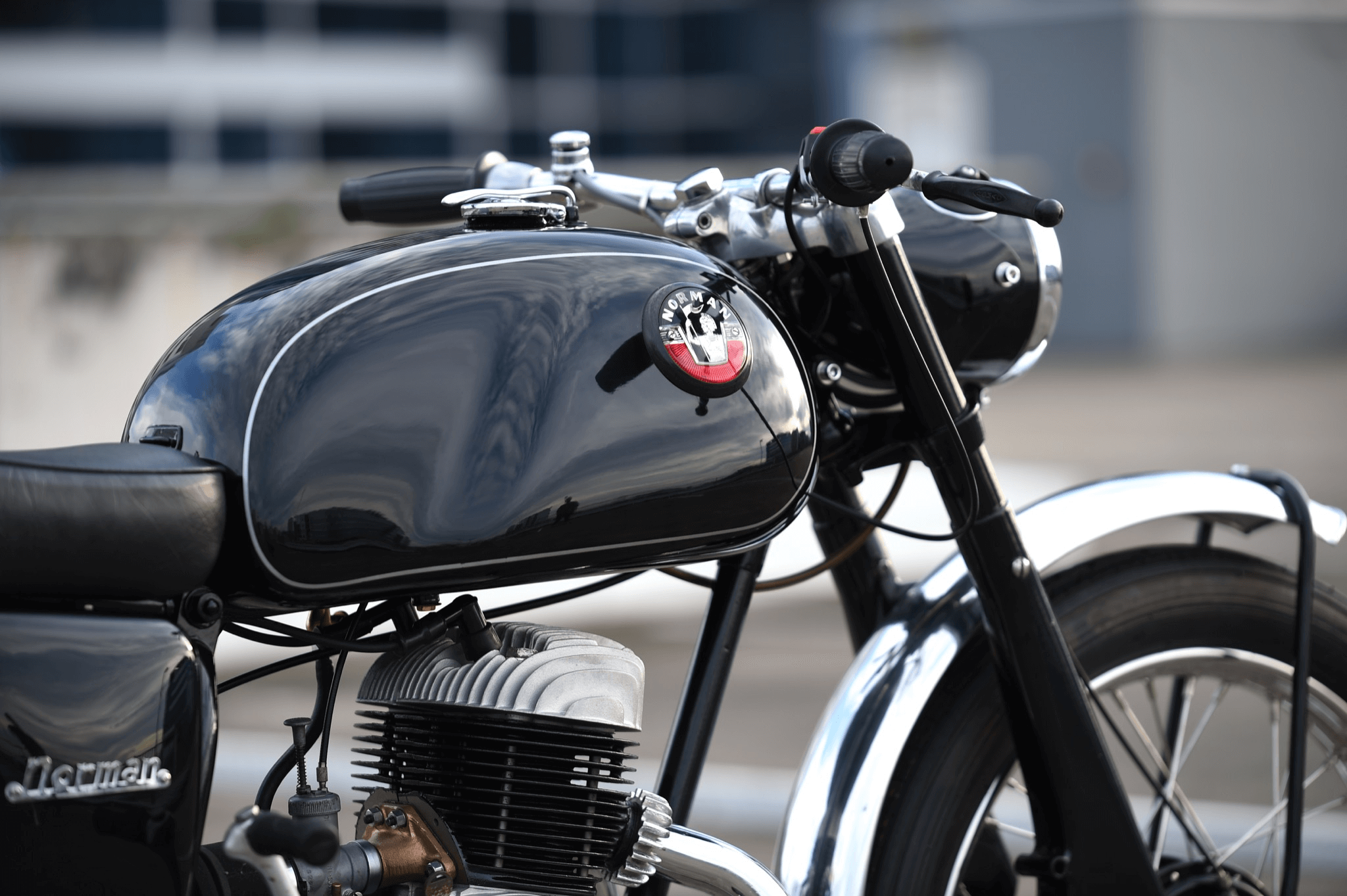 How do You Know When Your Motorcycle Needs to be Restored?
Deciding when to restore your motorcycle is often a very personal choice.
Some motorbike riders, collectors, and enthusiasts prefer a motorcycle that looks its age, complete with the fading and patina (a thin layer of coating that forms over time on metals exposed to the elements) that gives it that hard-to-fake vintage look. Some old bikes are worth more to sell than others in their original state, so it pays to look into the make and model.
Some factors that can help you decide whether you want to put your bike in for a motorcycle restoration in Brisbane include
The shape of the frame
A very old bike probably has a few dents here and there, but a frame that's badly damaged or bent out of shape will need fixing or replacing.
At Taverner, we have the skills to take a bent frame, prep it, straighten it out and powder coat it, as we did for this Hornet BSA, fixing it up, so it's good to go again.
The condition of the parts
If any of the motorcycle parts are worn-out and not functioning the way they're used to, it's time for a restoration. If the parts aren't available on the market anymore due to the age of the bike, Taverner is able to fabricate new parts from factory specifications, keeping the bike as close as possible to authentic. Sometimes while it would be ideal to have the original part this is the next best solution.
How much rust is on the bike
Surface-level rust is often an easy problem to deal with. But when rust gets so bad that it begins to eat holes in the metal or threaten the structural integrity of the bike itself, that's a sign that it's time for some heavy-duty repair work and possibly a motorcycle restoration in Brisbane.
At Taverner, we have the skills to remove the rust that's damaging to your motorcycle while, depending on your preferences, leaving the other effects of time that give the bike its stylish old-school charm. This brings us to the next point.
The look
Perhaps you like a bit of wear and tear, but maybe you'd prefer to return it to the pristine condition that you (or the previous owner) bought it in?
Ultimately, whether or not you choose a motorcycle restoration in Brisbane with Taverner – and the extent you choose to restore is up to you. We can create dramatic changes or just tweak a few things. Either way, our priority is for you to be content with what you have.

Motorcycle Restoration
It's entirely possible to DIY restore a motorcycle. But it's a huge, difficult, time-consuming project that can take months of labour. And you need to really know what you're doing to get good results. You need to have a lot of free space that you're able to keep well organised and have access to the original manual too.
Luckily Taverner has all of those things at our disposal. You simply tell us how you want your motorbike to look, and we'll do the hard yards while you get on with life.
Before we can get down to the nuts and bolts of the motorcycle, we have to check it still runs. This involves checking the engine has compression, replacing the petrol, testing the battery and cleaning the carbs. If the engine isn't running, we'll figure out what it needs to get moving again, even if it involves rebuilding the carburettor or the ignition system and make it happen.
Motorcycle restoration can involve inspecting and working on the fuel tank, the suspension, the steering, the wheels, brakes and the engine. Taverner can tell you if the battery has worn out, the spark plugs need replacing, or the fuel tank is rusty, and then make a plan to manage the project within the required timeframe and budget.
If the bike hasn't been ridden in a long time, it's a given that the tyres will need to be replaced. The brakes are an essential safety feature and something you can't live without, and we'll ensure they're working correctly. The brake fluid will need to be flushed and replaced, checking the brake pads, and in most cases the whole system will require replacement.
Obviously, lights, turn signals, and indicators are essential for safety, and Taverner checks your electrical system is functioning just as it should be. Light bulbs, wiring etc., should all be in excellent working condition.
Taverner will also factor in how the bike looks. If there's wear and tear you want fixing, or rust threatening the bike's structure, we can take care of that. We can also maintain that classic vintage look that older bikes have so you can preserve sale value or nostalgia.
Whether it's a classic bike restoration or a relatively recent motorcycle model, Taverner will have it looking, feeling and running as good as new. We'll take a bike you've had for decades that's possibly seen better days and have it back in excellent condition for potentially decades more fun and action.
Get Motorcycle Parts and Restoration at Taverner
With 40+ years in the industry, Taverner is passionate about motorcycles and motorcycle refurbishment. We're passionate about restoring your bike to a condition you're happy with too.
We can work with British, American and Japanese bikes, so no matter what kind of bike you have, we have the skills and the parts to fix it up a little or to rebuild it from the ground up. In our decades of experience, there's likely no make or model of bike we haven't seen or worked on at this point!
For motorcycle restoration Brisbane-based, as well as the finest custom builds and motorcycle parts you'll find in Queensland, get in touch with the friendly, experienced team at Taverner.