Every motorbike needs servicing; that much is obvious. How often a bike needs servicing depends a lot on the make and model, but a good basic guideline is that you should get a full service every six months. If you're wondering what a full motorcycle service involves and how it differs from what you might call a minor or "interim" service, this article is for you. If you're in the Brisbane area, Taverner Motorsports is always on hand to assist you with anything motorbike-related, including full motorcycle services.
There's a lot that goes into motorbike maintenance and servicing. So many parts go into making a machine that even when one part is on the verge of causing massive issues, it's sometimes hard to notice during regular use of your bike. But regular full servicing helps maintain your bike's components and prevents problems. Safety is crucial when riding – sometimes, it's a matter of life and death. As well as a safer ride, regular motorcycle servicing helps your bike last a lot longer and helps keep it legal to ride on Australian roads.
If you know what you're doing and want to save cash, you can service your own motorbike. But if you're in the Brisbane region and want a comprehensive motorbike full service at an affordable rate by professionals with decades of experience, Taverner can help you.
Taverner can perform a complete full motorcycle service that checks every inch of your bike, replacing filters, oils and spark plugs and adjusting clutches and chains whenever necessary. We'll guarantee your bike is in peak performance and ready for the busy streets before you leave the store and that you're sure to have a safe ride. If anything needs fixing, we're also a dedicated and experienced motorbike repair shop in Brisbane with access to a vast selection of parts.
So what's included in your full motorcycle service, and why should you place your bike in Taverner's hands?
Motorcycle Service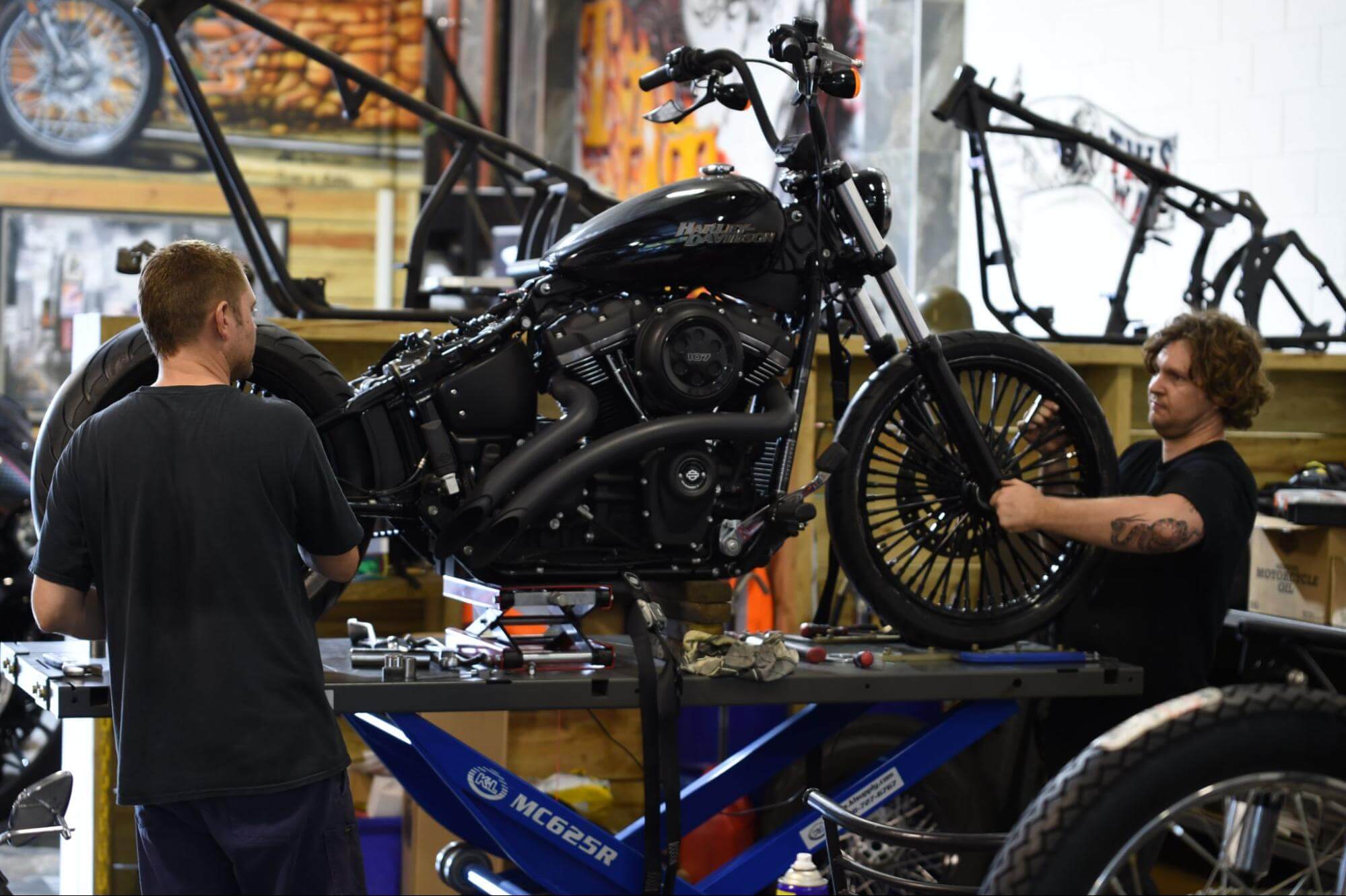 Taverner Motorsports offers repairs and custom jobs, both large and small, to suit your needs. Yet you may have noticed we have two main kinds of motorbike servicing: minor and major (also known as "full"). Our minor service is designed to cover the basics if you don't have a lot of money or just want to give your bike a little extra care between more detailed services. We replace the engine oil, the oil filter and the spark plugs before taking it for a test ride and presenting you with a condition report. All up, this costs $220.
Our motorbike full service, which should be carried out approximately every six months, costs $499 and includes:
Replacing the engine, primary and gearbox oil
There are a few different types of oil to change in a motorcycle. While it tends to be one of the quicker servicing tasks, Taverner is certain not to miss any and to replace it with high-quality gear that will keep your engine, transmission and primary drive performing at their peak.
Your air filter is the saviour of your pistons and cylinders. But if it gets too dirty in the course of doing its job, it will eventually sap your engine's power and slow down your fuel efficiency. Taverner can replace it and ensure that both of those things maintain their full power.
The frequency at which your spark plugs need changing depends on your bike, but you'll notice when they begin to wear out and your engine slows down. Spark plugs that are too dirty or worn can cause a delayed throttle response. As part of your motorbike's full service, Taverner can ensure your spark plugs are new and clean.
Adjusting the primary chain
There's a knack for getting the tension of the primary chain just right: not so tight that it causes engine damage and not so loose that gear switching becomes jumpy. As part of a full motorcycle service, Taverner can find the happy middle-ground for you.
Adjusting the rear belt/chain
Like every other exposed element, you need to check the condition and tension of your drive belt from time to time. Taverner can make the necessary adjustments for you as part of your motorbike's full service.
If your hydraulic system needs servicing, your bike will have trouble getting into gear or will lurch when it's in gear. A poorly adjusted clutch can affect your bike's power, so Taverner ensures it's in prime position.
Adjusting the throttle cables
Protect your engine's performance and the safety of your riding conditions by letting Taverner ensure your throttle cables are in the right place and good condition.
Flushing the front and rear brake fluid
Lubing all of the pivots and cleaning the air filter
A test ride & condition report
After we've serviced your bike, we'll take it for a test ride and present you with a condition report. We'll let you know if there are any issues you need to address now before they become problems in the future.
Other Services We Offer at Taverner Motorsports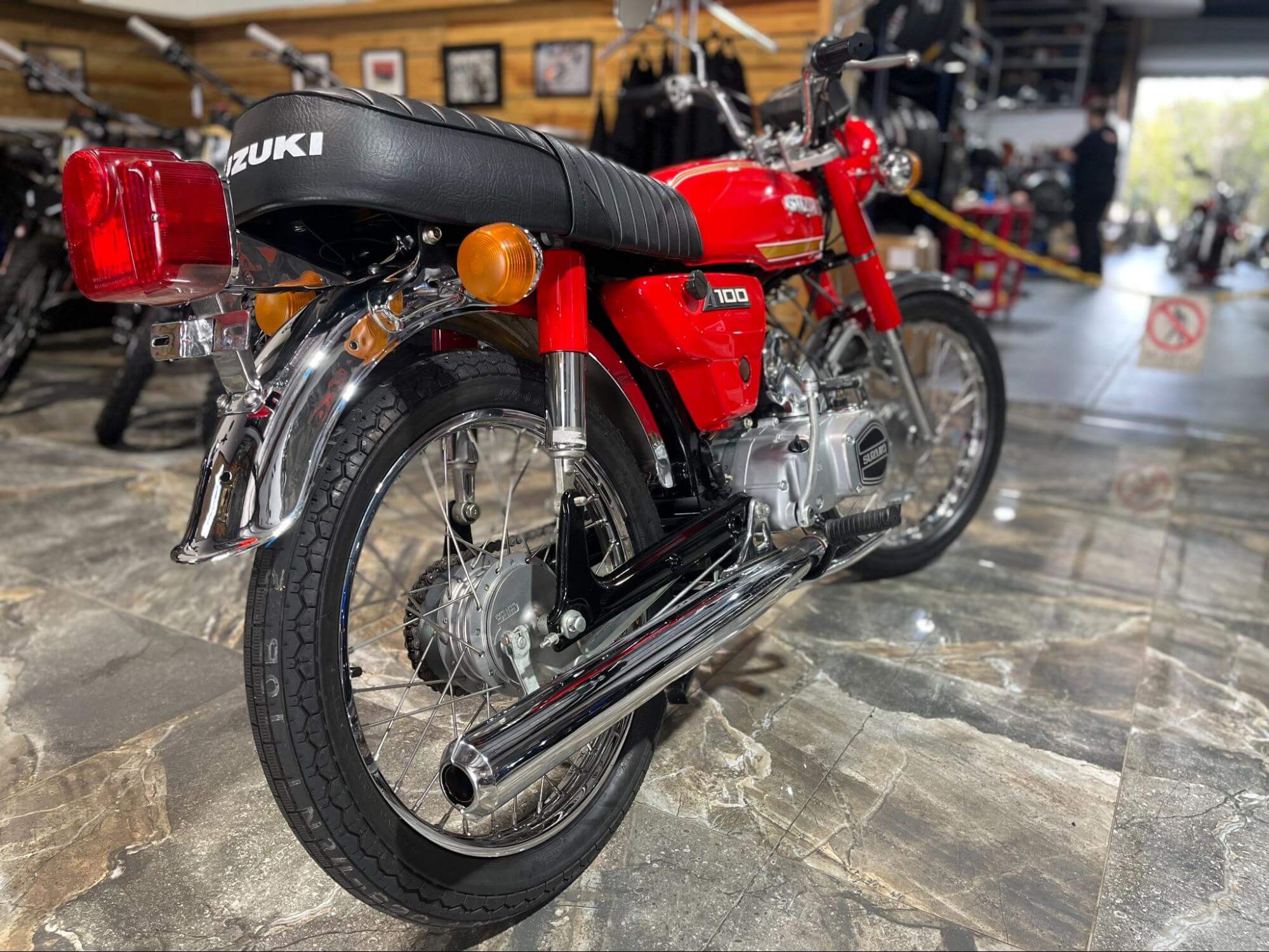 Bike servicing is far from the only service that we offer at Taverner. Customising and restoring motorbikes are major parts of our business. We can fabricate just about any part, no matter how small, or even build a brand-new motorbike from the ground up. If you have an old, rusted-out motorbike that seems bound for nowhere but the tip, we can restore it to its former condition while keeping its retro look intact.
As one of the most experienced motorbike repair shops Brisbane residents have to choose from, we can conduct thorough and reliable repair work no matter what the issue with your bike is.
If you want your bike to be faster or more powerful, whether it's an injection of horsepower or a full custom engine, you're in luck. Performance work is one of our specialties. Come and see us for supercharger kits, turbocharger kits or engine work, including custom pistons, clutch upgrades and engine balancing.
Never owned a motorbike before? Is the cost of buying a new one the only thing holding you back from getting the bike you've had your eye on? Our financing plans and affordable rates on new or used bikes make it easier to get your ideal bike from a top brand like Mutt Motorcycles. We'll take you through the entire process, from your application to your signature on the document. We've partnered with Credit One's finance team, who have over 20 years in the financial industry, to make the process easier and less time-consuming for you. We have flexible payment options and accept cash, credit card and direct deposit.
Book a Motorcycle Service Today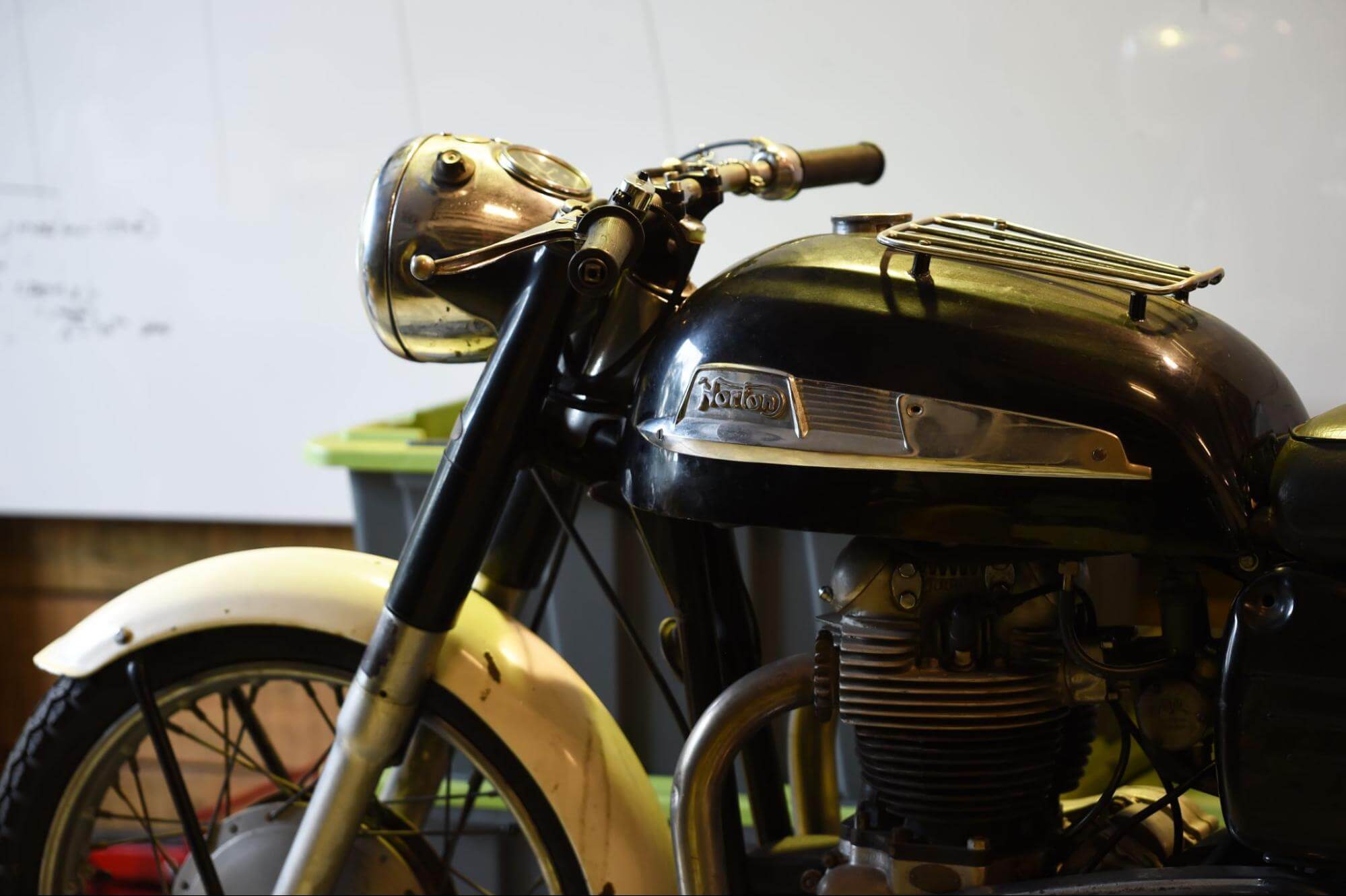 As a family business dedicated to the motorcycle industry, Taverner has been growing our skills since the 70s. Decades in the motorcycle industry have helped us perfect our trade to the highest quality. Not only can we offer you a full motorcycle service, but we're also a parts seller and motorbike repair shop in Brisbane. We sell high-quality motorbike parts online and from our shopfront at 159 Abbotsford Road, Bowen Hills, on the north side of Brisbane.
Our extensive network of parts, machinery, and paint suppliers makes servicing, restoration, customisation and repairs much easier. We supply and use only the best, and our long time in the industry has allowed us to build long, productive relationships with them. If we don't have the right motorcycle part in stock for you, it won't take us long to get it delivered.
Get in touch with Taverner to book a service that will leave your bike running smoothly, efficiently, safely and powerfully.