George J. Smith with "TRAMP". Source: S&S Cycle Facebook.
Formed by George J. Smith and Stanley Stankos in 1958 in Blue Island, Illinois, S&S Cycle is your quintessential American motorcycle company. Specialising in engineering and manufacturing, S&S Cycle has been providing high-performance motorcycle parts for Harley-Davidson for over 60 years. Born from a passion for speed, co-founder George kickstarted the business with one dream, to make Harleys the fastest they could be. Now one of the most respected names in the Harley V-Twin aftermarket, we explore the history book moments of this iconic Yankee motorcycle company.
"I want to make all bikes go faster."- George Smith's mantra and life mission, which catapulted the birth of S&S Cycle.
Our story begins in Blue Island, Illinois. After George returned from World War II, he began tinkering with the engine of his Harley and racing on the dirt tracks outside of Chicago. One race offering a $1,000 reward prize would spark the creation of S&S Cycle. Introduced to drag racing by a promoter at Half Day Speedway, George convinced his wife Marge that he could win with his 1939 80" Knucklehead Big Twin named "TRAMP".
Beginning as a basket case 61", "TRAMP" was first modified with repurposed parts George combined with the original formula he used to make his faithful Trust 80 Flathead UL 4-9/32" stroke flywheels and 3-7/16" bore cylinders.
To improve the final speed, the cylinder heads were welded together to accept a separate Riley carburettor. Instead of using gasoline, nitromethane, a new fuel that was a byproduct of the paint industry, would fuel his future victories. Preferred for its explosive power, the fuel instantly supplies power. George was able to harness this by trailing a combination of gasoline and alcohol to improve combustibility while stabilising the fuel to work to his advantage.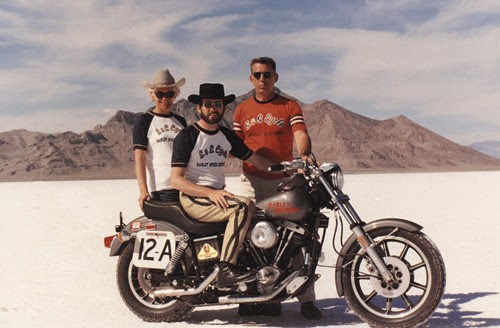 George and Marge Smith standing with Warner Riley at the Bonneville Salt Flats. Source: S&S Cycle's Facebook.
Whilst explosive and unpredictable, George's risks paid off. Winning race after race, exceeding speeds of 123.45 mph, George's winning streak caught the attention of the promoter who revoked the money at the last minute, snatching him from his prize. Despite the defeat, George would go on to team up with friend Stanly Stankos, after reading about his earlier racing trials at the Salt Flats in Bonneville, Utah.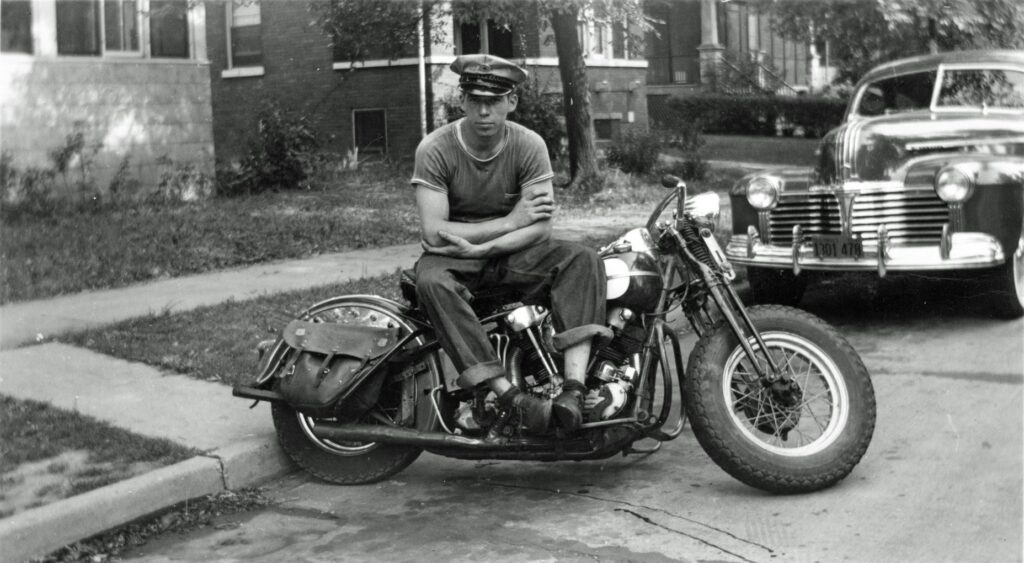 George J. Smith with "TRAMP". Source: S&S Cycle Facebook.
The Origins of S&S Cycle
George persisted with his talent, steadily building notoriety in the community for enhancing bikes like no other. As the go-to man to see on the Southwest of Chicago, his services were so in demand he dreamt to one day open his own motorcycle shop. With the help of Stanley, who owned an auto upholstery business at the time, George received the green light to use his shop.
The two motorcycle powerhouses soon combined their love for bikes (and initials) to form the motorcycle shop S&S Cycle in 1958. Their first product offerings were innovative, lightweight aluminium pushrods for 61" and 74" Knuckle and Panhead Big Twins. The upgrade optimised the engine's ability to operate at higher rpm, resulting in more available power.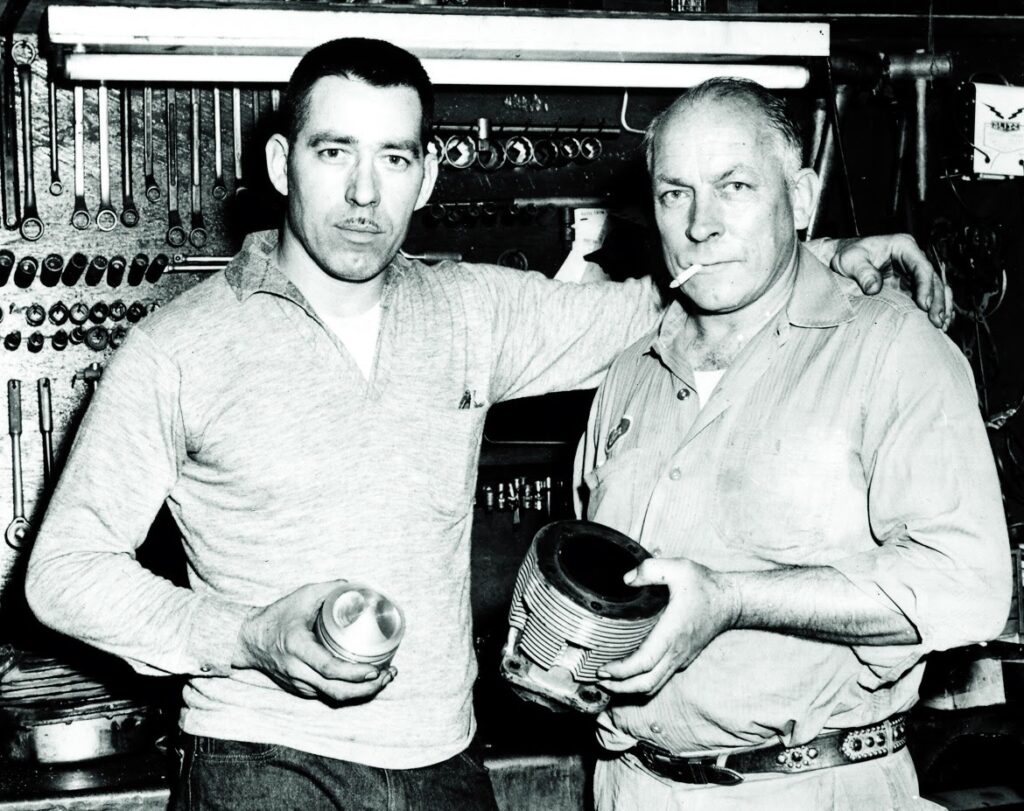 George J. Smith and Stanley Stankos, the original co-founders of S&S Cycle. Source: S&S Cycle
Smith & Stankos Becomes Smith & Smith
After a year of partnership, Stanley, who was almost 10 years older than George, resigned from S&S Cycle, selling his half of the business back to George. For Stanley, the business was purely a hobby, and S&S was taking time away from his upholstery business.
George's wife Marge, who managed the shop and its bookkeeping, was also a motorcycle enthusiast and no stranger to the race track. In 1959, Marge enthusiastically took over as a business partner. From there on, S&S Cycle stood for Smith & Smith.
"If it wasn't for her willingness to continue the business in 1959 and take over the office responsibilities and financial burden, there probably wouldn't be an S&S"- Ken Smith, one of George's and Marjorie's two sons who began working with the company in the 1970s.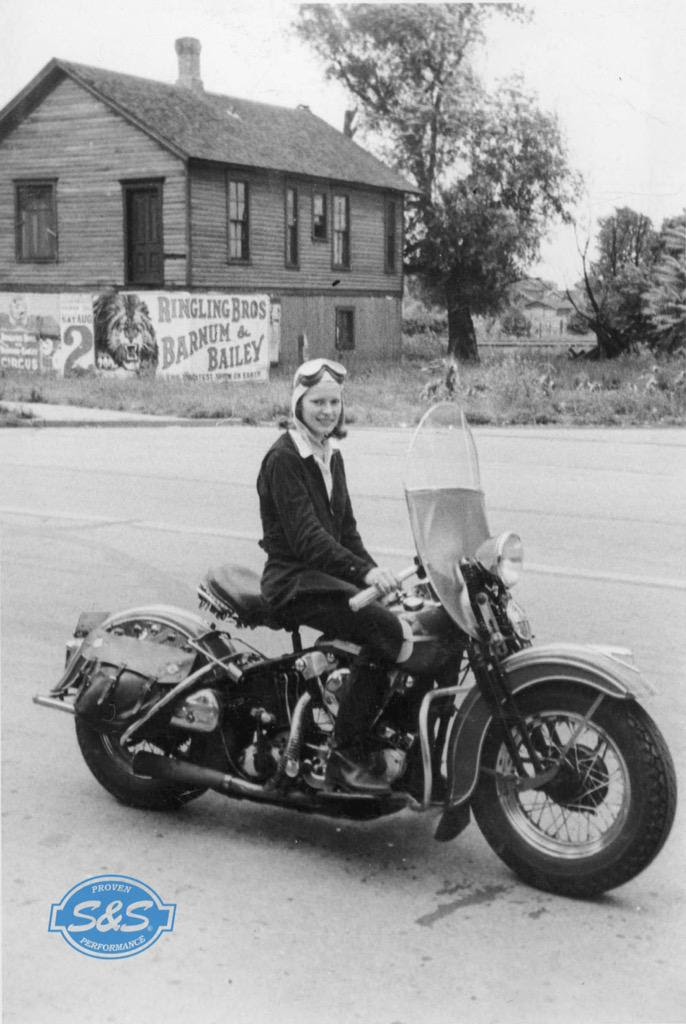 Marge (Marjorie) Smith pictured on a Knucklehead circa 1941. Source: S&S Cycle.
Sometimes overshadowed by George's mechanical skill and prowess on the race track, Marge was the glue that held S&S together. As the first lady of Harley's, Marge was integral to the success of S&S. From talking to customers, processing orders, bookkeeping, working in the shop and answering telephone calls, Marge pulled her weight the entire time.
While some had scoffed that a woman was assisting them with technical issues, Marge soon built a name for herself in her own right. In fact, it was Marge who had the idea to purchase the mailing list of the 1,300 Harley-Davidson dealers. With the recipients known, S&S received an influx of orders from all over the nation.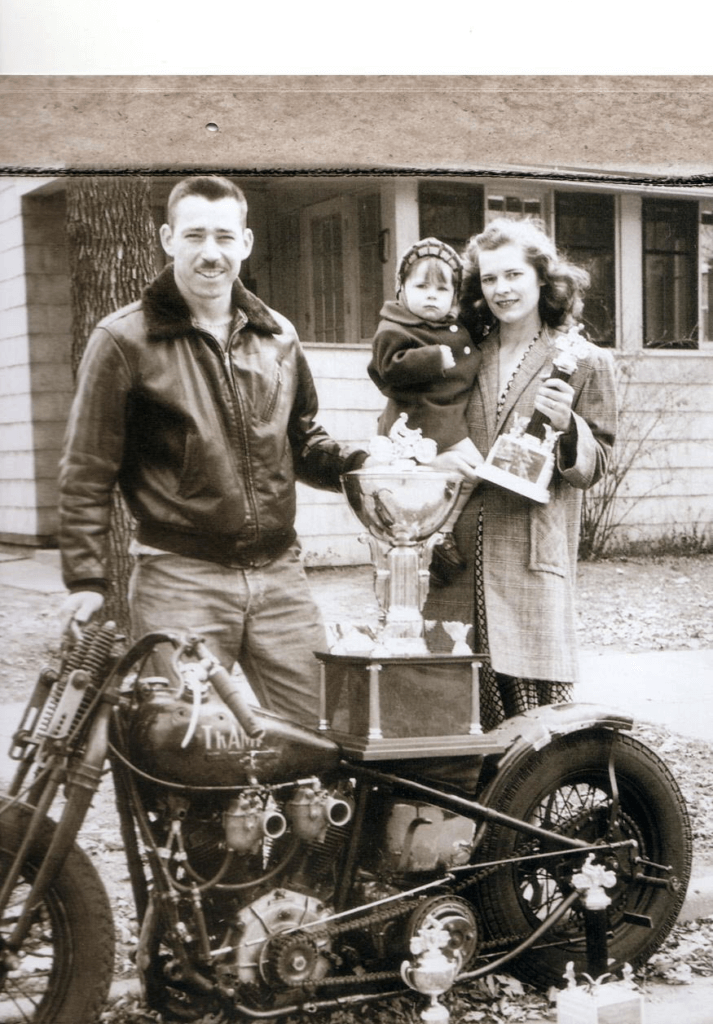 George J. Smith with his wife and daughter Margie. Source: S&S Cycle.
A New Chapter for S&S Cycle
Although sales and product development were thriving, the 80s bore growing concerns around George's health. George sadly passed from a heart attack in 1980, leaving S&S at a crossroads on who would take over. After Marge appointed her son George B. as president, the two led S&S to success. But not without fear the business would come to an end without George J.
"Ma put me in charge because I was the oldest, and so now the struggle began". – George B. Smith on the struggles of taking over S&S Cycle following the passing of his father.
Whilst a learning curb, the company prevailed with the assistance of some talented individuals who were with George J. before he passed. Looking at his father's original blueprints, George B. saw S&S's shortcomings and figured out what they could do better.
During that transition period, new products were created in 1985. To everyone's relief they boomed, further pathing success for S&S in the years to come. In 1992, Marjorie Smith passed away, leaving the company in the hands of various predecessors who continued to grow S&S Cycle as the company it is today.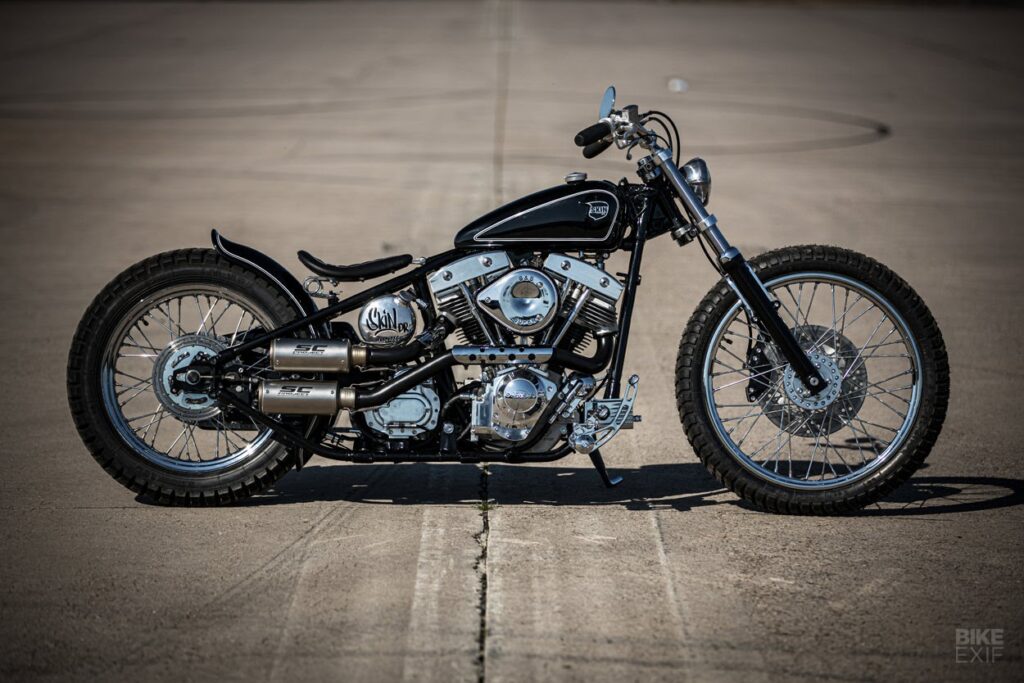 A 93ci S&S powered Shovelhead. Source: Bike Exif.
S&S Cycle Today
Now under the oversight of Paul Skarie who brings 15 years of experience at Harley-Davidson, Paul continues to drive S&S towards an ever-growing future. From their early beginnings in selling high-performance pushrods, S&S has established itself as a leading, reputable and respected name in the V-Twin performance industry, all being made in the USA.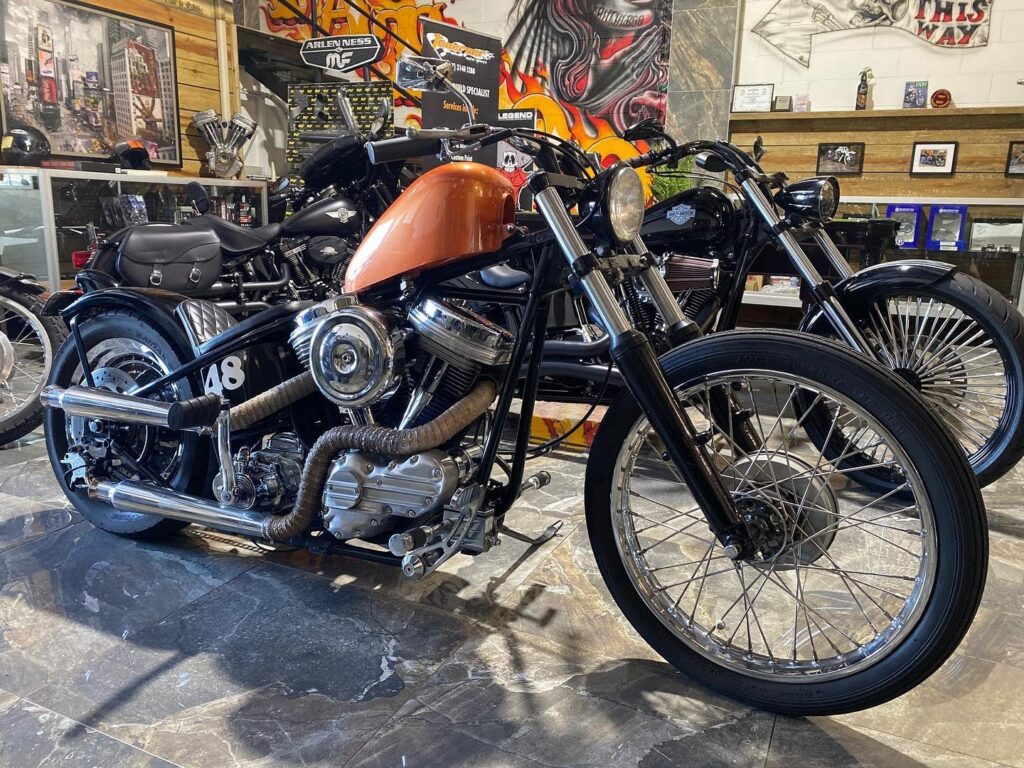 Inside the Taverner workshop.
Taverner Motorsports is Here to Help
Like S&S Cycle, Taverner is a family born and run business, based around tradition and passion for the motorcycle scene since 1975. With innovation, passion and dedication as our motto, we guarantee our customers will receive the highest quality services.
Taverner's custom build and restorations are one of a kind, thanks to the access of an array of library parts, worldwide suppliers and local paint and finishing machinery. To see how we live up to our name and services, you can contact us at your convenience by calling 07 3148 5288 or requesting a quote online. Interested in the history of the world's motorcycle great's? The Taverner Newsroom is the place to visit! No matter if it's a service, or helping you achieve your dream custom bike, the Taverner team can't wait to hear from you.