Looking for a place to buy motorcycle parts in Brisbane? The longer you spend riding motorcycles, the more likely you'll need to purchase motorcycle parts for yourself one day. This can happen for several reasons. Old parts can wear out, and you can save money by buying new ones and fixing your bike yourself. You might replace a part and give your bike more speed, grunt or power. You might even get into building custom bikes in your garage or workshop.
Whatever your reasons for looking for motorcycle parts, there's more to finding the right one than just ordering from the first seller you come across. There are the standard questions to ask yourself, like "is this for a replacement or an upgrade?" Replacing certain parts regularly will help your bike last longer while upgrading others will take it to the next level. It's essential to ensure the part fits properly, as parts that are a bad fit can damage your bike and speed up wear and tear. It pays to get advice from a trusted professional.
There's also the question of what motorcycle parts you plan to get your hands on. They're not all the same. In fact, there are three main kinds: original equipment manufacturer (OEM), used and aftermarket. OEMs are made by the original manufacturer, and while they come to you brand new, they tend to be the most expensive parts. Used parts are cheaper but tend to come without warranties or other guarantees. Aftermarket parts offer value for your money, and it's easy to find one that fits your motorcycle. You can buy aftermarket parts from a wide selection of brands with great reputations in the industry.
As tough and time-consuming as looking for parts might sound, you can make it easy for yourself by searching one of the biggest parts shops you're likely to find anywhere: our online parts store. If you've been asking yourself, "where can I buy motorcycle parts?" the answer is Taverner.
Motorcycle Parts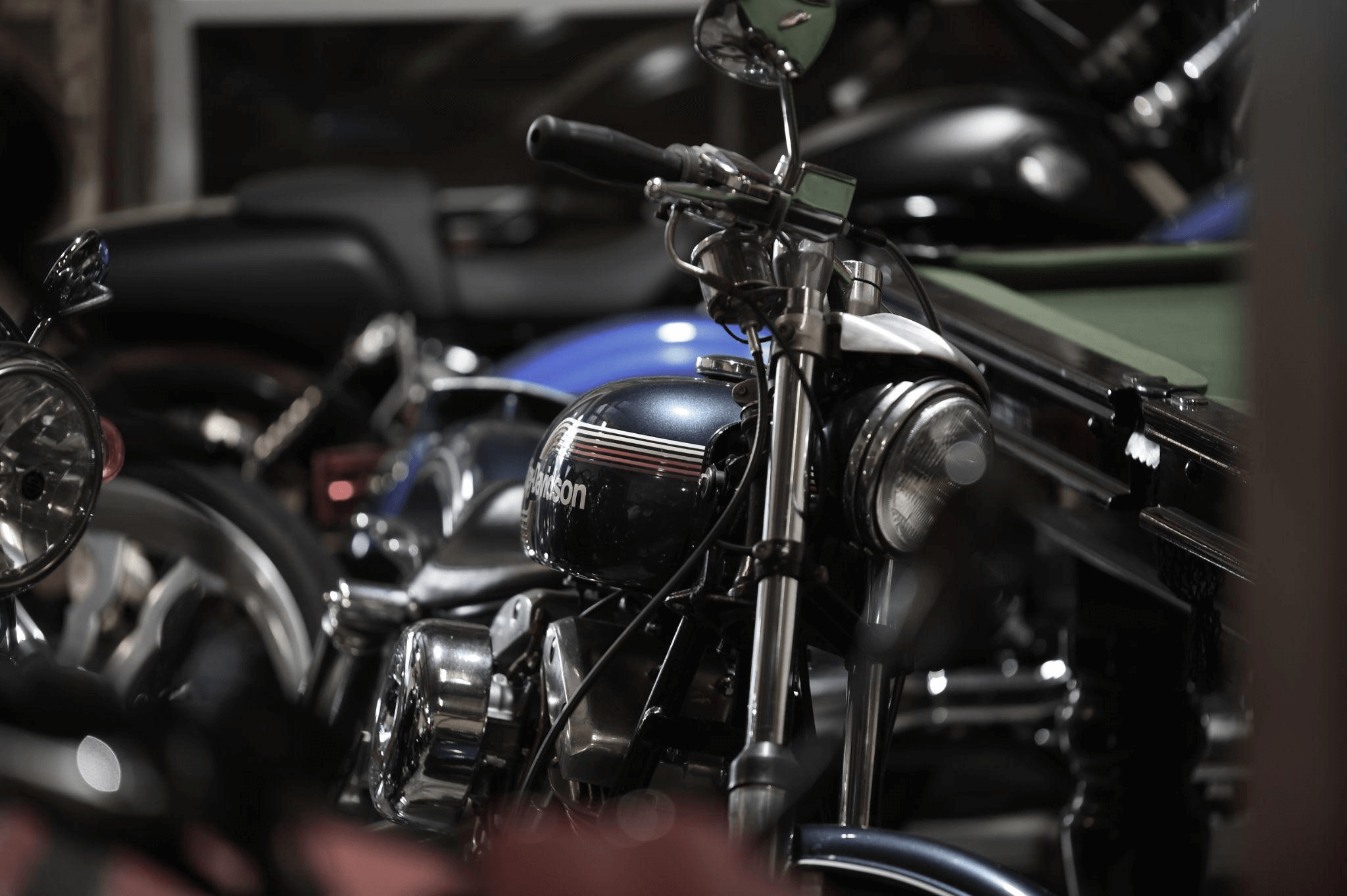 Some motorcycle parts are more popular than others, either because they enhance the power and performance of your bike or, less excitingly, they just need replacing after a while. Here at Taverner, our most popular motorcycle parts include
Tyres
Tyres are a crucial part of your bike's safety, which is why we have so many tyres and wheels from such a selection of respectable, trustworthy brands. Brands like Avon, who have been making tyres since 1904, Metzeler and Dunlop.
Motorcycle tyres are one of those parts that need replacing regularly. The more you use them, the faster they wear out. That's why it's important to check your tyres regularly and to purchase good quality tyres like the brands we have in stock.
Seats
Whether your current seat is worn and needs replacing, or you just want to trade it in for something a little more comfortable, we've got it sorted. Our seats, made by brands like Saddlemen, come in various colours and styles to improve the look and feel of a ride on your bike.
Wiring and cables
Need to do some work on your bike's wiring to get it operating properly again? We have electrical elements like handlebar wiring harnesses and throttle cables from powerful brands like Magnum and NAMZ Custom Cycle Products.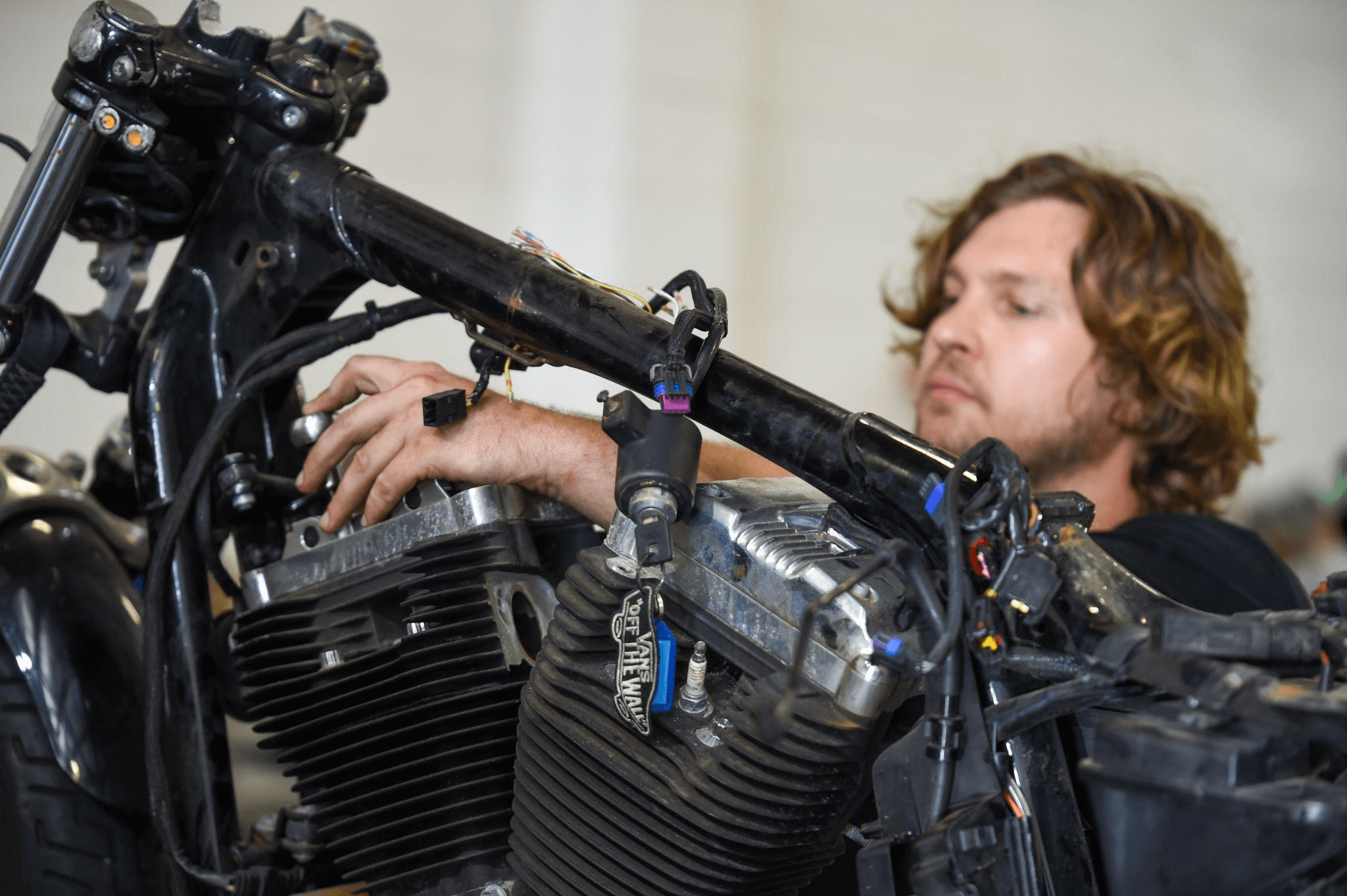 Windshields and windshield kits
Windshields protect you from wind, rain, cold and debris, plus they have the added benefit of reducing pain in your neck and shoulders. When you're up against the elements, you need a windshield that will not crack. At Taverner, we have flare windshields, sporty-looking windshields and windshield mount kits from brands like Klock Works and Memphis Shades.
Turn signals
If your turn signals aren't working on your bike, you're in trouble! Luckily Taverner has turn signals from reliable brands like Kuryakyn and Arlen Ness to keep you safe. With features and benefits like universal fit and being sold as a pair, our signals are designed to seamlessly fit on your bike yet be easy to spot in all weather and lighting conditions.
Spark plugs
It's important to check on your spark plugs every few thousand kilometres to keep your motorcycle moving. Luckily Taverner's selection of motorcycle parts in Brisbane includes good-quality spark plugs.
Batteries
Need to replace your motorbike's battery? At Taverner, our Regulator batteries fit motorcycle brands like Ducati, Honda and Suzuki.
Air filter goods
To keep your engine running fast and smoothly, check out our rain socks and air cleaner kits to protect your air filter.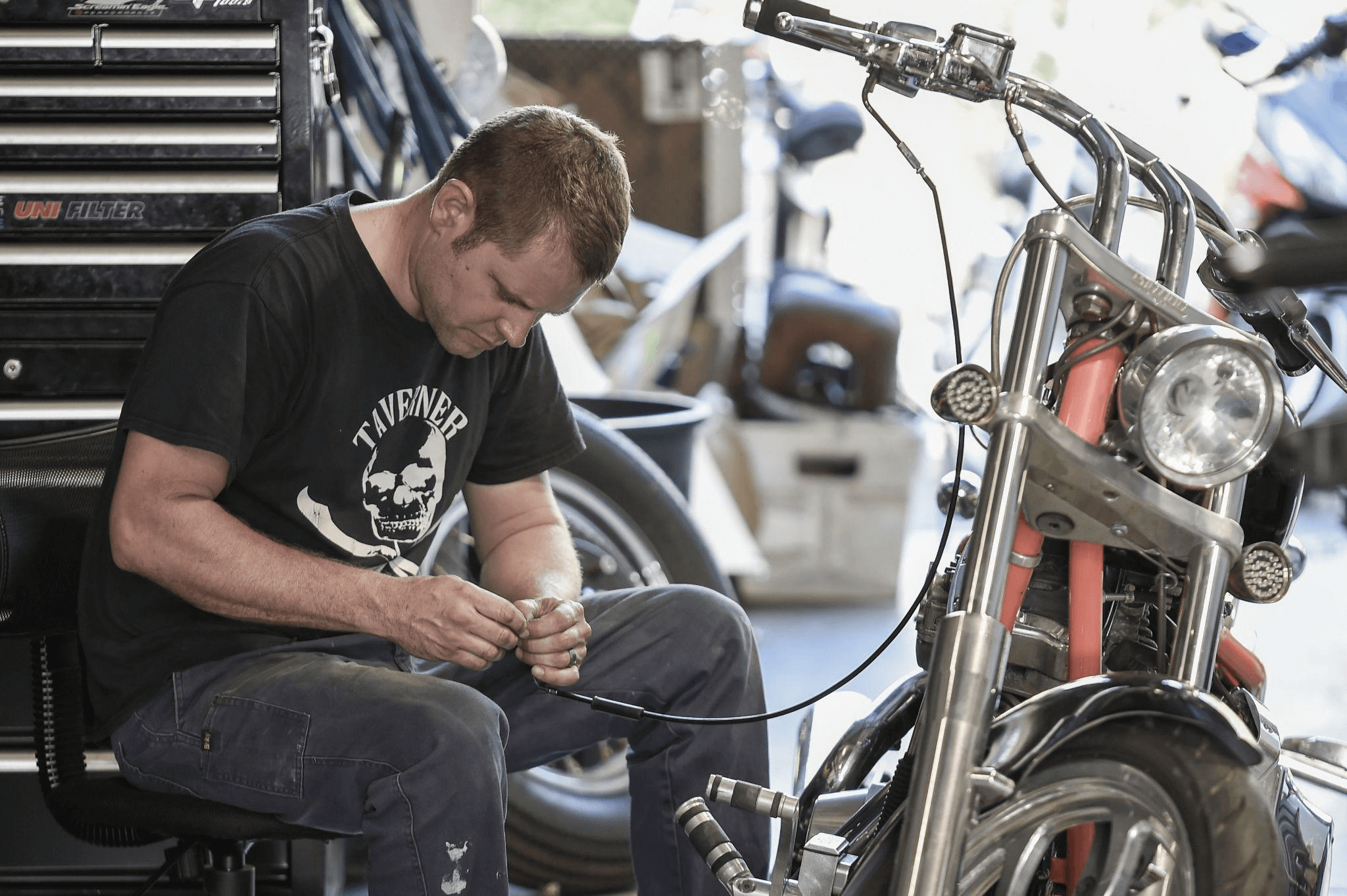 Oil filters
On top of changing your oil regularly, changing your air filter can help preserve your engine and reduce the risk of needing future maintenance. Our oil filters, oil filter removal tools and tuned induction air cleaner kits cover all your bases regarding oil.
Brake pads
Worn-out brake pads are unsafe for various reasons and can damage your rotors. Replace your brake pads regularly with Taverner. We also sell other pieces of equipment you may need to sort your brakes out, such as brake lines and disc rotors.
Exhaust pipes
Boost your bike's power or change how your bike sounds for a better ride. At Taverner, we have powerful Speedster 909 exhausts and Assault 2-into-1 exhausts and quiet mufflers.
Mirrors
Mirrors are essential. You might as well choose ones that look cool too. Round, teardrop-shaped, even skeleton hand and zombie-themed mirrors are among our motorcycle parts in Brisbane.
Custom Motorcycle Parts Fabrication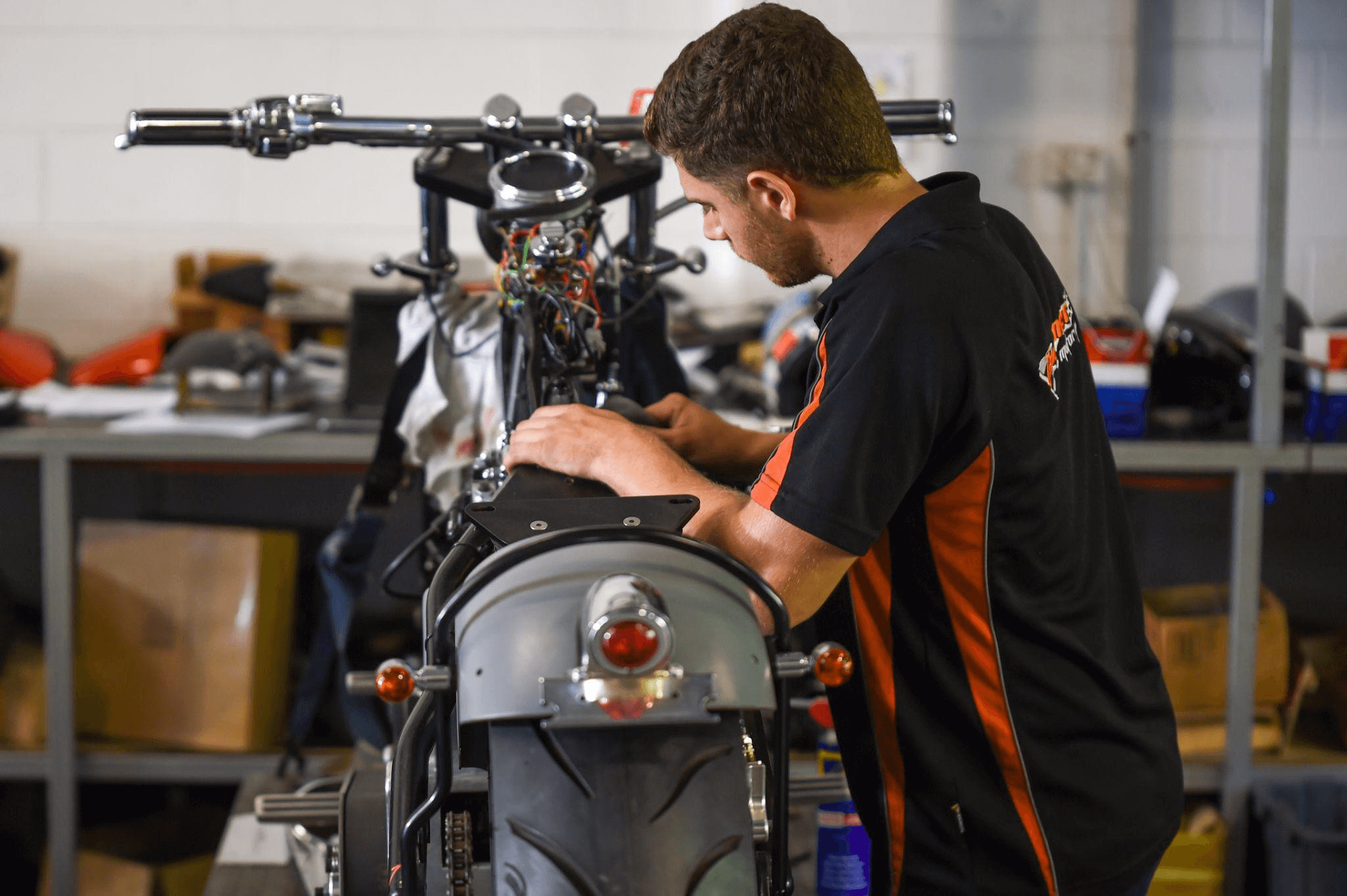 You don't have to install your parts yourself (although you can if you wish). In addition to selling motorcycle parts in Brisbane, a large part of our business offers custom workshop services.
This can include everything from installing one small part to building a complete bike for you from the ground up. We can fabricate just about any part you need, make and adjust custom seats, create an exhaust system that suits your bike's unique style (and your own) and offer you cable, brake line and wide-ass kits for any modifications you want to do yourself.
Where to Buy Motorcycle Parts in Brisbane
If you live in Brisbane and have been wondering, "where can I buy motorcycle parts in Brisbane?", Taverner have you covered. We aim to be the only place you need to look for motorcycle parts in Brisbane.
We've been in business for more than 40 years, and over that time, we've built solid relationships with parts suppliers worldwide. We work with the best suppliers in the business, and in return, we've got some loyal customers who trust us with repairs, modifications, servicing and the rest of the solutions we provide. When riders ask, "where can I buy motorcycle parts?" we want to always be the first name that pops into their minds.
Take a look at our full range of parts online or, if you're in Brisbane, drop into our shop in person at 159 Abbotsford Road, Bowen Hills, on the north side.
If you need help finding the right motorcycle parts or have other questions for our friendly team, get in touch.