Buying your first motorcycle is an exciting, unforgettable experience. You've just gotten your licence, and you're pumped up to buy a cool, fast, powerful bike and take off triumphantly down the street.
Just a moment. As you probably know, the Learner Approved Motorcycle Scheme (LAMS) forbids riders with less than two years of experience from driving faster bikes with more power than they need. While LAMS is enforced around the country, the rules differ a bit from state to state. In Queensland, you can ride a bike with a maximum engine size of 660cc while on an RE (restricted licence).
But don't worry; you can find plenty of bikes with much lower capacities than 660mL that look like custom classics and feel amazing to ride. In fact, motorcycles with smaller engines are among the best motorcycles for beginners. Small displacement bikes ('displacement' refers to how much volume your engine's pistons displace as they move your crankshaft) have big benefits for new riders like lower costs, better fuel efficiency and easier control. They give you time to develop your situational awareness and reaction speed. So what should you look for when buying a beginner's motorcycle?
British company Mutt Motorcycles saw the gap in the market for high-quality beginner's motorcycle models and stepped in to fill it. The company takes the craftsmanship and look of classic custom bikes and applies them to small cc bikes that are easy to control. Taverner Motorsports is the Australian Mutt Motorcycles' distributor and dealer in Brisbane. So if you're looking for the perfect beginner's motorcycle, we have some top picks for you, along with the skills to service, repair, modify or customise any bike you have.
So you're looking for a beginner's motorcycle in Brisbane? But what exactly should you look for in your first motorcycle?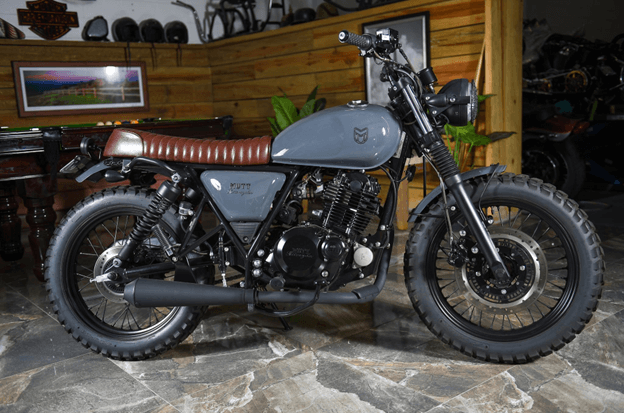 Things to Look For in a Beginner's Motorcycle
 There's a lot to think about when buying your first motorcycle and some important questions to ask. How are you planning to use it – to ride off-road, to ride to uni or work, or in a completely different way?  How much are you willing to spend? Does your bike suit your physicality, and are you comfortable on it? Then there are the important issues of insurance and safety gear.
Some features to look out for when buying bikes for beginners include:
A small displacement engine
Engines with a 250cc maximum are lighter and easier to manage, allowing you to find your feet while you get used to riding on the streets.
Affordable
Small cc bikes tend to be a lot cheaper than larger, faster motorcycles, which is always a bonus. Decent small cc bikes will give you long-lasting quality for less-than-average prices.
Style
You may be a beginner, and it may be your first motorbike, but you should still choose something that you'll love the look of. Luckily, thanks to brands like Mutt Motorcycles, you can.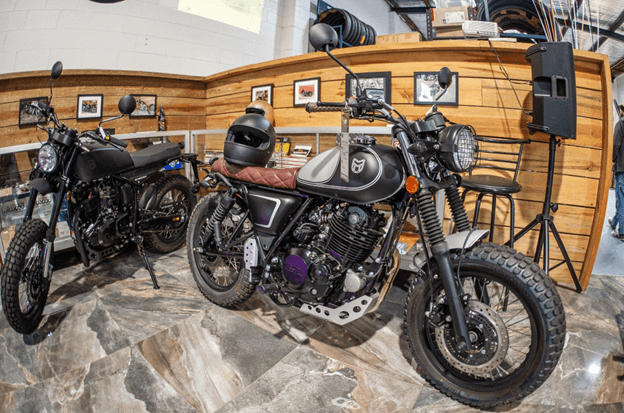 Things to Avoid in a Beginner's Motorcycle
Too much power
Even a motorbike that's smaller and lighter than average can be more powerful than most people think when they start riding. Avoid buying a first bike with more power than you can handle or one that's illegal for you to ride. You need to hold an RE provisional or open licence in Queensland for at least two years before you can apply for an R licence. Once you have an R licence, you can ride a bike with an engine size as large as you like. Until then, stick with 660cc tops.
Too expensive
It pays to do some research, so you know when you're getting overcharged for a bike. There are both upfront and long-term costs to consider. Small cc bikes tend to be cheaper, so watch out for people who may try and take advantage by charging you more than the bike is worth. Used bikes are definitely an option, but plenty of new bikes offer value for money. You just have to find the right motorcycle dealers in Brisbane.
No track record of safety
Buying a bike with a reputation for safety and reliability is a good idea for everyone, but especially for new riders without a lot of experience on the road. The best motorcycles for beginners are not the biggest and baddest bikes but the kind of bike that you can count on to keep you safe no matter the traffic and weather conditions.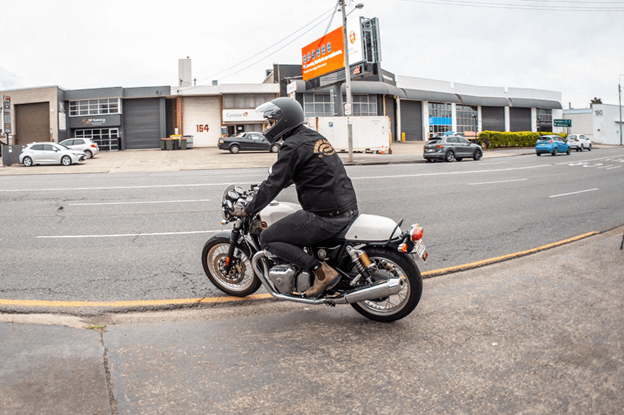 Top Picks
Some of Taverner's top picks for a beginner's motorcycle include:
Mutt Hilts 250
This crossbreed bike is one of the most popular Mutt models and is perfect if you want a beginner's motorcycle with a classic vintage look. In fact, the Mutts Hilts 250 brings movie magic to life as it's modelled on the bike from the classic Steve McQueen film 'The Great Escape'. Bosch ABS is fitted as standard, giving this bike great stopping power that makes it safer than most bikes on average. But with its high-rise cross-braced bars and nobby tyres, it still looks mean enough to satisfy anyone who wants a bike with a bad-to-the-bone look.
Black Sabbath 250
Named after the black metal band that, like Mutt Motorcycles, was born in Birmingham, the Sabbath is a moody midnight machine. While the engine is only 250cc, it has a powerful rumble, plus the stainless steel exhaust and silencer deliver a biting bark. With excellent Bosch ABS stopping power, this bike is safer than average to ride, making it a great beginner's motorcycle for those who want a bike with an aggressive look. Check out the chunky tyres, the black diamond pattern grips and the wide Renthal-style bars.
Mutt Mastiff 250
Like many Mutt bikes, the Mastiff 250 has that classic custom British bike look. Like its namesake, the Bullmastiff dog, its bulk is at the front with a custom sloped seat narrowing the rear. A whopping 17-litre petrol tank makes for great fuel efficiency on long trips, and the engine has terrific bottom-end torque. Bosch ABS provides a safer level of stopping power, while the Monza-style chrome cap helps maintain the British vibe.
Mutt Akita 250
There is undeniable Mutt DNA running through the Akita 250, but with a few twists, the devil is definitely in the details with this machine. The Akita has aluminium low-rise bars that are seen on many other Mutt bikes, but what makes them stand out on this bike is the lightweight aluminium and rubber grips along with branded bar ends. Other unique design details are handmade brushed TIG welded stainless steel mudguard brackets, black lightweight anodised aluminium indicator brackets, a set of short rider and pillion pegs, plus a drilled aluminium gear lever and shift peg. This all contributes to the Akita's big-bike feel, along with the 17-litre tank, to give it a super-pumped stance.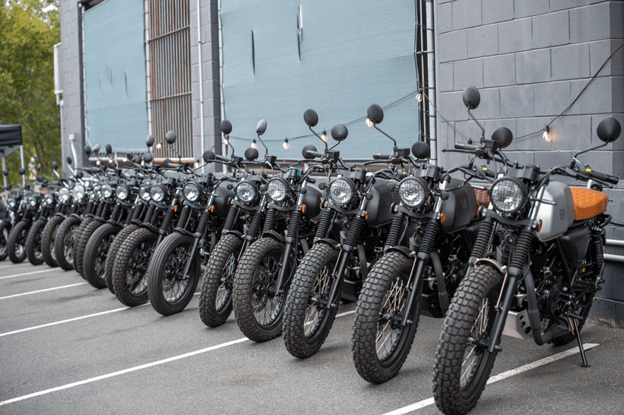 Where to Get Beginner's Motorcycles
Taverner Motorsports is the Brisbane stockist for Mutt Motorcycles and has some of the best motorcycles for beginners on the market.  Drop in and see us at 159 Abbotsford Road, Bowen Hills, to check out our full range of motorbikes, including Mutt motorcycles.
As well as being motorcycle dealers in Brisbane, Taverner can repair, modify and customise your bike to help you get the most out of it. With more than 40 years of experience under our belts, we offer everything from a simple service all the way to a full-on custom build.
A long-standing family business, we've been dedicated to the motorcycle scene since our earliest days as 'Street Bike' in Bathurst in 1975. Over the decades, we've worked hard to refine our trade and have built strong relationships with others in the industry. When we need a particular part, we can count on our worldwide network of parts suppliers as well as our local paint, finishing and machinery partners. Our commitment to using only the best means our regular customers have come to know they can trust us. If you're looking for motorcycle dealers in Brisbane that can offer some of the best motorcycles for beginners, the Taverner team has the skills and experience to ensure you get the most out of your money and time.
If you have any questions about our beginner's motorcycle range or anything else, don't hesitate to get in touch with the friendly Taverner team!