Nothing matches the sensation of grabbing the keys to your bike, sliding on your helmet, and feeling the crisp air as you take on the open road.
We ride for the sense of freedom, perspective, and style bikes exude. More often than not, we also mistake these positive elements as a reason to compromise on comfort.
Any avid biker knows that riding a motorcycle isn't anywhere near as comfortable as sitting back in the passenger seat of a car. But that's precisely the point. What if we told you there was a way to enjoy comfort without neglecting your bike?
Rather than dealing with pain and discomfort for the sake of aesthetics, there are many parts and products to pimp your bike for style and comfort. Specifically, motorcycle seats have a lot to answer to when it comes to the comfortability of your ride.
Saddlemen seats are hot on the market now, offering an endless range of seats and accessories for a variety of personal preferences and demands. So, let's take a look at a few of their options on offer, analyse their comfortability and get you on the way to a bike build fit for a king.
Importance of a Comfortable Seat
Likely, the only complaint you will ever hear from a biker is the pain endured while riding. Despite this, a comfy seat can be the perfect, simple solution.
The main reason for discomfort while riding is thanks to the contortion of your tailbone trying to adjust to your bike's seat. Because of this, seating is by far the most important element of your bike build. Powerful engines and statement handlebars may be the more enticing aspects of your bike, but it's vital not to dismiss the importance of a sturdy, comfy seat.
If you spend extended periods riding your bike, you know that your body can truly bear the brunt of it all. With your entire body weight relying on that seat, it needs to support you thoroughly.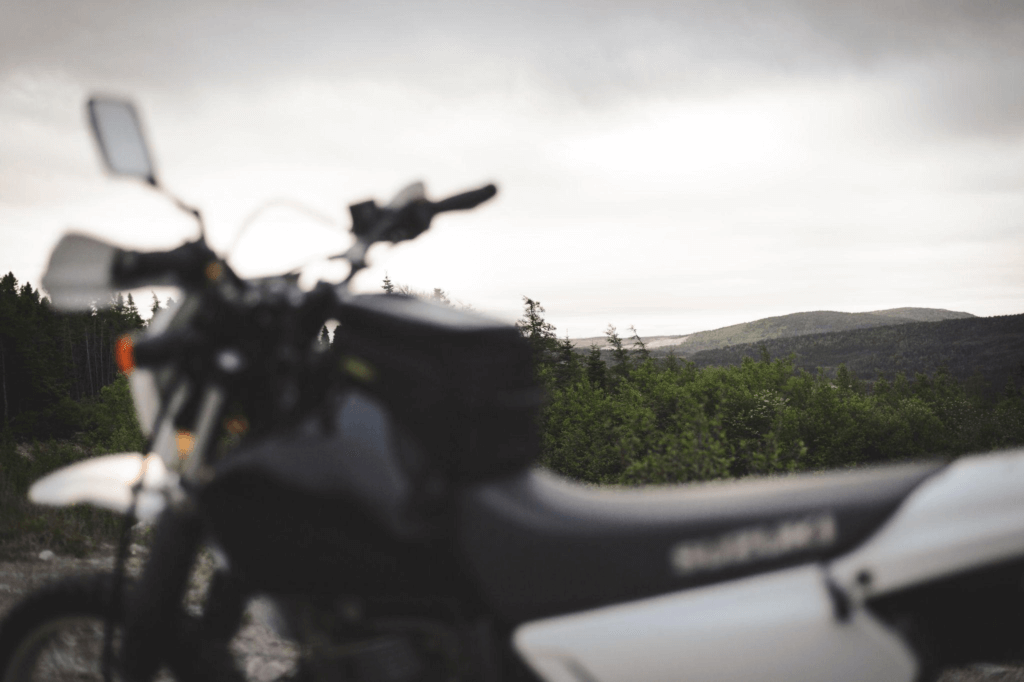 History of Saddlemen
Saddlemen is America's first choice for motorcycle seat upgrades and has since become a reliable authority for motorcyclists around the world.
Since its establishment in 1987, Saddlemen's goal has been to deliver comfort, control and an enhanced riding experience through their production of motorcycle seats and accessories.
Long noted for comfort, style, and quality; three essential factors for a bike build, it is understandable why their popularity has spread globally.
More notably, the company revolutionized riding by developing gel seating. Their patented SaddleGel™ is included in every one of their seats and significantly reduces vibrations, diverts impact forces, and allows you to ride in comfort up to 400% longer.
Ultimately, Saddlemen is a company that recognizes that every biker's body is different, as are their bikes. As a result, they constantly improve their technology and product designs that feel good and look good.
Integrated design philosophy
In a gallant effort to produce consistent quality products, all new Saddlemen designs are a part of their Integrated Design Philosophy (IDP™). This means that all products implement style cues from each motorcycle in their design, helping you find a seat that looks and fits perfectly on your unique bike.
Popular Saddlemen Seats
When choosing the right motorcycle seat for you, the factors go beyond style and aesthetics. As you compare the seats Saddlemen has on offer, you should also take your bike type, the seat materials, and your height into consideration:
Extended Reach Roadsofa LS Dual Seat with Backrest
[Fits Touring 2008UP]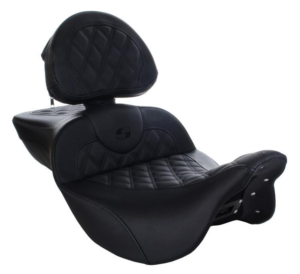 A streamlined design made with soft, ventilated, leather upholstery, the Extended Reach Roadsofa LS Dual Seat provides the most luxurious look, feel and ride you could ask for.
It is perfect for taller riders that need that little bit of extra room with an extended reach profile. The elevated lumbar support and wide drive saddle offer support for both your back and legs for ultimate comfort. In addition, it is also accompanied by a streamlined nose design to improve your reach to the ground.
It wouldn't be a Saddlemen seat without SaddleGel in the front and the rear of the seat, designed to reduce pressure on your tailbone and increase circulation for you and your passenger.
Additional features include:
Refine split-cushion design
Fitted rain cover
Matching adjustable backrest
Designed for long distances and superior comfort if you're after a sturdy seat that is built to last, look no further than the Extended Reach Roadsofa.
Slyfoc Pro-Series Seat with Tri
[Fits Touring 2008UP]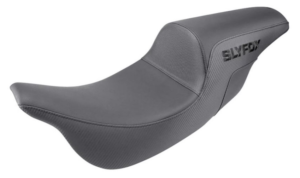 If fast drives and performance are your top priorities, take advantage of the Slyfoc Pro Series Seat with Tri.
This seat combines Ultra-Foam and a Gel-Core interior to create the perfect balance of rigidity, comfort, and user compliance. Meaning you remain in complete control of your ride without compromising on comfort.
Features include:
Ultra-Foam unique molding process (to deal the foam from water and enhance durability and comfort)
Co-molded Gel-Core (provides suspension and comfort)
Consider this seat the ultimate performance upgrade with the additional benefit of major comfortability.
Step-Up Ls Dual Seat With Black Double Diamond Lattice Stitch
[Fits Indian Cruiser 2021UP]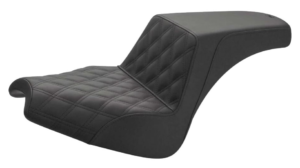 Similar to the previous seat, the Step-Up Ls Dual Seat combines a Gel-Core interior and Ultra-Foam but exhibits a more rigid backrest to suit different bodies and preferences.
The black lattice stitch is created with the influence of retro styling and the old-school spirit, combined with a modern-day twist.
Its foam and gel features are proven to increase comfort, leaving you more time to focus on and enjoy the ride. Not to mention, if you're into the retro and sleek design, it is the perfect performance enhancer that other bikers are bound to stop and stare at.
Ride in Comfort with Taverner Motorsports
As avid bikers ourselves; we understand the importance that goes into the appearance and aesthetics of your bike build. However, as we spend endless hours enjoying our time on the road, we know that comfort is definitely not something to scoff at.
Our years of experience in the motorcycle industry make us comfortable in our enthusiasm for Saddlemen and their products. The reliability, integrity, and variety of bike seats are extremely appealing. However, it can be difficult to choose just one with so many benefits.
If you're currently looking to enhance your bike or start a new build, we hope this article has helped you identify some of your priorities. So, if you're after more information give us a call on 07 3148 5288 or request a quote online. We look forward to hearing from you and helping you find the best addition to your bike.