Source: Kawasaki
The Kawasaki Ninja 400 and Z400 are two of the most popular motorcycles for first forays in the biking fraternity.
However, due to the Euro-5 regulations, Kawasaki was forced to retire the previous models back in 2020. So for all those who fell for its super compact and fun-packed ride, Kawasaki is now unveiling the new Ninja 400 and Z400 for 2022.
Marketed as a successor to the Ninja 300, the sporty Kawasaki ninja 300 is the updated 399cc version.
As one of Brisbane's leading knowledge camps on all things motorcycle related, stay with us while we check out this beginner's rocket machine.
Launch
After its 2017 Tokyo motor show, the 2018 ninja 400 was launched to hit a global market due to its previous Euro 4 compliance.
By April 2018, it was revealed and announced Kawasaki's manufacturing plant in Chakan, Maharashtra, would be the site of its assembly.
Unlike in Europe, the Ninja 400 was not a replacement for the ninja 300. The intention was for both sports bikes to sit alongside each other in the Indian marketplace.
So what's changed on this sporty beginners ride for 2022?
Euro 5 Compliant
As Euro 4 gave way to the updated Euro 5, the previous 400's were not up to scratch when it came to European emission regulations.
The earlier 2018 Ninja Z400 and Ninja 400 could not be sold in the lucrative European marketplace. Modifications to the 400 were needed to comply.
After a minor drop in torque and other mini modifications, the updated 2022 became eligible for sale in Europe.
After ticking all the checkboxes of this European regulation, the Kawasaki 400 was ready to make its comeback.
So what exactly did this entry-level sporty number have to do to meet those requirements?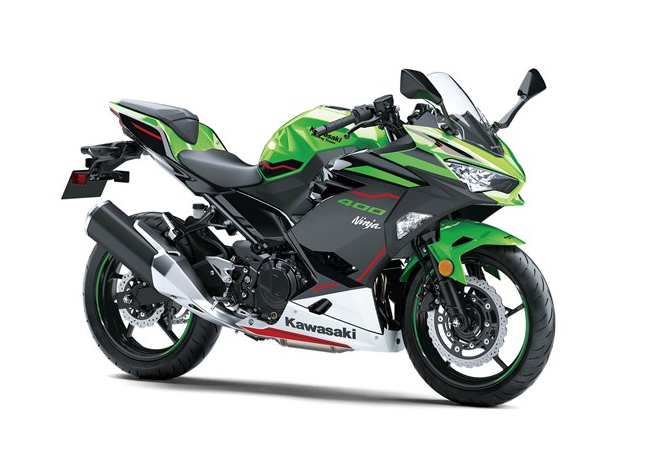 Source: Kawasaki
What is Euro-5, and How Does it Affect The Kawasaki Ninja 400?
Along with the wealth of other motorcycles on the market, the original Kawasaki 400 needed to comply with this legislation. All bikes imported from January 2021 should be of a certain standard to be compliant. So what actually is Euro-5?
In 1999, the very first Euro-1 regulations were introduced as an industry standard. The reason was to reduce pollutants and emissions from motorcycles and mopeds to be safer and greener for the environment.
These regulations were continually updated over the last two decades until 2021, when the updated Euro-5 came into force.
Lower emissions for the Kawasaki Ninja 400
Since the launch of the regulations, emissions of both hydrocarbons and nitrogen oxides (NOx) have dropped by a dramatic 96.6%.
Harmful carbon monoxide emissions have also dropped dramatically, with a 92.3% reduction since the inception of Euro 1.
No bike was let off the hook. For a successful comeback, the Kawasaki Ninja 400 had to conform to these environmental standards along with every other single bike sold in the European market.
So have these new regulations affected the Ninja 400's comeback ability? What about the engine, style, performance, or colour? Read on to find out more.
Engine
The updated Ninja 400 with its 399cc parallel/twin engine has a fresh new design.
Euro-5 compliant, its original 44 horsepower remains but now has slightly less in terms of torque. The comeback Ninja 400 runs in at 27.2 pound-feet.
Those exacting Euro-5 standards are in place to ensure this supercharged minibeast can easily hit the European market.
The performance model romps home with an Akrapovic exhaust as standard, which helps it purr or roar when the mood takes you.
Less torque
Flexible at lower speeds, the engine pulls well in any gear, even with a slight reduction in torque.
At top speeds of 112km/h, it can reach motorway speeds but probably best to leave it at home if you want a super smooth motorway long-distance cruise.
The Ninja 400's new engine means its comeback is assured. It's got a good balance of performance and control compared to its forerunner.
It's responsive and easily manageable down to its compact, lightweight engine, which easily compares with 250cc engines.
Colour
With a stunning greener-than-ever livery (if that's possible), the newly launched Ninja 400 is most definitely a lean green mean machine!
The Z400 keeps its original colour options, while the 400 is also available in stylish Carbon Grey with a sophisticated all-black bodywork with the signature Ninja green confined to the inserts.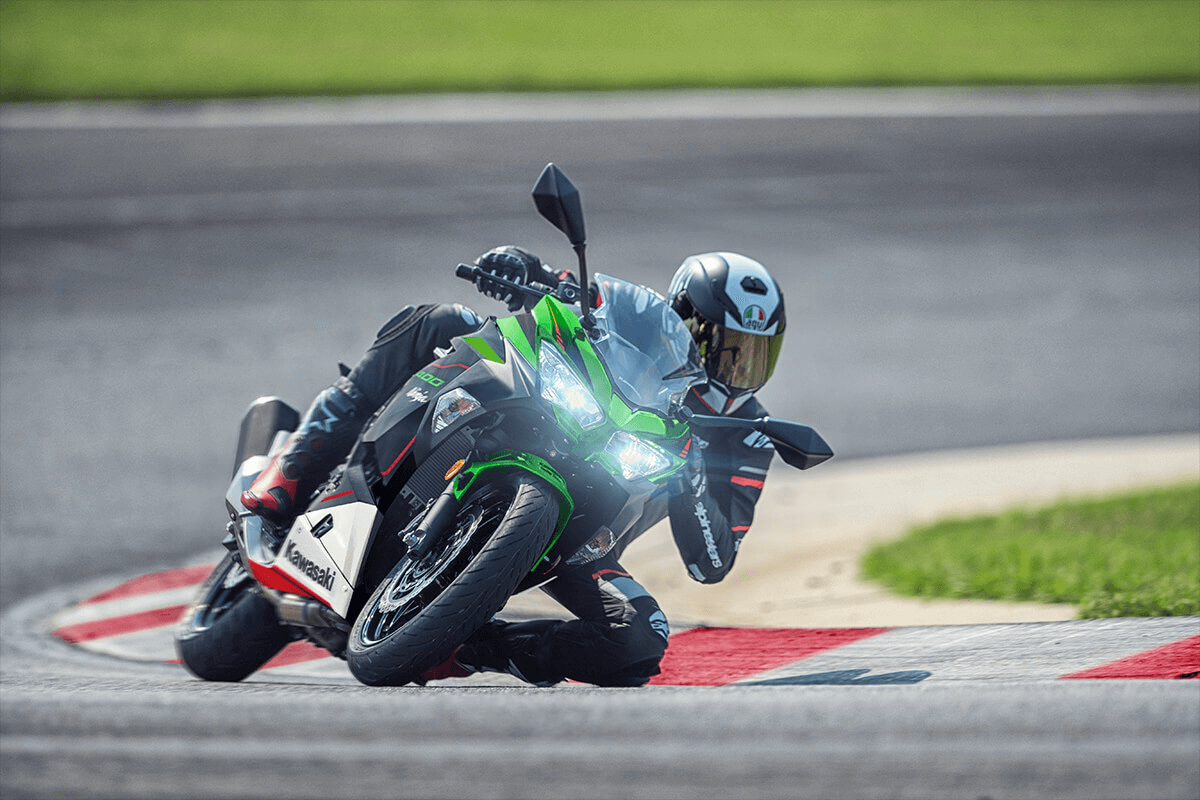 Source: Kawasaki
Features
● With a high-class futuristic design and finish, the comeback Ninja 400 is 8 kg lighter than the 300. Its attention-grabbing bodywork has a fit and finish that is easily compared to larger models. It's easy to understand why when Kawasaki revealed its design, it was inspired by the Ninja H2
● Steel trellis frame
● Updated LED tail and headlights
● The Ninja 400 is efficient in the downdraft air intake, boasting a large air box
● Stand-over is improved by a seat lowered by 30mm
● The ninja 400 is available with ABS and a slipper clutch which gives around 20 % lighter pull than its predecessor
● Sporting a sophisticated cockpit, the newly released Ninja 400 features a stylish analogue tachometer with gear position, milieu-function LCD screen and warning lamps
● Keeping disc size the same as on the Ninja ZZR1400, stopping power is retained with a semi-floating front disk
● The Ninja 400 assured its comeback with a rigid new front brake master cylinder to help remove the idle stroke
● The lower torque is around 20% lighter to pull according to Kawasaki
● Good looks have also been the Ninja's finest hour. With styling similar to the Ninja H2 and Ninja ZX-10R with a dashboard borrowed from the Ninja 650, the 400 is no different
Value
Keeping within the same overall price point as its A2 rivals, such as the Honda CB500R and Yamaha's A3, it's good to know the running costs are equally low. With its small capacity motor, road tax is affordable.
Value is also added with the well-priced, durable, and long-lasting cross-ply tyres.
Insurance
Once again, in the cost stakes, the Ninja 400 makes its comeback easily due to its cheaper insurance costs.
Similar once again in cost to its nearest rivals such as the Yamaha YZF-R3.
Cost
Although, once again, the Ninja 400 comes pretty close cost-wise to its rivals, it's worth knowing that the official service schedule requires valve clearance checks at 7600 miles.
That could set you back around $520+ if you use a Kawasaki dealer.
You should be able to pick one up privately for around $3500, and the dealer price is slightly higher at around $4300.
The price sits just below its Japanese cousin, the Yamaha R3.
Kawasaki Ninja 400 – More Help!
We hope this has given you a glimpse of what will come with the Kawasaki Ninja 400. If you're looking to move to a new Kawasaki, it's worth checking out.
If you're looking for a custom bike build, or want to increase performance on your current model, then get in touch with us today. We'll be happy to discuss what can be done.