You probably already clean your motorcycle regularly. But motorbike detailing is a deeper, more thorough and more serious process. It's more than just making sure the bike looks good. It's about maintaining your motorcycle and protecting its value in the future. But it does have one major benefit that can't be said for all kinds of motorcycle care: it makes a difference you can immediately see.
Motorcycle detailing involves thoroughly cleaning, as well as fixing and caring for, all of your motorcycle's parts. Not only does it lead to an immaculate level of cleanliness that catches people's eyes, but it also helps your bike run better and last longer.
Can you detail your own motorcycle at home? Of course, you can! Whether you'll enjoy it and whether you'll get the results you want depends on you and your level of skills.
This blog offers some advice on how to detail a Harley Davidson motorcycle to the best of your ability. If you'd rather somebody else handle the motorcycle deep cleaning and the rest of the complicated steps involved, Taverner provides motorbike detailing in Brisbane for you.
While all motorcycles benefit from detailing, we're going to look at one of the most popular and longest-lasting brands in the world: Harley Davidson.
Born more than a century ago and immortalised onscreen through the decades, Harley Davidson is a legendary brand in the motorcycle world, and its influence is without par. So what role does detailing play in protecting and preserving your Harley? Should you attempt the job yourself or check it in with a motorcycle cleaning professional?  
Here's a brief guide to how to detail a Harley Davidson motorcycle.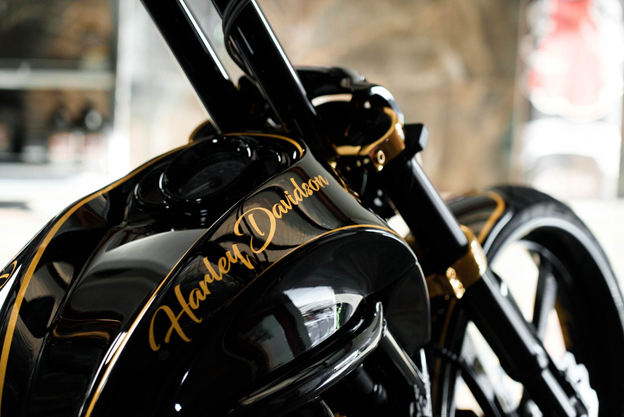 Why Detail Your Motorcycle?
You probably already clean your motorcycle on a regular basis, so why should you book your bike in for detailing? It turns out there are some very good reasons. The benefits of motorbike detailing include:
A longer life for your motorcycle
Detailing involves deep motorcycle cleaning, which removes dust and dirt from your motorcycle before it can cause problems for your engine and other parts of the bike. This helps preserve your bike and keeps it running trouble-free.
Notice potential issues early
It's not just about debris. When you book your bike in for detailing with Taverner, you'll have a motorcycle professional with many years of experience looking at your bike – and possibly spotting faults and issues with the parts.
Better resale value
Because detailing keeps your bike in a better condition, it will be worth more if you go to sell it in the future. Your bike will not only look better, but it will also run better–both factors that will sway a potential buyer.
It looks amazing
An immaculately and professionally detailed bike fills you with a feeling of pride and causes heads to turn on busy streets. Whether you want to get noticed or just want a good-looking bike you can stand back and admire, it's an effective treatment.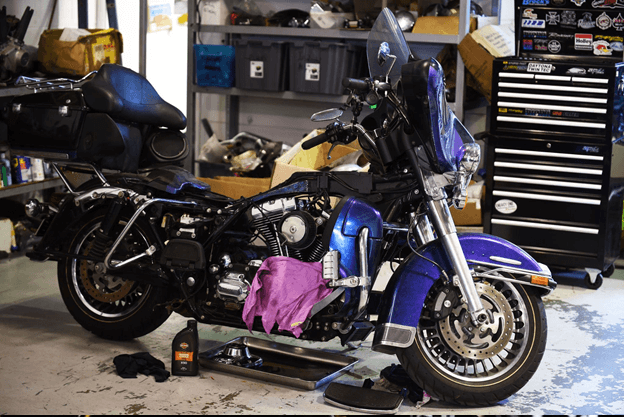 The Detailing Process
If you want to detail your own motorcycle, you'll find different tips out there for how to do it, like the pros.
You can find extensive videos and tutorials online, but here's a basic rundown on how to detail a Harley Davidson to get you started:
Find a shaded area to work in. Don't begin until the engine is cool to the touch.

Remove the leather and cover or seal any parts that water can damage, such as the battery, dashboard and exhaust pipe.

Make sure you have all the materials you need to carry out the job, for example, microfibre towels, scratch-resistant mitts and tyre cleaner.

Do the initial clean, usually a pre-rinse with plain water.

Deep clean the tyres and wheels with soap and good tyre cleaner.

Use a gentle cleaner around the instruments and gauges, being mindful of electrical components.

Clean the seat with a product that conditions the leather.

Use soapy water to remove the last of the cleaning agents from the bike. Rinse the bike and dry it off completely.
There can be a lot of steps involved in detailing a motorcycle. And depending on how deep into detail you go, the process can last from a couple of hours to a full day.
Many riders are attracted to DIY motorcycle detailing by the idea of saving money, but is detailing your own motorcycle really that much cheaper? Could it be better to leave it in the hands of a pro that knows how to detail a Harley Davidson motorcycle and has a wealth of experience?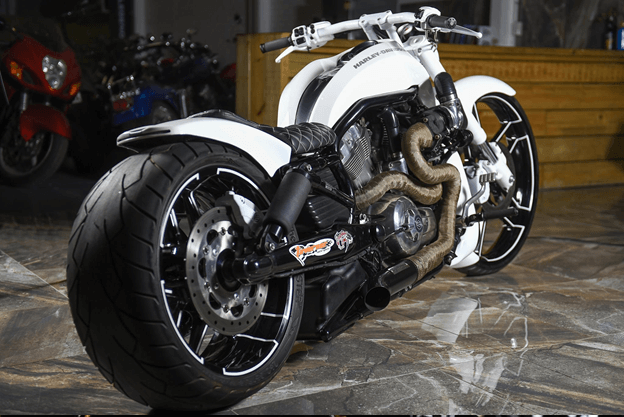 Why Get Professional Detailing?
If you're not experienced in how to detail a Harley Davidson motorcycle, there are some compelling reasons to leave it in the hands of a professional:
It might actually cost less
If this is your first time detailing your bike, the amount of cash you spend on the right tools, equipment and specialised cleaners can work out to be more expensive than just booking your bike in with a pro for a while.
Experience and expertise
A motorbike professional will know how to detail a Harley Davidson motorcycle and will most likely have done it many times before. You can trust the quality of their work, and you're covered by a warranty if anything goes wrong.
They have all the right tools and equipment
If it's your first time detailing your own bike, you may need to go on a shopping trip before you get started. A professional will have everything they need ready to go in their workshop.
They can protect the paint
It's important to protect your motorbike, including the paintwork, from damage. A real professional will detail your bike without getting a single scratch on it, sparing its precious coat of paint from damage.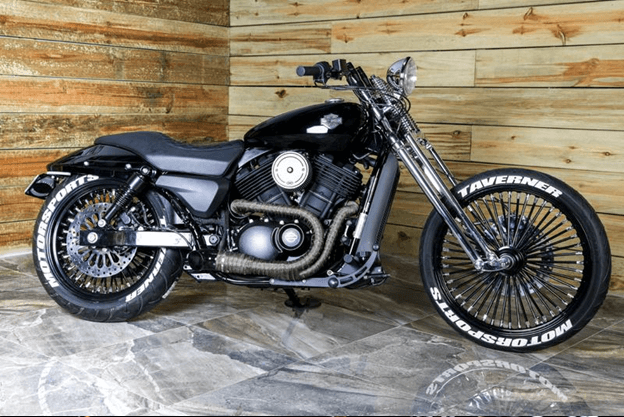 Get Your Harley Davidson Detailed at Taverner Motorsports
Motorbike detailing is just one of Taverner Motorsports' many workshop services, which also includes custom workshop services. We specialise in assisting customs with things they can't complete themselves or would prefer not to, from motorcycle cleaning to full-scale custom builds. Specialising in British, American and Japanese motorcycles, we service, repair, upgrade and modify motorcycles, both old and new.
When we detail a Harley Davidson motorcycle, we carry out the following steps:
Clean and degrease the chain and rear sprocket

Degrease all the visible engine parts

Rinse and hand wash the bike

Remove the tar and grime spots

Remove, whenever possible, the

alloy corrosion

.

Rinse and hand-dry the bike

Wax frame the frame and the visible engine covers

Wax all pre-treated bodywork

Clean and polish the mufflers by hand

Wax and polish the wheels

Lube the chain
Since 1975, the Taverner team has been perfecting our trade and making a name for ourselves, fuelled by a passion for the motorcycle scene. We've spent the last 40+ years perfecting our craft to get it to the standard it is today.
Over that time, we've also built up reputations not only with repeat customers but with a large network of worldwide parts suppliers and local paint, finishing and machinery partners. Working with only the best in the business, we can make any job, including motorcycle detailing, a cost-effective and time-efficient process. By this stage, there's not much we haven't seen in the world of motorbikes and very few problems we haven't fixed.
For more information about how we detail a Harley Davidson motorcycle and to request a quote, get in touch with the Taverner team.