We continually strive to be leaders in the industry we love which prompted us to take on the latest model Harley, the M8 platform, to see what we could kind of power we could squeeze out of it. We started with fitting an S&S 128 cube Big Bore kit along with a 65ml Screamin Eagle Throttle Body to feed our customer cylinder heads courtesy of the legendary Shane Alex, who is a Brisbane icon in the motorsports industry. An S&S Cam was then selected to compliment this engine and work with the custom turbo kit we were planning to build. For this turbo kit we started with a state of the art turbo unit sourced directly from Comp Turbo in the US. These guys have exceptional products and consistently help us produce the big HP numbers we're famous for.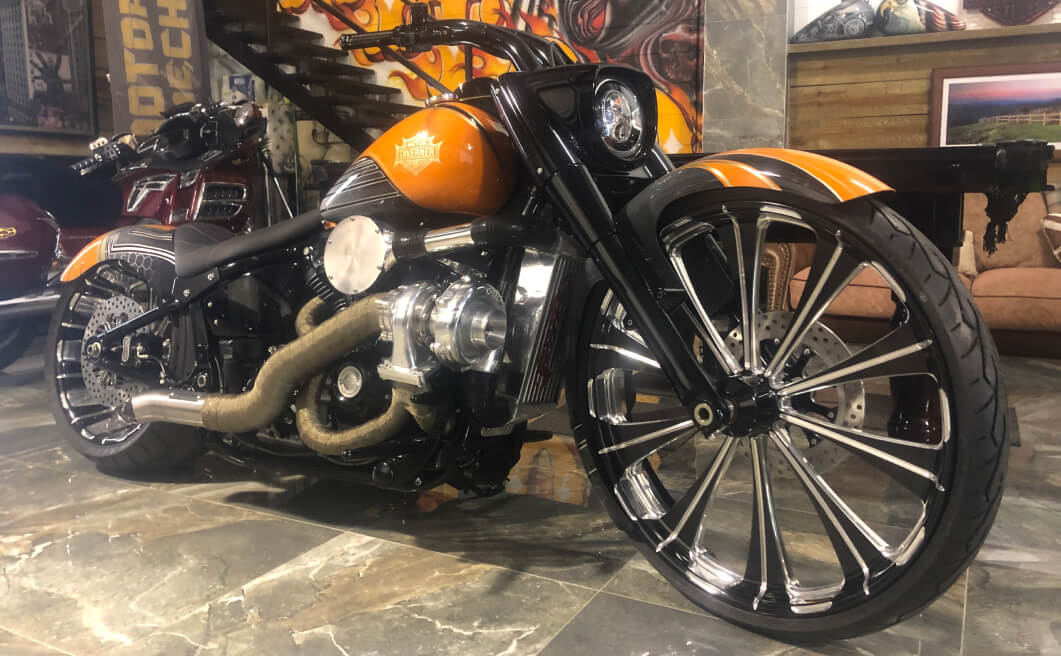 We put our heads together with PWR Intercoolers to come up with a sketch to produce a custom unit to fit on the M8 frame. The kit was then completed with speedflow hoses and fittings and a turbo smart wastegate. All components were finished with black ceramic coat and turbo housing was stripped back and polished in house. The end result was a tyre shredding 220hp with 225ft or torque which we were incredibly happy with. To ride this bike on the street was like nothing else!
To compliment this radical engine build we had to give this bike some style. Performance Machine made us the first set of Revel wheels in Australia to fit an M8. Running a 26"up front with a custom wrap around fender and an 18 x 260 rear and chain drive conversion. We then couldn't stop there and fabricated a one- off fender, taillight and seat set up. Along with blacking out all of the engine covers and front suspension components the boys at Burleigh Bars made us a sick set of 3"T Bars. We also used this build as an opportunity to run our first set of hand controls from Vity's Design in Italy.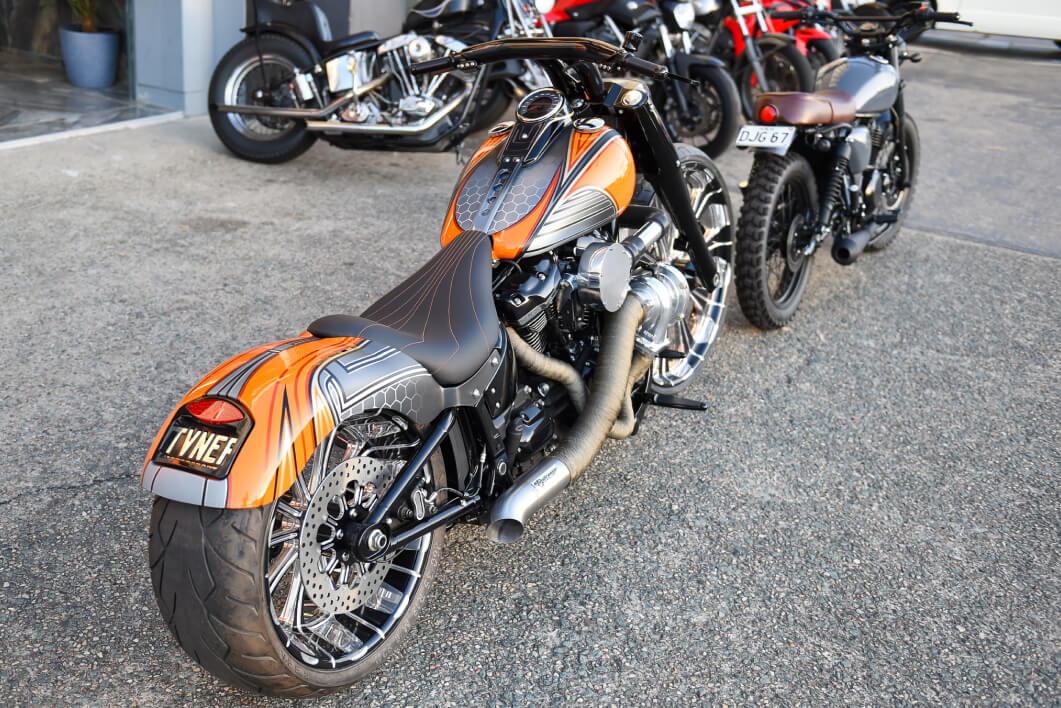 We pushed Deathwish Customs to the limit with our expectations to bring to life our vision we had for the custom paint. It is an incredible mix of matte and gloss finishes and incredibly detailed layer work. Another custom seat was produced by Lee Brothers in Albion tying the upholstery work into the paint scheme. Custom foam and stitching work to tie the lines in with the frenched in rear fender. The bike is an absolute masterpiece and we were sad to let it go!