This story begins all the way back in 2001 when a young Matt approached us for some advice about his dream to build a chopper. He then set off piecing together a rolling chassis and approached us again in 2015 when he was ready to make his dream a reality. The plan with this bike was to be something completely unique, drawing on influences both Matt and Joseph had from people such as Indian Larry and Jesse James.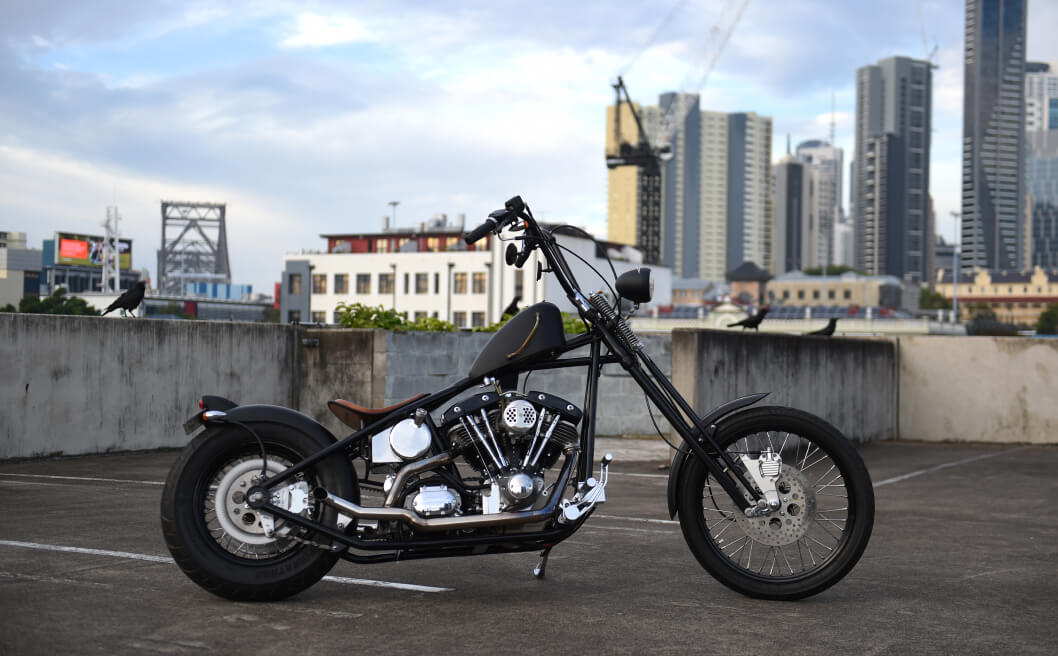 The boys wanted to build a rideable, reliable, radical chopper with as many bespoke parts as possible. The custom frame built by Dunrite Cycles provided an excellent platform with a bit of extra rake and stretch in the frame as well as the ability to run a standard softail 5spd gearbox behind the 80cui shovel engine. We had the legendary Paul Taverner rebuild both the gearbox and the engine inside and out, top to bottom. We don't cut corners on our builds and this ensured the bike was starting out in peak condition.
This build was slightly different to others in that Matt and his father took it on themselves to fabricate some twisted bar sections to be used for the gear linkage, breakstay and headlight mount, drawing on the influence of Indian Larry. These products were then handed to Joe to cut, drill, tap, bend and turn into useable components on the motorcycle. The custom bits and pieces snowballed from here. A Jesse James rear fender was used and heavily modified, some custom rear struts were fabricated to mount the rear guard and a holden conrod was used as the front lower mount. To get a clean look on the rear but still run indicators, round bar was centre drilled then bent after the fact so that the wiring could be run internally.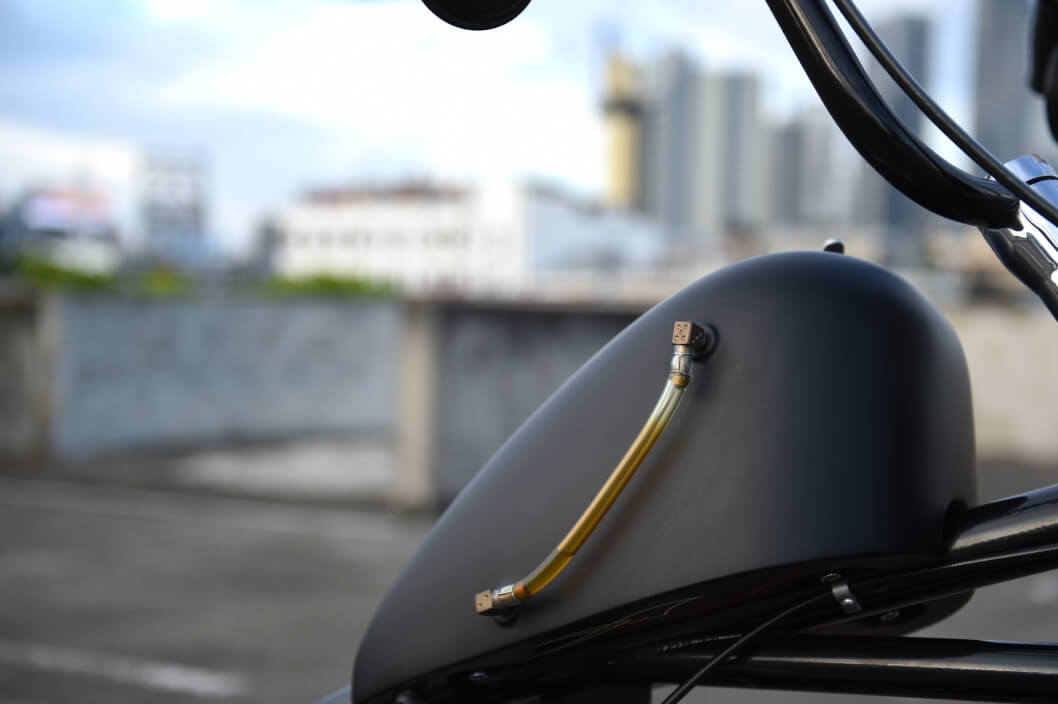 Matt himself has sourced a beautiful hand tooled leather seat with his own personal design and we were tasked with working out some sleek clean mounts for it. Once again Matt and Joe collaborated on the centrepiece – the fuel tank. Matt painstakingly drilled brass fittings to look like dice and then Joe took over and made the bungs for the tank and finish the bespoke look by hand tie wiring the fuel site tube. Along the process Joe almost blew this tank in half (haha….) but he fixed it and you'd never know if we hadn't announced it here! But you live and you learn!
It wrapped up from here pretty quickly with all the usual finishing touches applied and many endless hours in the workshop being assembled, wired, test ridden and checked over. It's a one off chopper and we were proud to be apart of the process in getting it built!