This bike was a stock 2014 Nightrod when it came to us. We began the build by sourcing a DGD 300 swingarm and wheel combo, a clean tail tidy and indicator combo which drastically changed the look of the rear end. Up front a matching 26"NRS style wheel and one off raked triple tree set was fitted. This wheel combo was then wrapped in a set of our most trusted and aggressively styled tyres, the Avon cobra chromes. These tyres are available for most makes and models and come highly recommended. As always we won't compromise on the finish of our bikes and we took and RWD front fender, split it done the middle and cut 15ml out, welded it back together and then hand finished before being prepped for paint. This created a nice tight, tucked guard around the 26" front wheel.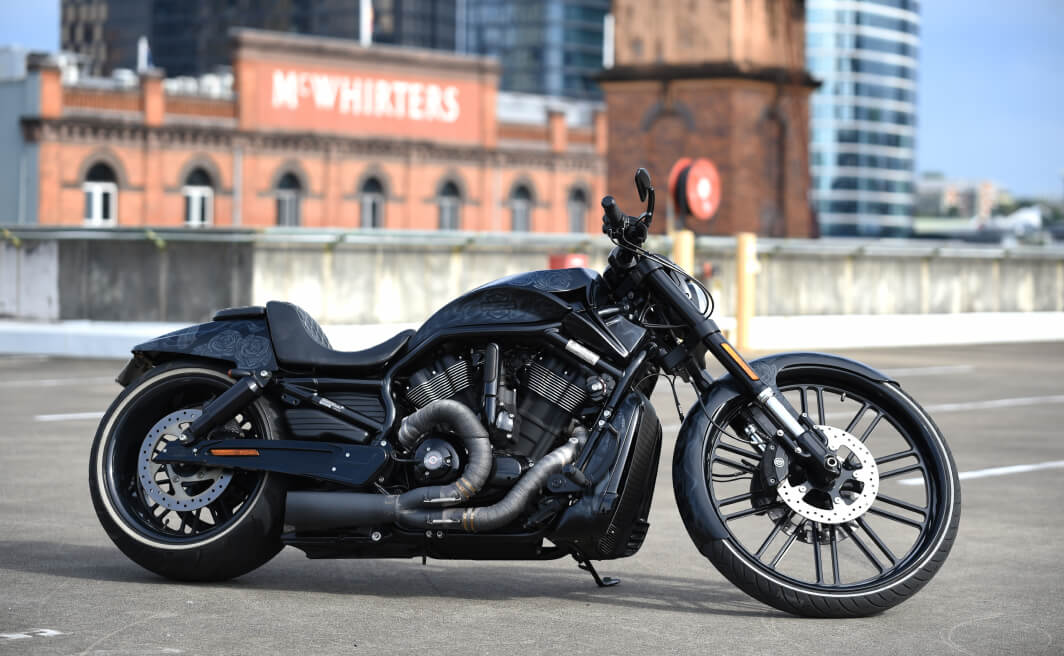 Next we sourced a set of 18" tall, 2"diameter Burleigh highballs and risers from our friends at Burleigh Bars in gloss black. These along with internal wiring and a sleek indicator and mirror combo made the riders controls as tough as the rest of the bike while ensuring our 6ft tall customer achieved maximum comfort in the perfect riding condition. Because of the bar and riser combo we next had to relocate the instrument cluster. The boys at DGD hooked us up once again with one of their custom air boxes which allowed us to move the instruments into the top of the airbox cover and keep the top of the bars clean. With a bike as staunch as this there was only one possible colour we could go with. Satin black with some subtle gunmetal grey lettering made this bike look clean and smooth.
This bike was the ideal platform for us to fit our first set of Hellraiser cams which were a smashing success. These bad boys are produced over in the US by our friends Fitzgerald Motorsports and we are a proud distributor. Depending on your combo this cam set will pull between a reliable 130hp-140hp.
Sometimes looks can be deceiving and when the end result is so clean, as is the case with this Vrod, it almost appears to some as though it came straight out of the factory. When in reality this is a highly modified, one-off piece of art and sometimes our customers prefer to have something a little more subtle that while underneath it all is still an absolute weapon.