With roots in 1950s California, the "chopper" is an icon of the motorcycle world that's widely recognised and well-represented in pop culture. It has appeared in movies and TV shows, from Easy Rider to Sons of Anarchy. While it's often used as a nickname for any motorbike, a chopper is a custom bike modified for its owner, or "chopped", if you like. You can often recognise choppers from their lengthened forks, expanded steering angles and longer appearances. Choppers stand out on the street, but the right chopper motorcycle parts can make them stand out even more – in the best possible way.
Choppers are famous all over the world. Although the story of the legendary chopper began with Harley Davidson, other brands have embraced the style's popularity with factory-made (but custom-looking, nevertheless) chopper styles.
Taverner Motorsports are experts in custom bikes of all kinds, and choppers are one of them. We specialise in British, American and Japanese motorcycles and can create the bike of your dreams for you, drawing on our decades of experience. We also have plenty of parts if you want to build a bike as a DIY project or work on your own customisation or repairs. If you've been wondering, "where can I buy motorcycle parts?" or "what is the best motorcycle parts website?" you're in luck. Taverner can answer both questions as we get your motorbike running at peak performance.
What is a Chopper Motorcycle?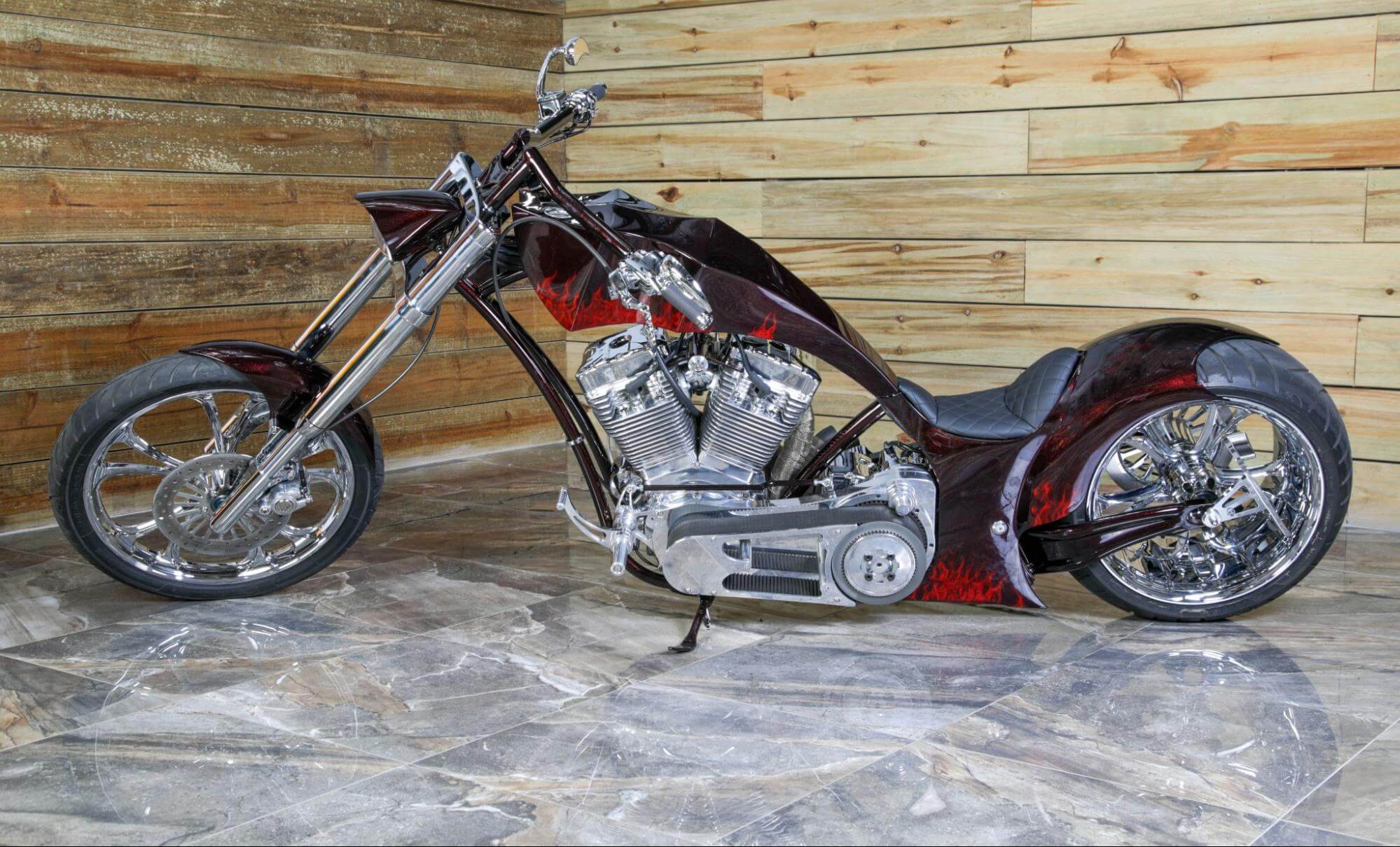 You can trace the history of the chopper motorcycle back to 1904. That was the year that Harold 'Oily' Karslake launched 'The Dreadnought', which many believe to be the very first custom motorbike. Built for endurance races, the Dreadnought was still scoring wins in the 1920s even after it had been outclassed. In 1933, the American Motorcycle Association introduced new rules for motorcycles in official racing events.
Competitors began "bobbing" their bikes – removing unnecessary parts – to make them go faster.
After World War Two, racers started riding the kind of Harley Davidson bikes the army used. They were cheap and could go faster when you "bobbed" them. Made with pre-existing chassis, the "bobber" bikes of 1940s America gave rise to the choppers of the 50s. While the definition of the chopper is far from strict these days and includes all manner of motorbikes, the style's origin story is forever linked up with Harley Davidson.
Choppers have frames that have been cut for greater rake angles and other things chopped off for better performance too. Choppers usually have long front ends and skinny front wheels. There are no unnecessary bits, but you can customise them with chopper motorcycle parts that make them stand out more and offer something extra.
'Where can I buy motorcycle parts?' is a question that may cross your mind when you find out about the joys of custom motorbikes. Taverner is here to make it easier for you.
Benefits of a Custom Chopper Motorcycle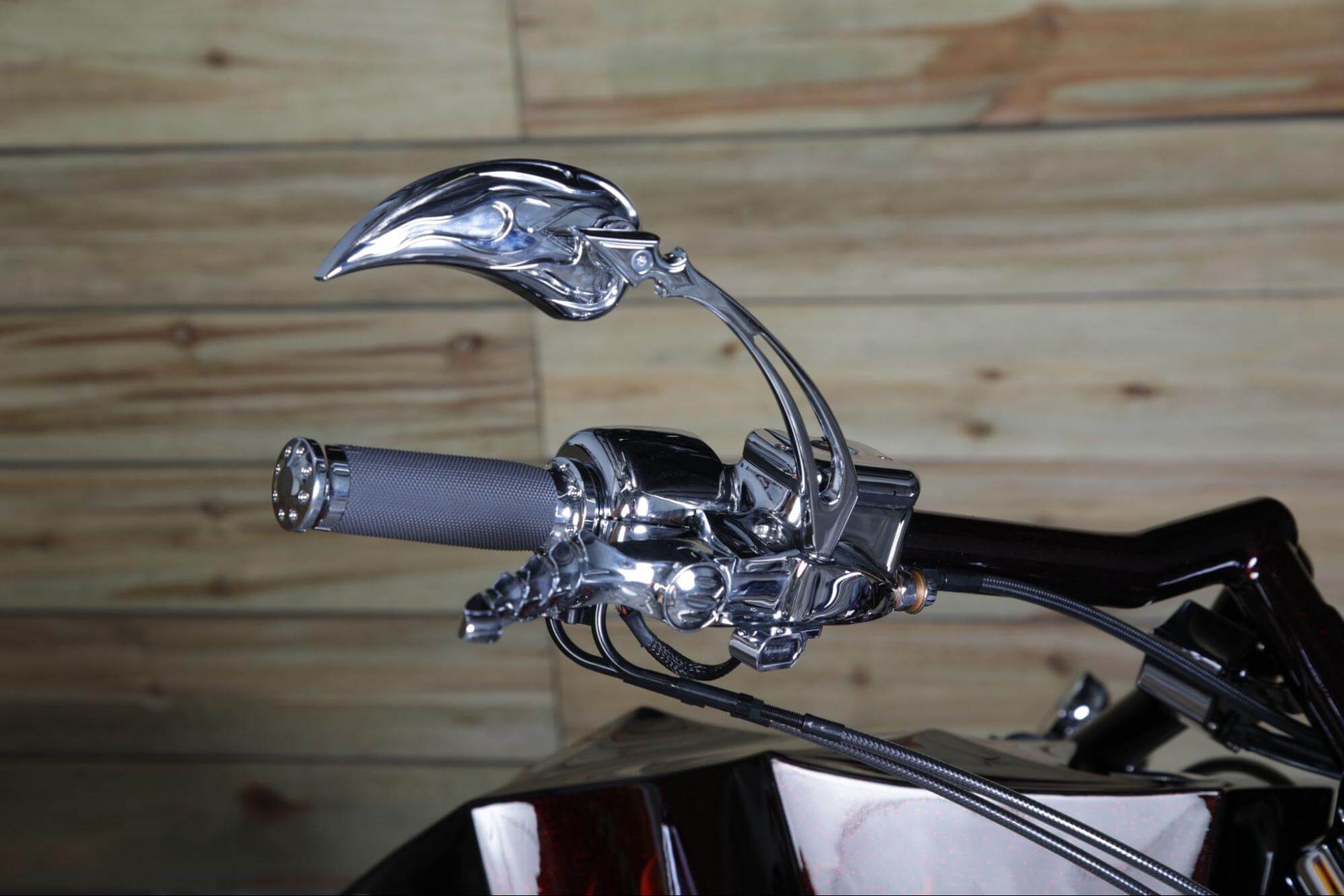 If you're wondering if a custom chopper motorcycle is worth it, here are some benefits to one of these machines that might help convince you:
They look cool
Choppers truly are iconic, with timeless appearances that never go out of date. If you want a bike in the authentic style of the 70s, you can have it with a chopper.
They're comfortable
With their longer, well-padded seats, choppers are more comfortable than they look, which may explain why so many riders love to take them on long road trips.
They're tough
Choppers were used during the war to deliver supplies to soldiers. So it should be no surprise that they're sturdy, reliable and can hold their own even on rugged ground.
They're suitable for all incomes
You don't have to be exceptionally rich to afford a custom chopper. No matter your income, you can create the kind of custom bike that suits your style the best.
They're fast
Since they're not weighed down by unnecessary bits and pieces, choppers can go fast. And you can find high-quality chopper motorcycle parts that make your bike look cooler without slowing down. So what sort of motorcycle parts should you buy? And what is the best motorcycle parts website? The next couple of sections covers both of those questions.
Chopper Motorcycle Parts to Make Your Bike Stand Out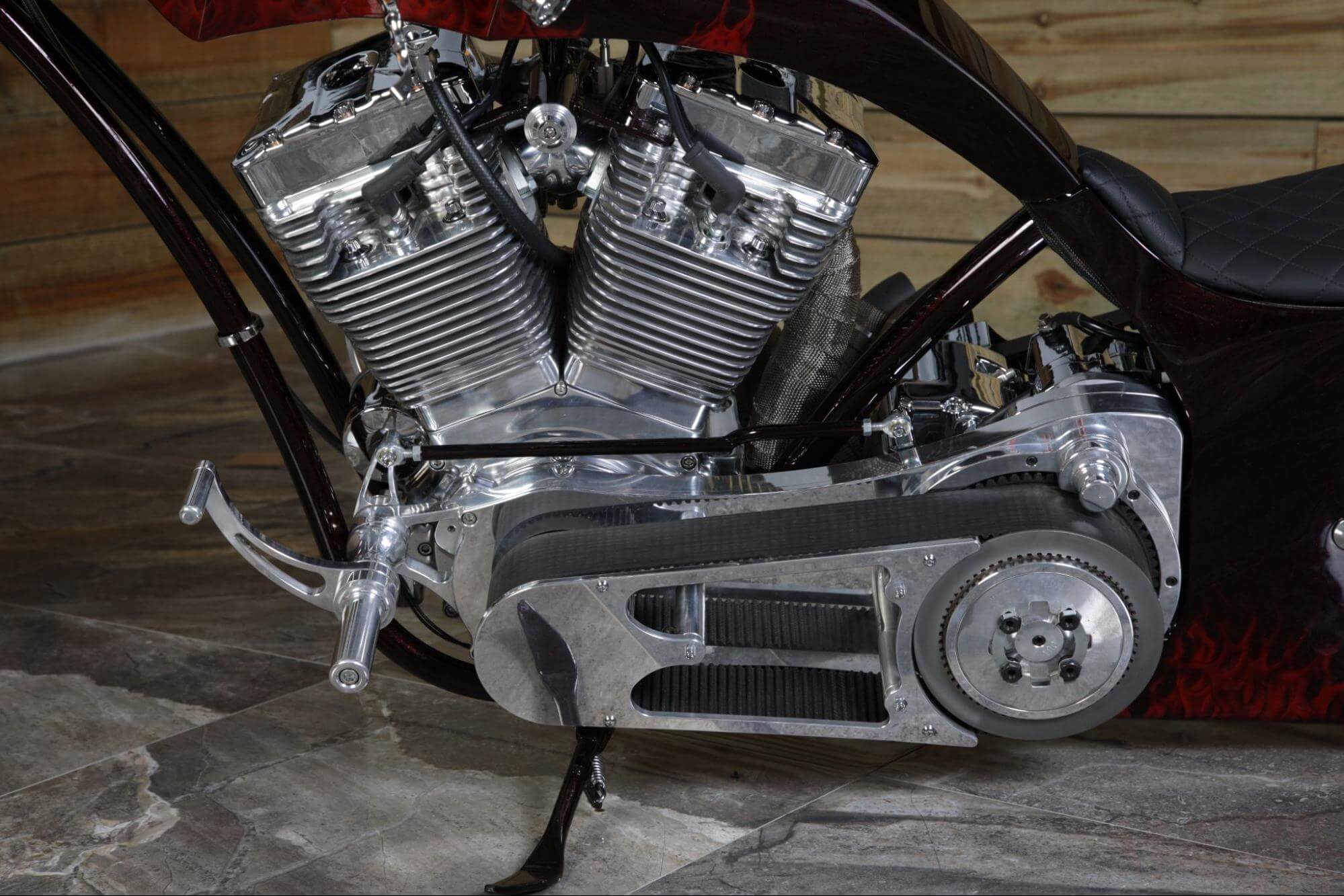 There are so many motorcycle parts you can shop for. Which ones should you pick to make your bike turn heads as you tear down the road? Here are a few ideas.
Handlebars
A simple way to give your bike a more striking appearance is to get a unique set of new handlebars. Ape handlebars – high handlebars that you reach up to – are usually found on choppers. But you can take your pick of styles depending on what you're after, whether it's mega ape hangers, T-Bars or knuckle handlebars.
Exhausts
A custom exhaust can make your bike look better, change your engine's sound and improve your chopper's performance on the road. A black or chrome upswept exhaust from Taverner can give your bike some extra vintage cool.
Lighting
Lighting is essential for keeping you safe on your bike and gives you the freedom to choose lights with looks you love. Take your pick from headlights, taillights, accessory lighting, turn signals and more in flashy styles.
Frames and chassis
When you custom-build a chopper, you can choose the frame and the chassis. At Taverner, we have the skills to custom-build a bike with exactly the frame you want. Whether you prefer rigid, rolling or Sportster-style frames, the choice is yours for your own chopper.
Mirrors
Mirrors are an easy way to make your bike look a little bit cooler. At Taverner, we have a range of custom mirrors to enhance your style and give you some freedom of choice, including flame, teardrop and stealth designs.
Where to Buy Chopper Motorcycle Parts
There's no need to wonder, 'where can I buy motorcycle parts?' when you have the whole Internet at your fingertips. If you're wondering, 'what is the best motorcycle parts website?' you don't need to look any further than Taverner. We have chopper motorcycle parts available both online and at our street address, and we have plenty of options from great brands to choose from.
We've been in the motorcycle business since the 70s. Perfecting our craft over the decades, we now have the skills to fabricate anything and everything. We have an engineer on-site to ensure all our modifications are legal and in line with Australian standards. When you see us for modifications or a custom build, you'll have the guarantee that any work you have done will meet the benchmarks for road registration and insurance.
Taverner is a family business with a reputation for being one of the best in the business. Over the years, we've developed long-term relationships with both overseas parts suppliers and local partners in painting, finishing and machinery. This allows us to source the most appropriate parts for your motorcycle from some of the best suppliers worldwide, regardless of what kind of bike you have. Whether we're doing a minor service job or a full-on custom build, we either have it or know someone who does. Our range of parts is massive, and you can browse it on our website or drop in to visit us on the north side of Brisbane. Our store and workshop are located at 159 Abbotsford Rd., Bowen Hills.
To find out more about chopper motorcycle parts and custom builds and maybe find the new bike of your dreams, get in touch with Taverner.