The Taverner family has built and restored countless custom motorcycles in Brisbane over the last 50+ years of our trade. The love of motorcycles and connections they have given us to family and friends is hard to explain. This motorcycle, the mighty Suzuki A100, with its record-breaking 9.5Hp, is a true example of this passion being handed down from one generation to the next.
The bike originally belonged to our client's father when he rode it as a commuter, but as the years went on and each of his three sons learned to ride, they each had a hand in riding and maintaining the little Suzuki A100. Throughout the years, the bike remained in the family and undoubtedly held more value to them than anyone realised.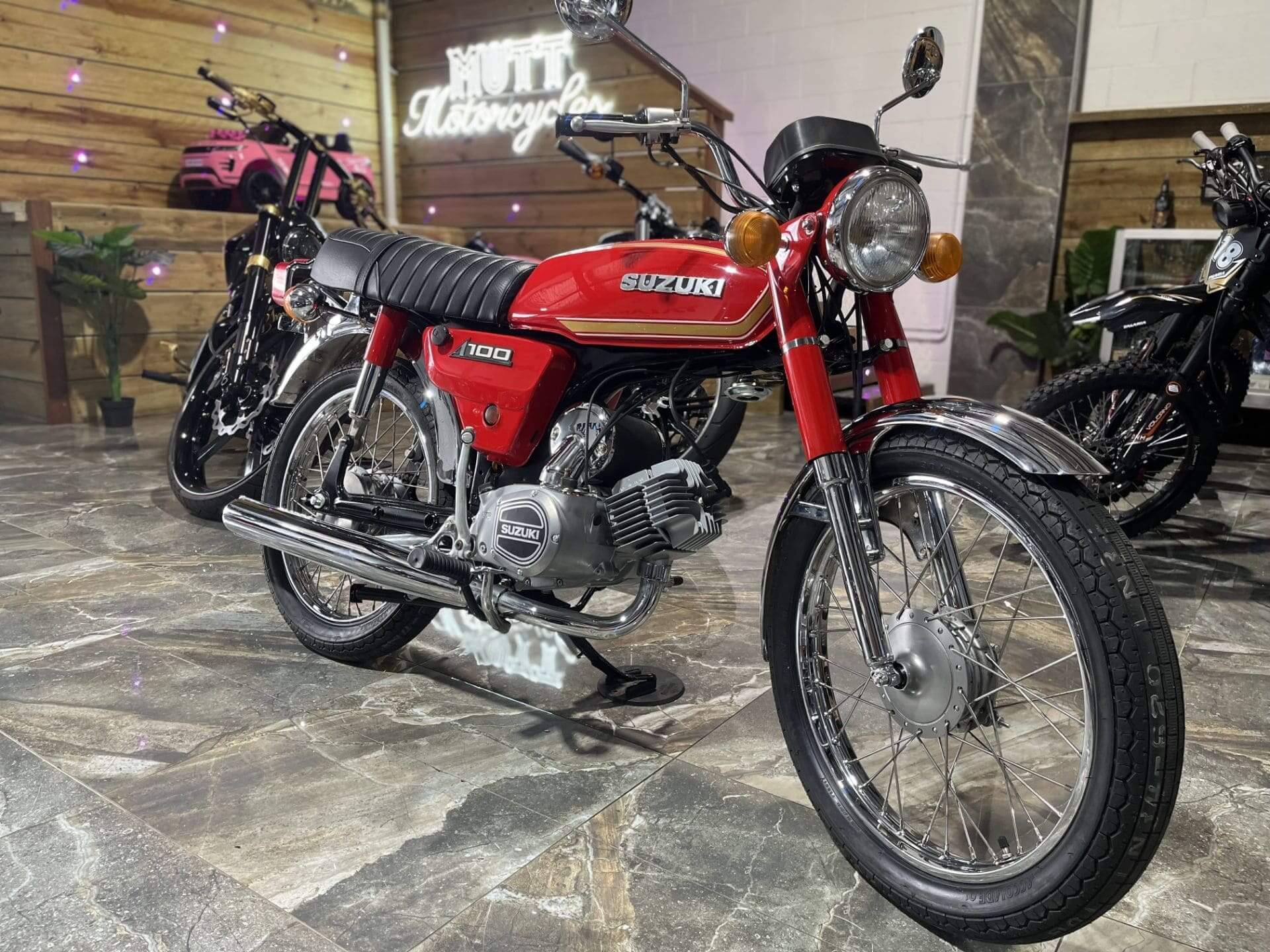 We were approached by Patrick to give the bike a new lease on life in 2022. After spending many years on the road, there wasn't one single component on the bike that didn't require attention. The same top-to-bottom treatment we give to any concourse restoration of 70's vintage British, American or Japanese bikes was applied to this project. We find that even in these modern times, we can still purchase either new old stock components for these builds or highly accurate reproduction parts to build custom motorbikes.
We began by completely stripping the Suzuki A100 and separating every single part for replacement or repair, which also involved determining any finishes they required- paint, upholstery, zinc plating, chrome plating, engine machine work, speedometer repairs, water blast, powder coat etc. Managing the project is half the trick. At this point, our parts department then took on the task of sourcing any parts required, often finding N.O.S. items in obscure parts of the world.
For example, just one aspect of this Suzuki A100 build was the wheels. Once both wheels were inspected and confirmed that all components were present, correct (wheel spacers, axle adjusters, hubs etc.) and not damaged or had been subject to a previous poor repair, they were removed. Tyre sizes were noted and ordered, wheel bearings were removed and ordered, the rim to hub offset was recorded for reassembly, and spokes were removed for replacement in this case. Wheel hubs were sent for water blast, rims straightened and sent for re-chrome, axle and spacers, and any pivot arms or retainers for the brake baking plates sent to a zinc plate, and brake shoes replaced. This process is then methodically applied to the rest of the motorcycle components simultaneously to streamline the build where possible.
As one of our custom motorcycles in Brisbane, this Suzuki A100 received a complete overhaul – fresh paint for the frame, fuel tank, and side covers in the exact paint scheme and colours the bike would have rolled off the showroom floor 50 years ago.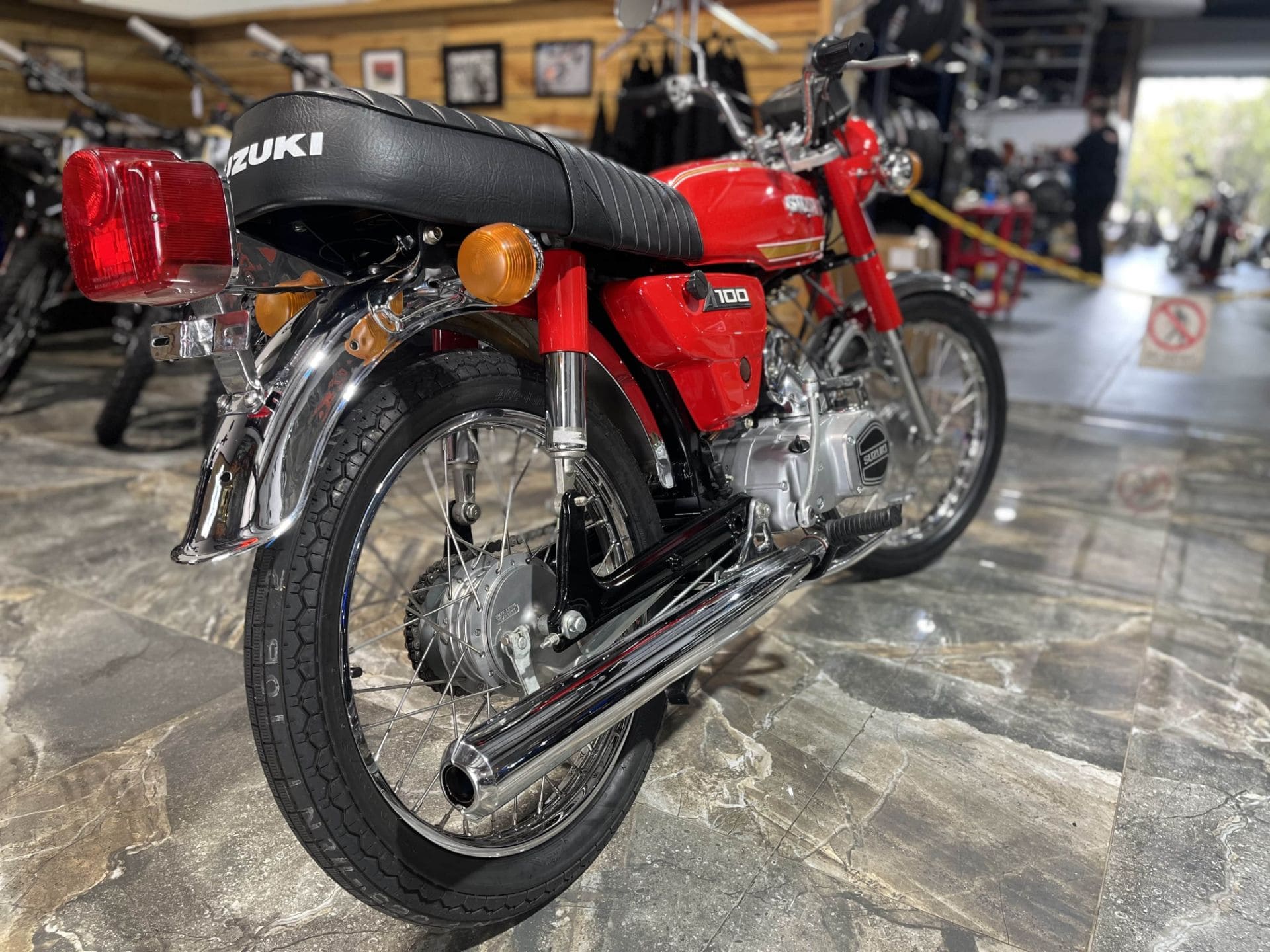 A N.O.S. seat cover was found and trimmed with new foam to the repaired original seat pan. The original wiring harness was painstakingly traced over to repair any faults or cosmetic damage. At this point, we replace any parts that could, later on, fail on the bike once it returns to the owner, such as bulbs, charging system components and relays. After all, our wheel components are gathered for reassembly by our friends at "Ash's Spoked Wheelz" re-lace them with new spokes and the freshly blasted and chromed hubs and rims back together to original O.E.M specs. The engine was disassembled not only for the cosmetics but to replace the piston bearings and gaskets with new ones.
With all the refinished hardware and parts we collected, the bike is then meticulously reassembled using any original manuals and references to produce a machine as close to its original state as possible and also preserve a piece of history for another 50+ years.
If you want a quote on custom motorbikes, don't hesitate to contact us.